What's it about Dumbo, Horton or even Heffalumps that makes them so disarming, cute and cuddly at once? Big ears?  Bouncy belly? Wide, innocent eyes? Quite contrary to their enormous size, elephants enjoy a loveable, soft-hearted image in the world of cartoons.
To play upon this conditioning enters Jumbo, originally a Thai-animation film Khan Kluay whose rights were purchased by Percept Picture Company (the makers of Hanuman) to dub it in Hindi and make it available to us.
The upgraded version opens with Akshay Kumar playing a superstar to the hilt -- vivaciously swinging to the pop beats of 'Everything's gonna be alright' (a catchy composition by Ram Sampath) before he proceeds to tell an inquisitive boy the inspiring tale of a jungle elephant Jaiveer, fondly addressed as Jumbo.
Inside the animated world of our mauve-skinned titular hero, we are introduced to a whole bunch of colourful forest inhabitants. Instead of joining other baby elephants at play, Jumbo amuses himself with a game of hide-and-seek in company of a bunch of frogs at the lotus pond. Although he's not entirely enjoying himself, Jumbo is wary of the bullies in his tribe taunting him about his father, previously a royal elephant, Yudhveer's mysterious disappearance.
During one of the film's most endearing moments, Jumbo snuggles up this his protective mommy (Dimple Kapadia) under a moonlit night where glowing fireflies form the backdrop. And as characteristic to most curiosity-ridden children quizzes her relentlessly about his father's whereabouts. Mommy Elephant is most patient and tender and then cleverly distracts Jumbo by telling him how his dad resembles him in his eyes, ears, and trunk. The camaraderie wraps up in hushed giggles and warm hugs.
In the background, Shakti Nagar has been taken over by Shauryagarh in a battle forcing its young prince and hapless kingdom to become slaves to the latter's brutal forces. Though this conflict becomes integral to the story in the latter half, the makers do not provide us with enough details or explanations about either the invasion or the uprising. You are pretty much left to drawing your own conclusions and subtexts.
And so Jumbo's real adventure begins after he is tragically separated from his mother/herd and finds friendship in the pink and demure she-elephant Sonia (Lara Dutta) and her human family. Together, a grown-up Jumbo (in Akshay's voice) vows to free Shakti Nagar from the evil rulers of Shauryagarh and their beastly accomplice Bakhtavar (Gulshan Grover).
Plot-wise, Jumbo is a stereotypical revenge drama. Even so, this time it's a sweet-looking elephant and not a gun-toting Amitabh Bachchan looking to serve justice. That, pretty much, makes all the difference.
Although the 3D animation isn't half bad, it cannot compete with the standards of Horton Hears a Who or Over the Hedge.  Sadly, we are accustomed to such mediocrity that Jumbo shines like a beacon in comparison. Also, the character (expressive, assorted and charming) and background (rich detailing, ornate designs) art are quite nicely done contributing to the allure of the final product.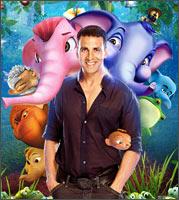 Of the voicing talents, Dimple Kapadia and Rajpal Yadav (he's what Donkey was to Shrek and Flounder to Ariel) shine best. Both the actors are effortlessly in sync with the mood and temperament of the characters they play. While Dimple is emotional and wonderful as 'Ma', Yadav aims for the laughs with his energetic commentary and banter.
As for 'Bad-man' Gulshan Grover, he expectedly renders sufficient terror in Bakhtavar's menacing tone.
Akshay Kumar doesn't have a traditionally strong baritone but he underplays the huskiness lending kindness, integrity and, most of all, familiarity to his animated alter ego.
At the end of the day, Jumbo is a fun entertainer about the making of a warrior-elephant with tons of action, lovable characters, awww-inducing moments and can-do spirit.
Rediff Rating: