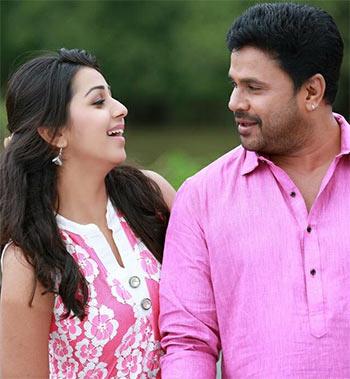 Malayalam film Ivan Maryadaraman may not work for grown up film goers, warns Paresh C Palicha.

If a Dileep film is playing in theatres, it definitely is vacation time in Kerala.

It is well-known that the actor's onscreen antics make children drag their parents to see the film, several times in some cases.
Needless to say, such films are a mainstay of Dileep's stardom.

This time around, it is Ivan Maryadaraman, said to be made after formally buying rights of a Telugu film and the screenplay reworked to suit local sensibilities (or Dileep's image?) by Udayakrishna Siby K Thomas team.

The film, unfortunately, looks like a mishmash of his past films, Pandippada (2005) and Karyasthan (2010).

Here too we begin with a family feud between the heads of two neighbouring villages over a common temple.

There are murders and revenge compounded.

Then we see a mother fleeing in the train with a toddler when her husband becomes a victim of the feud.

Obviously, the toddler grows to become Dileep's character Ramu, who does the lowly job of delivering rice sacks to grocery shops on a rusty bicycle.

Amusingly, said bicycle is the narrator of this film in the voice of Suraj Venjaramoodu.

Ramu (Dileep) stands to lose his job because he is unable to deliver the rice sacks using his bicycle.

He has not purchased the auto rickshaw he had promised to buy when he got the job.

Now he finds out that his father has left him a fortune as a deposit in the post office of his ancestral village.

So, he catches the next train to his village without knowing any historical facts about his own family or what a hostile place his village is.

In the train he comes across a beautiful female Krishna (Nikki Galrani) and we encounter many humorous situations.

It does not take us long to realise that they belong to the rival camps and it does not take them long to fall in love before their journey comes to an end.

The next two and half hours, our man tries to save his life in a village full of muscle men wielding swords and other sharpened weapons who are deployed to kill him.

Dileep does not really need to step out of his comfort zone in a role where all he has to do is make the viewer laugh every few minutes with his all-too-familiar onscreen shenanigans with just a rusty cycle to give him competition as far as acting goes.

The others just growl, huff and puff around him.

Ivan Maryadaraman may find its target audience this vacation season but for the others, it is torture unlimited.
Rediff Rating: