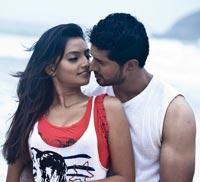 Radhika Rajamani writes Telugu film It's My Love Story is disappointing.
Madhura Sridhar Reddy's Telugu film
It's My Love Story
treads the beaten path mostly. The cast has relative newcomers led by Aravind Krishna, who has done just a cameo in
Alasyam Amrutham,
and debutante Nikhita Narayan. The plot is uninteresting and the actors are too inexperienced to rise above it.
Two youngsters, Arjun (Aravind Krishna) and Vandana (Nikhita Narayan), meet in an unexpected way and are forced to live together. Arjun is a games designer from Warangal and Vandana, an aspiring fashion designer from Vizag who moves to Hyderabad to pursue her passion for fashion, where she meets Arjun and the two fall in love.
When her mother (Jayasudha) comes to know of this through Pooja, who has a crush on Arjun, she drags Vandana back to Vizag. The lovers pine for each other, manage to meet once, but when differences crop up in their relationship, they part. Will they get back together, is the question.
Nothing
unusual in the storyline. To infuse it with some contemporary relevance, instances from the life of today's youngsters is incorporated but it doesn't do much to lift the plot. The character of Vandana comes across as confused as she vacillates between wanting to be with Arjun and breaking away from him. 
Aravind Krishna has the necessary physical qualities but needs to work on his emotions and expressions. Nikhita Narayan looks fresh and has the potential to grow into an actor. Venela Kishore as Nikhita's gay boss (a role much in vogue these days) does his gay act, while two seasoned artistes, Jayasudha and Sarath Babu (as Vandana's father), make their presence felt. Thagobothu Ramesh does his usual stuff as a drunken flower seller.
The music of
It's My Love Story,
composed by Sunil Kashyap, is good and P G Vinda's camera work is noteworthy.
It's My Love Story
is a disappointing film with nothing to engage the audience.
Rediff Rating
: