India shows up in classic science fiction in strange, sideways fashion. The country's often lurking in the background of SF short stories and novellas as a landscape.
And given that many SF writers have a hard science background and are inquisitive about other cultures, it's not unusual to come across a Chandra or a Veena alongside the Alexes and Robertas.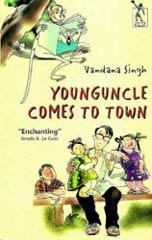 But we were cameo players; scene setters; contributors to the ideas that make up the backbone of an SF plot. Then, a few years ago, an unheralded writer called Vandana Singh came out with a children's book, Younguncle Comes To Town.
The book now has a sequel, Younguncle In The Himalayas, written in a completely natural voice that's unusual in Indian children's fiction.
For once, what snagged my attention was that bit of ad copy that reviewers in search of a lead sentence usually sneer at -- the blurb. Younguncle had a blurb by Ursula K Le Guin.
Now, in the SF universe, Ursula K Le Guin occupies a small galaxy all by herself. Her books -- The Earthsea saga, Left Hand Of Darkness -- are contemporary classics; she's out there on the frontier of the imagination, upending everything we think we know about gender and human societies.
Blurbs by Salman Rushdie are highly prized; blurbs by V S Naipaul are rare, unless you happen to be a close personal friend who hasn't yet been asked to take it on the chin and move on; blurbs by Umberto Eco are the kind of thing young writers dream about.
But a blurb by Ursula K Le Guin, for a children's book written by a young woman who hasn't been advanced, royaltied and hyped to death? That's like having Brad Pitt as your date your first time out at a formal party. And yes, I know it's advertising; but reading Vandana Singh's effortless prose, I conceded that sometimes there is truth in advertising.
Over the last few years, Vandana Singh's short stories were being published in journals well known in the SF world, but unfortunately invisible to the mainstream litcrit universe.
We flag new talent immediately when we spot it in the pages of The New Yorker; but India has little SF writing history of any note, with stray exceptions like Jayant Narlikar, Satyajit Ray and, more recently, Manjula Padmanabhan and young SF/ fantasy writer Samit Basu.
So it's easy to miss stories published in The 3rd Alternative and Strange Horizons. It's easy to miss the significance of what's going on here, because we've got used to having our writers flagged for us as 'important' by bragging-rights-included book deals.
Vandana Singh has a background in physics, teaches at a US college, and knows Delhi -- among other places, not all of them entirely of this solar system -- like the back of her hand. Her blog moves eclectically between eulogies to mangoes and musings on Kaliyuga. And she has a story in the Bible of SF: The Year's Best Science Fiction, the Authorised Version of what's new, provocative and irresistible in SF, edited by the legendary Gardner Dozois.
I'm looking at Delhi, in an anthology where Singh's companions are the likes of Nancy Kress and Robert Reed. This is the first time that I've seen an Indian name share the spotlight in any mainstream SF anthology. What if it's no good, what if the first author of Indian origin to make the cut has, well, messed up?
I needn't have worried. Delhi is a tale of a man who can see ghosts from all of the ancient cities and who can't leave the city that's haunting him. It's good SF; and it's a truly great Delhi story.
'Only for Aseem are the old cities of Delhi still alive, glimpsed like mysterious islands from a passing ship but real nevertheless. He wishes he could discuss his temporal visions with someone who would take him seriously… but ironically, the only sympathetic person he's met who shares his condition happened to live in 1100 AD or thereabouts, the time of Prithviraj Chauhan, the last Hindu ruler of Delhi.'
Someday, Vandana Singh's going to write that novel, put out that story collection. There may not be dollar signs winking around the book to signify its importance, but read it anyway. Read it in homage to the first writer of Indian origin to make a serious mark in the SF world; or read it simply because she writes with such a beguiling touch of strange.