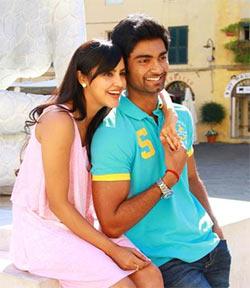 Irumbu Kuthirai an uninspiring and lacklustre tale of a guilt-ridden biker, who blames himself for a freak bike accident that causes the death of his beloved father, writes S Saraswathi.
After a brilliant performance in director Bala's Paradesi, Atharva is back in a dashing new avatar sporting six-pack abs for his latest venture, Irumbu Kuthirai.
The film is produced by AGS Entertainments and directed by debutant Yuvaraj Bose.
The director has attempted a Hollywood style flick that focuses on high end sports bikes and crazy, passionate riders.
Though an exciting new concept, the film lacks the speed, thrill and pulsating high octane stunts that would keep you on the edge of your seat.
Except for the last 15 minutes, the film has absolutely no excitement and leaves you feeling totally bored and disappointed. .
Innumerable songs placed at odd intervals are another big drawback, but the background score by G V Prakash does pep things up a bit, especially in the second half.
The glamorous Priya Anand plays the female lead supported by Raai Laxmi, Jagan and Devadarshini.
Akshara, the Stylish Tamizhachi of Arrambam has been roped in for a sizzling item song, while Johnny Tri Nguyen of 7aum Arivu fame is the antagonist.
Yuvaraj Bose has a very simple tale to tell: that of a guilt-ridden biker, Prithvi (Atharva) who blames himself for a freak bike accident that causes the death of his beloved father.
Totally devastated, Prithvi is now a changed man. He is quiet, withdrawn and even wants to leave his job at a pizza parlour as it involves riding a bike.
Prithvi meets Samyuktha (Priya Anand), a medical college student and falls in love.
The first half of the film is all about the two getting to know each other. Samyuktha adores bikes and eventually convinces Prithvi to buy a superbike, a secondhand Ducati.
However, tragedy strikes on their very first outing together. Samyuktha is kidnapped by a bunch of crazy bike racers and Prithvi has absolutely no clue what is going on.
Jagan and Raai Laxmi are Atharva's childhood buddies and avid bikers. Laxmi is the quintessential biker babe looking hot and sexy in tight skimpy clothes and cool tattoos decorating her body.
But her role has no substance. Despite the presence of Jagan, Manobala and Mayilsamy, the film is dry and humourless.
Atharva with his toned physique and good looks gives a decent performance, but all Priya Anand has to do is look pretty.
Pondicherry provides the right ambiance for the film and cinematographer R B Gurudev's camerawork is impressive.
Bikes may be the soul of Yuvaraj Bose's Irumbu Kuthirai (iron horse), but he has chosen to focus more on romance and stuffy sentiments, right up to the very end.
The film lacks the momentum to keep you engaged. It offers neither cheap thrills nor an interesting story.
Slow-paced with a thin story line, Irumbu Kuthirai has no entertainment value.
Rediff Rating: