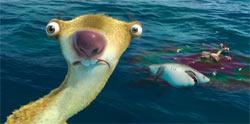 Shaikh Ayaz writes that Ice Age: Continental Drift is a thrilling movie with beautiful moments and good humour.

Strictly from the perspective of a child, Ice Age: Continental Drift is charming and at some places, even adorable.

The cute quotient works very well and so does the humour, which is basic, easily understandable and laugh-worthy.

Visually, too, it is stunning and makes full use of 3D. Unlike most children's movies, this one doesn't have a moral lesson tucked inside, although it does tell you, the kids that is, the important values of true friendship and family. So far, so good.

At the heart of the story is Manny's separation from his biological family, his wife Ellie and daughter Peaches -- and his larger, extended family of fellow animals and mammals.
Life in the animated animal planet is all play in the beginning. Those who have seen the previous films must be familiar with the principal characters that populate the planet. For starters, Manny is peeved at his daughter for nursing a crush on Ethan and chides her in the presence of her friends. This sends her sulking.
Meanwhile, Sid the sloth is left with Granny for company. She is through and through talking to an imaginary pet, feeding it fruits. We are to be revealed in the end, in a dramatic fashion who the pet really is.
Sid with his wisecracks is a source of constant amusement but it is actually Granny who turns out to be the most endearing character.
Then, there is Diego, the amiable, saber-toothed cat who is going about his business as usual, extending help wherever necessary. 
Just when you think things are fine, a landmass strikes, separating these creatures from their loved ones and the rest of the film is about their passage back home. Manny, Diego, Sid and Granny are left adrift in the high seas, which are infested with pirates. They have a tough time fighting off the self-styled 'master of the seas', an ape called Captain Gutt. 
The journey, risky but thrilling, is not without its beautiful moments.
Rediff Rating: