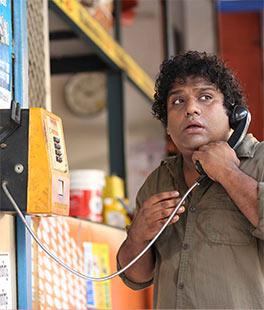 Paresh C Palicha says Homely Meals is watchable for its earnest performances.
We have seen nearly a dozen Malyalam films based on the film industry in the last decade or so.
Most of them follow the same template as Udayananu Tharam (2005), written by Sreenivasan and directed by Rosshan Andrrews, which looked at the darker side of the film business but in a comic way.
Homely Meals, directed by Anoop Kannan, uses the same formula to show the inner workings of a television channel.
A decade ago, a slew of Malayalam satellite channels came into being, a couple of them run by the church and headed by priests.
Homely Meals is about one such channel called Grace, which is headed by a priest played by Nedumudi Venu.
The central character of the film is Allen (Vipin Atley), an odd looking youngster who is crazy about films and wants to make a mark in the visual media.
He spends most of his time in a roadside eatery called Homely Meals run by Moily Kannamaly.
Allen shares the concept of a film-based comedy show with his friend Sajith (Kailash), who works for Grace Channel. Sajith makes him shoot one pilot episode and then telecasts it in his own name.
Allen is heartbroken and complains to the priest, but Sajith denies any wrongdoing.
Allen gets his chance the following week. Sajith and his boss Sharathchandran (Manoj K Jayan), who is the programme head of the channel, fail to come up with a good idea for the new episode.
So, they give in to Allen's demand to give him credit for the programme in exchange for his ideas to take the show forward. But they put obstacles in his way
The rest of the film is about how Allen overcomes the obstacles with the help of a gang of dim-witted hooligans led by Mosappan (Rajesh Sharma), and in the end gets even with the villains.
The script is by Vipin Atley. The actor's rotund frame makes him likeable and his feeling vulnerable because of that comes across nicely.
Manoj K Jayanm, as the boss who uses esoteric Malayalam, is funny sometimes and sometimes frustrating.
Srinda Ashab as the channel's newsreader who admires Allen, puts up a convincing performance.
All seen and said, Homely Meals is very watchable.
Rediff Rating: