'It's good to see Johnny Depp and Jude Law in J K Rowling's magical world,' says Namrata Thakker.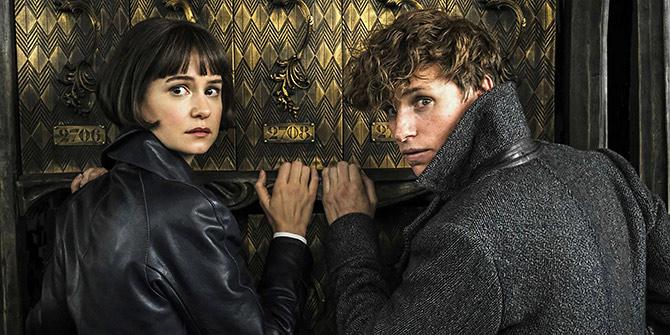 Being a Potter fan, I was obviously looking forward to watching Fantastic Beasts: The Crimes of Grindelwald.
The first installment in the series, Fantastic Beasts and Where to Find Them, really got me excited about the pre-Potter universe and all its strange creatures.
I was hoping to see these creatures come alive in the second film as well.
Thankfully, they did... but not for long.
And that bumped me out.
The makers have tried hard to add depth to the story as well as the characters and I am assuming it is to carry forward the series in a more engaging manner.
But as a film on its own, Fantastic Beasts The Crimes of Grindelwald did not live up to my expectations.
It's not the worst movie on a J K Rowling story, but it is neither a cinematic experience like the previous ones.
The film starts on a high note with the dark wizard Grindelwald (Johnny Depp) escaping prison and setting off to gather an army in Paris.
Meanwhile, Albus Dumbledore (Jude Law) meets Newt Scamander (Eddie Redmayne) and asks him to find Credence Barbone (Ezra Miller) before Grindelwald does.
Newt initially refuses to help but ends up joining the quest when he learns that Tina, Goldstein (Katherine Waterstone) is also looking for Credence.
Newt's friend Jocab (Dan Fogler) tags along as well.
His romance with Tina's younger sister Queenie seems more interesting than Newt and Tina's romance which hardly gets any time.
Niffler and Bowtruckle grace the screen along with other interesting creatures like the Chinese dragon Zouwu and a Japanese water monster.
When they appear, their presence is mesmerising, but sadly, the makers haven't given them too much screen time.
A lot of other characters are introduced in the film like Nagini, Newt's older brother Theseus and Yusuf Kama, but none of them make an impact.
The main character in this film is Credence.
Everyone is looking for him, and the big question is, who gets him first?
Fantastic Beasts The Crimes of Grindelwald is worth watching once.
There is something for every Potter fan in the film, including Hogwarts.
It's good to see Johnny Depp and Jude Law in Rowling's magical world.
Though Depp as a villain doesn't create the same terror that Lord Voldemort did, the next installment will probably be quite a ride.
Eddie Redmayne is good, but it's Dan Fogler who grabbed my attention.
I have to mention this: The makers have done a terrific job with the VFX. It's getting better with each film!
Rediff Rating: