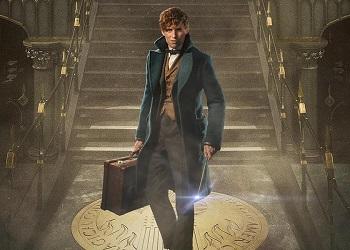 Anita Aikara tells us the film is a must watch!
Let's put it this way: Fantastic Beasts and Where to Find Them is the best thing to have happened to Harry Potter fans after Deathly Hallows. Mayhem and magic go hand in hand as JK Rowling casts her magic 'screenwriting' spell once again!
But this movie is not a sequel to the Harry Potter series, instead it is a prequel of sorts.
It takes place few decades before Harry even entered the scene. So don't be surprised if you happen to spot several elements from the past like steamers, cobblestone streets, horse-drawn carriages, Model T cars and the dark wizard Gellert Grindelwald (of course).
It's set in 1926 New York, when a young Englishman Newt Scamander (Eddie Redmayne) sets foot in the city smuggling in a magical suitcase full of strange, incorrigible creatures, who keep trying to escape. It's around the time when wizards, witches and (as the title suggests) fantastic beasts were forced to go underground due to their declining popularity -- the humans have begun to loathe the magical ways of these gifted wizards and witches.
Newt would have treated his visit as a brief stopover had it not been for Jacob Kowalski (Dan Fogler), a 'No-Maj' (that's what the American wizards and witches called muggles back then), with whom his magical suitcase gets exchanged. The unsuspecting Jacob accidentally lets the creatures free and hell breaks loose as buildings collapse, cobblestone streets cave in and Model T cars are flung all around.
The incident happens around the time when the city awakens to the news of an invisible, unknown monstrous entity threatening to ruin its peace by giving the residents a nightmare. Porpentina Goldstein aka Tina (Katherine Waterston), an officer who was stripped off her investigative responsibilities of the Magical Congress of the United States of America (MACUSA), takes Newt in hoping to help him find his creatures.
But Tina's troubles only double up post her meeting Newt. Chaos ensues and Newt accompanied by Jacob, Tina and her flirtatious sister Queenie (Alison Sudol) have to recapture the beasts and save the city before it is too late.
Set far away from the magical land of Hogwarts, the movie is entertaining and enthralling. It is a breath of fresh air and brings out the imagination and fascination of children and adults alike.
It takes awhile for the film to pick up pace and in the initial half, the focus is on establishing the characters, especially Newt, who cares for a bunch of beloved, fantastic creatures.
There's the adorable Niffler, who is drawn to shiny objects, an emotional Bowtruckle called Pickett who has attachment issues, a thunderbird, an occamy (a cross between and dragon and a bird), and an Erumpent (a giant beast that's somewhere between a rhino and an elephant), just to name a few.
Newt and Jacob share some great chemistry.
Jacob, who has returned from World War I and hopes to start a bakery, is a delight to watch with his comic timing, especially the scene at Central Park Zoo when he's chased by a giant creature who mistakes him for a mate. It's cute and funny how he struggles to fit himself into a suitcase to be transported into a parallel world.
The talented David Yates, who directed the last four Harry Potter movies, has brought the best out of this lesser known cast.
Eddie Redmayne did justice to his role as the awkward, blundering yet adorable wizard Newt. His love for beasts and outwardly creatures reminded us of Hagrid.
The courageous Tina comes across as someone willing to put everything at stake to fight for what's right, and there could be no one more fitting to cast than Katherine Waterston. Orphaned in their childhood, it would be interesting to watch Tina and Queenie's characters develop; their deep bond as sisters reminds us what true relationships should be made of.
As you'd expect from a Warner Brother production, the 3D effects would literally make you jump off your seats.
The presence of some of the old gang of the Harry Potter series is one of the many reasons why the film feels so familiar, especially to ardent Harry Potter fans. In a sense, it has way more connection and nostalgia then the audience would expect.
It sets the bar high for the four Fantastic Beasts films to follow. Can't wait to watch where Warner Brothers takes the franchise from here!

Rediff Rating: