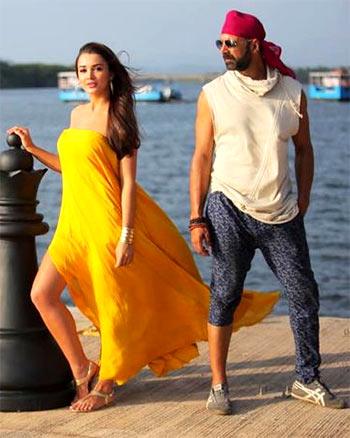 Singh is Bliing proves all that glitters is not gold, says Sukanya Verma.
As conflicting as it sounds, a lousy movie can say a lot about an actor's capabilities.

Like for how long Akshay Kumar covers up the absence of plot in Singh is Bliing on the strength of his comic charisma.
It's not enough, ultimately.
But for what its worth, the star's frisky zeal is laudable throughout the scatter-brained script whose quirky possibilities are never realised by its formulaic filmmaker.
Except rhyming with Anees Bazmee's Singh is Kiing and Akshay playing a Sikh character, the two have nothing in common.

It's neither a follow-up, nor a franchise. So I don't have to tell you I rather enjoyed Singh is Kiing or make comparisons.
Directed by Prabhudeva, Singh is Bliing is for most part a series of juvenile gags and at the centre of them is a flaky, literal-minded Sardar named Raftaar Singh (Akshay Kumar).

He's the sort of jolly symbol of loafing, Bollywood loves to portray in a ridiculously loving light.

An obligatory culture song of the lungi-clad man frolicking about a picturesque village of Punjab underscores this in colourful detail.
Singh doesn't understand a word of English but his super chic wardrobe could coin terms like village couture in fashion nomenclature.

If Prabhudeva had any imagination, Akshay would head to Mumbai to become the next Manish Arora.
Except as it happens to every second filmi bum, Singh's father (Yograj Singh) angrily urges him to find a job or marry an overweight girl of his choice.

His fleeting humiliation is swallowed in mom (Rati Agnihotri)-made parathas and jalebis. Only the sight of AK and Agnihotri winking at one another every time the other is fibbing is more disturbing than droll.
Following a bungled-up stint as zoo security in South Africa masquerading as Punjab da gaon, Singh heads to Goa for employment along with his two nondescript flunky friends.

Ever seen training wheels on a kiddie bicycle -- that's them.
Meanwhile, Singh is hired by a family acquaintance, a mafia guy running a holiday resort as some sort of cover up.

The latter may or may not be true but I made up a whole lot of things in my head to sit through this stinker.
Just when you are accommodating to Singh is Bliing's hare-brained tone, it begins to exhibit the personality of multiple ad films at once -- Amy Jackson's slo-mo horse riding introduction looks straight out of a shampoo commercial, a dapper desi gangster operating from Romania could well be selling suit fabrics.

Wait a minute, isn't that Kunal "Shashi" Kapoor? It sure is. I can't tell you how random and (unintentionally) rib tickling his presence is.
There's also a theatrical Kay Kay Menon wearing a uniformly loony smirk and saying his lines as though he was auditioning for Sadashiv Amrapurkar's part in a Sadak remake.
Speaking of oddballs, Lara Dutta does her best Rajendra Nath impression as the bumbling, blundering interpreter between Akshay and Amy (looks good, moves fast, can't act).

Her somnambulism aims to draw a few cheap laughs like only a Prabhudeva film can.
Determined to go nowhere, Singh is Bliing travels to and fro between Goa, Punjab and Romania squeezing in trivial sentimentality that occupies its entire soppy, sluggish second half.
No scarcity of effort from Akshay though.

He's alternately bubbly, adorable and airheaded. And so are his comic-book antics, especially the more spontaneous strips of funny -- the ones where he hastily departs in the middle of a command like a certain nutty manservant in Tinkle comics.
Mostly though, it's high on pedestrian humour where people shriek in pain after being knocked down by a car or coconut and absconding lions send humans in a tizzy.
It's the kind of laughable progressive where Akshay first elicits women empowerment (a forced afterthought in too many movies lately), gleefully watches his feisty heroine batter a bunch of baddies into pulp only to be downgraded into a powerless spectator watching her hero take down more men then Sunny Deol must have tackled in Gadar through its over-the-top, prolonged climax.
When they announced Singh is Bliing, I was most curious about its peculiar title and kitschy poster.

I don't know why they called it that. What I do know is all that glitters is not gold.
Rediff Rating: