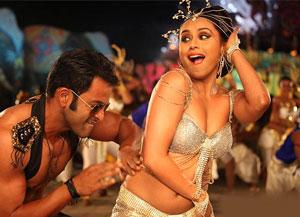 Aiyyaa is let down by its weak script, writes Prasanna D Zore

'Yeh sab kya ho raha hai
(what on earth is going on here)?,' wonders Rani Mukerji's character Meenaxi Deshpande in
Aiyyaa
as the film nears its climax.
How on earth could she read my mind? I wonder aloud.
But then this question begins troubling you no sooner than the first 30 minutes of the film has jarred your senses. That is the emotion you come out with as credits roll at the end of the film.
Widely talked about as Rani Mukerji's comeback film,
Aiyyaa
, in one word is director Sachin Kundalkar's fantasy. The director is so self-absorbed and self-obsessed that it seems the film was not made for audiences but to satisfy his own creative urges. 
Aiyyaa
is a make-believe world where characters are as contrived as they could be. Understood that Rani Mukerji plays a Maharashtrian character from Pune but that doesn't mean she has to pronounce fellow as
phellow
and freedom as
phreedom. 
Rani also uses words like
badboo
(bad odour) and
khwaab
(dream) that does not gel well with Meenaxi Deshpande's character.
Rani's brother, Nana (played by Amey Wagh), too looks like a caricature. Right when the film begins, one immediately gets a feeling that Nana is based on Tina Munim's brother Saby (played by Ranjit Chaudhary), a character in Basu Chatterjee's
Baaton Baaton Mein
(1979) and expect the film too was made on the same subject and handled as dexterously and sensitively.
But Nirmiti Samant (Rani's mother in the film) is no Pearl Padamsee and
Aiyyaa
is no
Baaton Baaton Mein
.
The film could have easily taken another trajectory altogether but the director-script writer lacks imagination and expertise to handle the character of a simple girl who is in love with somebody but can't muster enough courage to express her love.
All she does through the film's entirety is breathe sensuously whenever Surya (played by south Indian star Prithviraj Sukumaran), the object of her affection, walks past her. Where the film could somewhat connect with young girls and boys is when Rani Mukerji follows Prithviraj or imagines about him.
The only character who seems real and has been played with precision is Rani's fiance in the film Madhav (played by Subodh Bhave).
Prithviraj is as stone-like as the caves in Ajanta and hardly speaks in the film. It's only when the film nears the end that he gets to speak for just a couple of minutes. Rani's friend Maina (played by Anita Date) is another character -- a fantastic spoof on Lady Gaga -- that movie-goers may enjoy watching. Maina unabashedly imitates the pop diva and draws laughter whenever you see her on screen.
Rani, as fine an actor that one gets in Bollywood, gets no support from the way her character is written but nevertheless is a joy to watch. The ways she says
aiyyaa
(a Marathi expression used when one is pleasantly surprised), the way she breathes, the way she portrays her character, and the way she dances.
There is no way to find fault with Rani but she is shockingly let down by the storyline.
One can only hope Rani is more selective of what she portrays on screen.
The song
Dreamum wakeuppum
is the only high point of the film. The rest of the songs are ordinary and easily forgettable for its music. The song
What to do
, however, will be remembered for its raunchiness and the comfortable cavorting between Anita Date and Amey Wagh.
However, one can't help but say that after every ten minutes or so as the film progresses one expects an unexpected turn that never comes.
Rediff Rating: