Director Ahmed Khan could not do justice to the story. And this is the biggest weakness of the film, feels Deepak Mishra.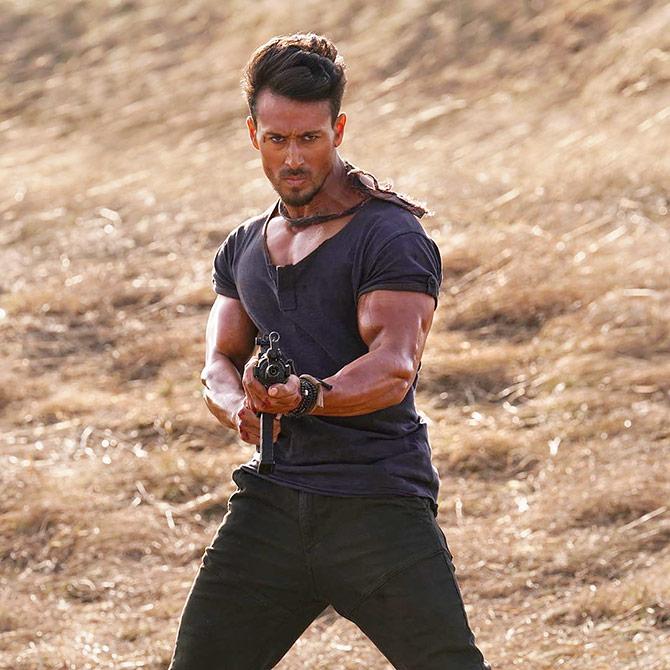 We asked readers to send in their reviews of Baaghi 3, and we got quite a few!
Here's a look at what Rediff reader Deepak Mishra thought about the film:
Tiger Shroff tries to draw the audience attention to the film with the action of breaking his enemies' bones in the trailer of Baaghi 3.
But during the film, the same action becomes monotonous.
In one line it can be said that Baaghi 3 is not worth watching.
However, it is Tiger Shroff's hit franchise, in which his action is always better than the previous film. But the uninteresting story has made this film cumbersome.
The story is about two brothers who have a lot of love for each other.
If one gets scratched, the other sheds rivers of blood.
But only the younger brother plays the role of the protector. Here, Rony (the younger brother, played by Tiger Shroff) and Vikram (played by Ritesh Deshmukh) are brothers.
The story takes such a turn that Rony has to go to Syria to save his brother. Here, his enemy is not a single person or organisation but a country.
How he protects his brother is the story of the film.
Director Ahmed Khan has used a six pack abs of Tiger's body, amazing stunts and unmatched fighting.
But he could not do justice to the story. And this is the biggest weakness of the film.
Talking about acting, Tiger Shroff is the action king. This time too, he is in strong action style.
Shraddha Kapoor has nothing to do.
Riteish Deshmukh is also fine but there is nothing that you can remember about that character after leaving the theatre.
The music is mediocre, the story is weak, and the dialogue lacks power.
If you want to see this film, go only for Tiger Shroff's action.
My rating is two out of five stars.
Take my review as an audience review, not as a professional film critic.
What did YOU think about the film?
We give you *your* space to tell us what you think about Baaghi 3?
Please send your review to moviesdesk@rediff.co.in (Subject: My Review) along with your NAME, AGE, LOCATION.
We'll publish the best reviews on Rediff.com. Reviews may be lightly edited for clarity.