Baaghi 3 is a senseless beast of a movie that solely exists to rupture the screen in images of broken, blasting, blaring men or machines flying mid-air and slow motion, feels Sukanya Verma.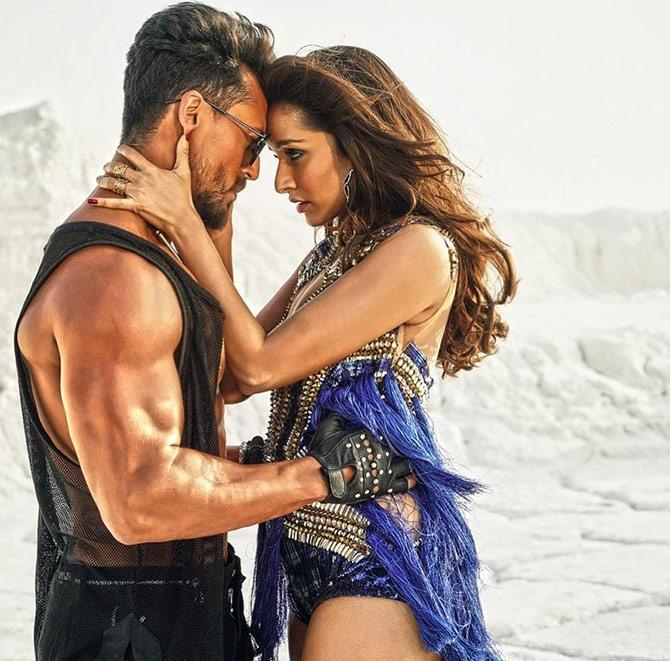 When Tiger Shroff says he's never got a good review in his life, it sounds like a career goal he's determined to maintain and works ardently to go one better in Baaghi 3.
If Baaghi and Baaghi 2 took astonishing strides in absurdity and embodied Bollywood's enthusiasm for peddling trash as entertainment, Baaghi 3 hits rock bottom of the birdbrained franchise through its course of two and a half hours of reason defying, mind numbing, soul destroying free-for-all.
Choreographer-turned-director Ahmed Khan returns to helm Baaghi 3, a ghastly remake of the Tamil hit, Vettai whose producer Sajid Nadiadwala is also credited for its 'story adaptation.' That's never too promising when your previous writing credits include Housefull, Housefull 2 and Kick.
True to its over-the-top trailer, Baaghi 3 is a senseless beast of a movie that solely exists to rupture the screen in images of broken, blasting, blaring men or machines flying mid-air and slow motion.
Nothing is what it seems in this farce that neglects the basic details while passing off Serbia as Syria, Jaipur as Agra and Turkish tea as kahwa.
Ahmed Khan could have at least bothered to check what a Syrian cop's uniform looks like.
Instead all the homework is done by Tiger Shroff's super nimble thighs.
The camera makes sure to highlight their flexibility from every nook and corner.
No doubt he can fly, leap, swoop, somersault, dive from any height, any position, any angle and still his foot will unfailingly land bang into the opponent's face. Yet ask the man to emote and all those million rippling muscles vanish into thin air.
Though he's named Ronnie in the movie, he could very well be Shazam (or Candyman for that matter) -- all one has to do yell out his name and his Popeye muscles pop out of nowhere and beat the bad guy into pulp.
The guy usually doing all the bellowing is big brother Vikram (Riteish Deshmukh), a scaredy-cat policeman in perennial need of rescue for reasons unexplained. Unless you want to read between the lines -- Policewala apne liye goonda kyun nahi rakh sakta?
Baaghi 3 is an ode to mollycoddling.
Every single scene is coloured in idiocy.
Like Ronnie's dad whips him with a belt for protecting his brother from bullies only to extract a promise of saving Vikram from bullies on his death bed.
Meanwhile, Ronnie sits home doing nothing waiting to proxy for his spineless bade bhaiya, who has absolutely no qualms hogging all the credit.
Compared to Tiger's bromance around Hrithik Roshan in War, Baaghi 3's cosseting brotherhood is an enormous turn off.
The effectiveness of Vikram's scream and Ronnie's reach is truly tested when the twain land in Syria and directly into the heart of an ISIS-ish terrorist organisation.
A great many helicopters collide while Tiger runs amok and wreak havoc into the region until it resembles a shoddy VFX-aided dust and Diwali.
In its scheme of all-you-can-consume-hogwash, it's best if you do not wonder how a regular slacker became so adept at using bombs and machine guns, a la Rambo -- given that even the latter had some experience as war veteran?
Or how Shraddha Kapoor miraculously acquires a tan as soon she steps foot in Syria?
Or her pran jaaye par fashion na jaaye commitment?
Or why every second character speaks with some strange speech issue?
The head of the Syrian militant terror organisation boasts about his 44 languages knowhow while Shraddha Kapoor's character blathers 'maa ke looteron, baap ki beep' in her annoyingly innuendo heavy dialogues.
It's the sort of excruciatingly bad performance that deserves an on-the-spot Razzie.
Riteish Deshmukh comes a close second for his inability in making the sissy cop even the slightest bit interesting.
More unsettling is to watch good actors reduced to silly stock characters like Vijay Varma playing a Pakistani thug, who speaks in a Hyderabadi accent and Jaideep Ahlawat as the proverbial goonda developing a golden heart in the middle of a landmine.
Jackie Shroff's daddy and Disha Patani's dancer are tossed in for cheap thrills in a manner one can only expect from a movie whose idea of humour is Gumrah karke Bumrah ki tarah ball phenk raha hai.
What I really laughed loud at is gun-toting Syrian police running around like puppets and taking orders from Tiger and Shraddha while they single-handedly take down global terrorism.
Leave your brains at home did someone say? In vain! Tiger travels to Syria and beyond sense to clobber everything in sight.
Rediff Rating: