"Back to School!" screams the tagline for N Lingusamy's Pattalam (Gang) and, as expected, this Tamil movie is all about the laughter and tears, magic and despair of the wonder years in school. It's a tried and tested formula in Hollywood, but considered a rather risky proposition here, which is why debutant Rohan Krshna's venture comes with both a breath of fresh air, and a whiff of staleness.
Where he's scored, at any rate, is his ensemble cast of school kids: Sakkarai, Nattu, Guru, Jagan, Jilakki, Karthi and Mani (Arun, Kiruba and Co), a jolly group of Standard 12 students, split into two groups. Neither can stand the sight of each other and are perpetually finding ways at one-upmanship in their alma mater, Holy Bells Matriculation School. Their days are filled with rabble-rousing pranks, scrapes and trying to outwit one another, even as they mimic every actor in the industry.
Playing stylish and a rather unbelievable school ma'am is Daisy (Nadiya Moidu), who wears beautiful designer saris and thread necklaces which make her more a contender for Mrs Chennai rather than a headmistress/physiatrist. In her care isn't just the school, but the Holy Bells Mental Asylum as well, where Sakkarai, an orphan is an inmate. As is the norm with many movies, mentally ill patients run just anyhow, and don't seem to receive any care except in one random scene.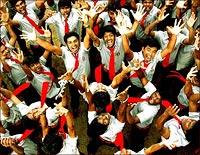 Still, she tries as much as she can to discipline them using kind words and cliched phrases; naturally, they have no effect. The arrival of Sophia, an orphan who lives in the asylum and begins school, adds to the fray. Sakkarai is attracted to her, but romance is in a limbo as she likes Karthi equally well.
And so it goes on, with Jassi Gift's songs even if fitting the general raucousness found in schools quite well impedes the screenplay considerably. Most of the time, when they aren't being talked to by Daisy, they manage to tickle your funny bone well enough. Thankfully, they really are school-kids, instead of mouthing platitudes.
And finally, when you've had enough of a screenplay that meanders all the way through the first half, you get a break: Karthi tries to hang himself.
Sadly, the movie doesn't really capitalise on this gripping moment with the result that right until the climax which comes with a twist, you're left meandering again.
Of  the cast, it's Nadiya, the ever-young heroine who falls flat. Even baby-faced Sophia with her irritating accent has done well. Not really her fault, though; she's been given such terribly cheesy lines that they make you want to yawn and hurry up to the students' antics.
Sasikumar's artwork brings a school to life, while Krishnasamy's camera-work presents the life and times of a school student quite well.
Jassi Gift might not be very memorable in the songs, but his background score during the relay-race hits the mark perfectly.
Pattalam does give you a brief, 'in the school' feeling; pity that it's so short-lived.
Rediff Rating: