I always wanted to be a teacher,' reveals Shah Rukh Khan on the first episode of his new game show for Star Plus,
Kya Aap Paanchvi Paas Se Tez Hain
, which made its debut on April 25 amidst huge hype and curiosity. And then in characteristic SRK style, goes on to poke fun at his turn as a violin teacher in
Mohabbatein
-- '
padhaya kam, bajaya zyada
.' 
Last year, the actor returned to his small screen roots, after nearly a decade (post-
Fauji, Circus
), to replace Amitabh Bachchan as the host of
Kaun Banega Crorepati
's third season. Once King Khan warmed up to his new role, the episodes became enjoyable and made for effortless viewing. Hopefully,
KAPPSTH
will take the same route.
The show

There's no hot seat, here. Instead, welcome to SRK's classroom, which, pretty much, resembles the original show's (
Are You Smarter Than A 5th Grader?
) set. A huge screen carries 10 colourfully-labeled categories of subjects.
A group of five know-all kids adorn the benches to Shah Rukh's left. The contestant selects a category to answer questions, worth Rs 10,000 to Rs 1 crore before qualifying for the Rs 5 crore prize.
Unlike
KBC
, this doesn't have the option of multiple-choice answers. There's no dial-a-friend or fifty-fifty. Nor can the contestant flip the question. Instead, he/she is given the option of picking a kid (who keep shuffling after every two questions) and three cheats or help-lines called
Taak Jhaak
, Copy,
Bachao
wherein the contestant can sneak into, outright copy or hope the smart fifth-grader answered correctly and save his/her skin.
And what does our superstar host do all this time? Ask questions.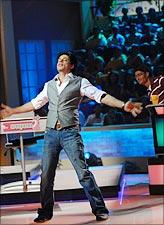 The questions

Did you know Leatherback turtle is the largest turtle in the world weighing over 500kgs or Qutub Minar's foundation was laid by the Slave dynasty?
Easier asked than answered, the questions are the best part about this show. It's a sight to watch successful grown-ups transform into fumbling losers. Even Class 2 Mathematics seems like a binomial theorem for PH.D holder Vedula Ranlaxmi as she struggles to answer how many edges are there in a triangular prism. The answer is nine.
And if you are weak at remembering dates, like Roshni Laura George, you obviously don't know the answer to 'Which year was Lok Sabha constituted in?' 1952 is the answer, not-so-wise guy. Also, what do we better know the peak which the British called Mount Godwin? Bingo! K2.
There are simple ones too. Like Tulsi in English is Basil, true or false? Or Where is Meenakshi temple situated in Tamil Nadu? True and Madurai are the respective replies.
The host

The superstar factor of the show -- Shah Rukh Khan is, surprisingly, not his usual vigorous self. Perhaps running a production house, making movies and owning an entire cricket team does that to a person.
In the first three episodes aired on Friday, Saturday and Sunday (April 25, 26, 27), SRK appears slightly exhausted in the opening episode, much more alert in the second and fairly-in-command during the third one.
Despite being the major attraction of
KAPPSTH
, SRK consciously lets the questions, children and participants hog considerable footage, which though gracious on his part, is not always a good thing. Ideally, he should orchestrate the whole mood. And occasionally ribbing a blundering contestant doesn't achieve that. Right now, he's approachable but linear and objective, like a real-time
school teacher. It wouldn't hurt to have some laughs along the way. At the moment, there aren't too many of those. Even his wrap-up ploy,
Khan Ki Kahaniyaan
is simply blah.
It would be interesting to watch SRK interact a bit more personally with the participants, beyond their likes, dislikes and certified achievements. Something the witty host of the original, Jeff Foxworthy, did quite frequently and fluently.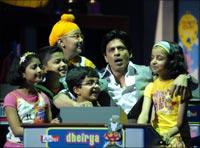 The kids

There are five of them.
A supremely self-assured Anubhav. He has a killer smile and even shows off some of his dance moves to the beats of
Dard-e-Disco.
The eternally giggling Sreeparna. The chatterbox loves to sing, paint and knows all the answers.
The cute Sardar boy, Milanjeet, ever-so-jovial and exuberant.
Nine-year-old Dheirya is the 'Hari Puttar' of these tiny group, thanks to his Harry Potter like glasses. The adorable kid got one of the contestants in trouble when he incorrectly answered a question.
SRK calls her his princess. Meet Shriya, she's quite a well-known face on the advertising circuit. Remember Ajay Devgan and Kajol's on-screen perky daughter in the Whirlpool commercial? The Palampur kid is also starring in Kunal Kohli's
Thoda Pyaar Thoda Magic
. Nice, but addressing the
Om Shanti Om
star as 'Shah Rukh Bhaiya' is a little too much no?
The kids are brimming with energy and knowledge, which is awesome. They could try and improve the spontaneity level of the show by being slightly candid and start by pulling SRK's leg a little.

The contestants

Believe it or not, if this show fails to click, the contestants are to be blamed. They seem like such put-ons (put-offs too, actually).
Except second year science student, Mullah Nekmat Ali, fondly nicknamed Nekda Kekda, the other three players,
KAPPSTZH
has witnessed so far, range from big time bizarre to plain dumb.
Orissa's Vedula Ramlaxmi made as much noise as her four dozen red bangles, no thanks to her constant sighing and tittering. Indore's Pramod Kumar Tripathi insisted on tormenting the audience with his queer rap rendition, twice.
Then came a student of journalism and mass communication cum model from Bangalore, Roshni Laura George. The good-looking lass, though bindaas and hostess material herself, mistook a game quiz for a comedy show. Her antics felt too rehearsed to be genuine, asking SRK on a date, romping around him in circles to figure out sun's rotation period. What's more she believed Karachi, and then Lahore to be the capital of Pakistan. Ditto for her geeky sister. Istanbul, came her reply. Ladies, ever heard of Islamabad? You don't have to be
paanchvi paas
or
tez
to know this.
Oddly, SRK remained politeness personified all through considering he made a jab at practically the whole of Bollywood at a recent awards function.

The verdict

The concept is super. The questions truly excite. And the program does qualify to educate. It's a great interactive experience -- for kids and adults alike. But quizzing alone doesn't make a show a hit.
What
Kya Aap Paanchvi Paas Se Tez Hain
needs to work on is its wit, spontaneity and reality while blending enlightenment with entertainment.
Rediff Rating: