Outside In The Lockdown Special is refreshing, funny, relatable and emotional, applauds Namrata Thakker.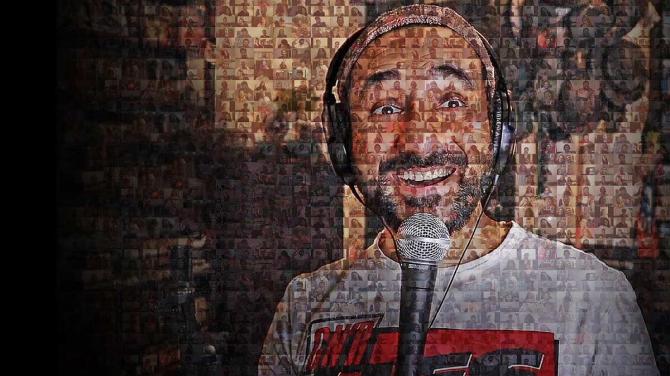 While the world is plagued by the pandemic, social distancing has become a way of life.
In his new Netflix feature, Outside In The Lockdown Special, stand-up comedian Vir Das is seen performing for his audience across the globe over Zoom calls. It asserts the fact that the pandemic has affected every soul in the world, irrespective of geographical boundaries.
Written, directed and edited by Das, Lockdown Special is a 50 minute show wherein he has combined bits and pieces from the 30 shows he did during the lockdown to raise money for charity.
Right from the start, you feel an instant connect with Das, as it seems he is talking to you directly.
It's like watching someone's vlog as you see him perform and interact with the audiences from the comfort of his studio room.
Unlike how you see him on stage, all dapper and cleaned-up, here you see Vir in his regular tees with stylish headbands and an unshaven look.
It's as real as it gets.
The best part about this feature is that Das gets vulnerable a few times and it's so relatable.
Every time Vir starts his gig, the first thing he asks his audience is the one thing they would do when the world reopens. Now remember this whole thing was shot when most countries were in complete lockdown and hence the question.
Most of the answers he gets are regular, normal, stuff like going on a bike ride or getting eyebrows done.
Vir takes off from there and in his unassuming comical way makes us realise that even these little things are sort of privileges.
Since everything is unscripted, it's fun to see how Vir improvises while talking to his audience about the pandemic, politics and mostly everything under the sun.
Of course, some of the interactions are funnier than others especially the time when Das talks to an American lady who is a travel agent living in India. That conversation is absolutely hilarious.
There's another one where Das hears someone flushing their toilet while attending his Zoom gig. You really have to watch the video to know how funny it is.
From jokes revolving around the pandemic to interacting with frontline health workers and paying them a tribute, Outside In Lockdown Special is endearing and engaging.
You will have a big smile throughout and that's all credit to Vir Das.
There's a small section where Vir talks about an elderly neighbour who sneezed on him and how that made it to the headlines after he posted about it on his social media.
Then when he talks to a student who was supposed to go to the US for his studies, Vir gets a bit sentimental but says something very relevant and touching.
He lets his guard down a bit when one viewer asks everyone to sing happy birthday for him.
He also gets overwhelmed while revealing that Jerry Seinfeld and Chris Hart spoke about him and found him funny.
All these instances add an emotional quotient to the feature and it works beautifully.
Outside In The Lockdown Special is absolutely worth your time.
Vir Das's Netflix Special is refreshing, funny, relatable and emotional -- all at the same time.
So just stream it and have a bloody good time.
Rediff Rating: