As good as Mammootty is playing Sundaram, we see this facet of his performance through two lenses: That of Sundaram being an offset to whatever we know about James, and that of Mammootty doing quintessentially Tamil tics, including enacting scenes from old Tamil movies like solo plays, observes Rohit Sathish Nair.
SPOILERS AHEAD: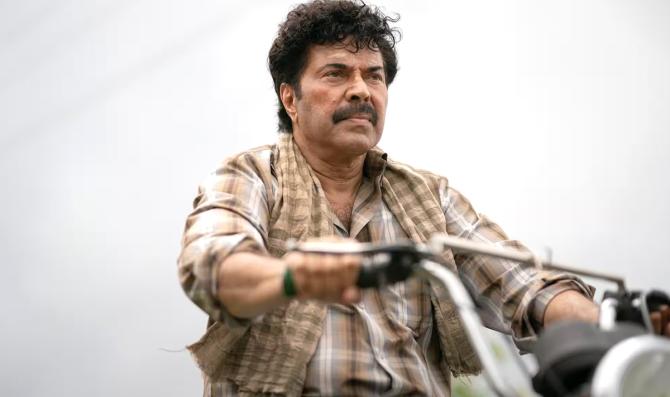 Nanpakal Nerathu Mayakkam, the title of Lijo Jose Pellissery's new film, loosely translates to A Mid-Day's Nap. It sounds close in spirit to Shakespeare's A Midsummer Night's Dream (The English title for the film during its festival circuit run was Like An Afternoon Dream).
That said, the film borrows its spirit from another creation of the Bard's -- the monologue from As You Like It that goes 'All the world's a stage, and all the men and women merely players...' (also known as a poem called The Seven Ages).
Well, that, and also, amusingly enough, an old Greenply commercial, which the makers mention as part of the film's opening credits. It's one where a Sikh boy, during a bus ride in Tamil Nadu with his parents, is seemingly possessed by a previous incarnation, that of a Tamilian. The kid gets the bus to stop, and goes to the Tamilian's village and ancestral home, where he reunites with his old family.
The ad derives its humour from the oddity of a Punjabi speaking in chaste Tamil (and to its credit, the exercise has more dignity than say, 2 States) but Nanpakal... (with a similar plot, of Mammootty's James waking from a nap as Sundaram and visiting the latter's family) chooses a duality that is less stark, that between Tamil and Malayalam.
There are reviews and readings of the movie that have picked on this and mentioned loads about cultural unity, provincialism, parochialism and what not (at least the ones that I read stopped short of talking about Dravidianism and narcissism of small differences), but I'm not sure to what extent Pellissery meant for the movie to be about the same.
A few aspects about Tamil-Malayali relations that don't get discussed a lot publicly, include an inflated sense of Malayali pride that manifests as scorn for the Tamilian (particularly, a certain class or group of castes of Tamilians) -- this during pilgrimages to Sabarimala no less -- where pride and arrogance ought to be relinquished.
They include a diametrically opposite sentiment -- a propensity for Malayalees to take to Tamil cultural touch points to express certain emotions in a full-bodied manner (by extension, we see in Kerala's love for dubbed Allu Arjun and Ram Charan movies too), as opposed to what is known as the 'subtle, understated, Malayali' way of self-expression.
The closest Nanpakal... comes to talking about this duality is closer to the former observation, where James views with suspicion a Tamil hotel, and expresses displeasure with the hotel's saccharine tea (not too dissimilar too from Malayalis' and Tamilians' wariness with the sweet, radish-added sambar of Karnataka, or even a central Keralite's aversion to the addition of garlic and cumin in dishes of Travancore cuisine).
As for other themes, one could talk about the ways in which the ad could have inspired a movie (in others if not in Pellissery and Hareesh themselves): Subversions of the possession sub-genre of horror, the reincarnation genre, or even the rather niche sub-genre regarding multiple personalities.
The makers' artistic choice is to outwardly steer clear of these rather 'popular', 'cinematic' tools (or at least leave the movie rather open-ended for us viewers to make our own guesses about the same), and based on their second source of inspiration, and fashion the film as a tribute to the stage.
Pellissery weaves in a couple of personal odes through references to his father (actor Jose Pellissery)'s drama troupe Chalakkudy Saarathy as well as Thilakan, and also chooses to go against his recent, usual, ultrakinetic style (seen in Angamaly Diaries, Ee.Ma.Yau and Jallikkattu), as an exercise in form.
Most frames of Nanpakal... act as some sort of proscenium arch, with the characters supposedly denoted as actors, their setting and surroundings the stage.
Each scene is its own entity like a scene or act in theatre, each with its own ambient sounds.
There is little to no camera movement, and even those little cinematic woo-woos like using the depth of field of the frame well in the initial scenes, are eschewed in favour of theatricality once James wakes up as Sundaram.
All that we get for a background score, J-cuts or L-cuts, are scenes and songs from old Tamil movies playing in television sets and radios across the village where James resumes the missing (or probably dead) Sundaram's life -- it's mildly tickling to think of it as God having fun at the expense of both James' and Sundaram's families; a self-congratulatory commentary track to go with a rude, bully-like prank.
Pellissery and his DOP (Director Of Photography) Theni Easwar are canny enough to switch up the visual rhythm, by say, keeping the jitteriness intact in a static shot mounted in the bus, of the driver (Rajesh Sharma) at work. Even as they are judicious in, for example, reserving the point-of-view shot for a pivotal moment (that of Sundaram looking at a mirror, and seeing James, the new, unfamiliar abode of his soul).
Even with the consistent static style chosen for the film, the makers rather smartly choose to demarcate the James and Sundaram portions differently.
The shots before James' nap come with a use of depth-of-field that is a lot starker and less 'theatrical', when compared to the Sundaram portions.
That said, there are quite a few instances where one thinks whether this deliberate shift in style comes at the cost of the possibilities inherent in the material.
The better, more memorable scenes in the Sundaram portions, invariably involve groups of people rather than single, isolated characters.
These scenes come with both the vivacity of cinema as well as the concentration and intensity of theatre. Similar to scenes and acts in theatre that play on uncut, these scenes have the most dramatic players and actions concentrated within the frame.
Other scenes though, particularly those that seek to establish a sense of place (or at least those scenes that do the equivalent of the set-up in drama), due to the restriction of having to fulfill that single function alone, do not get to bloom.
Furthermore, one wonders whether Pellissery chose to suppress his natural instinct or the possibilities of the visual, cinematic medium in the process of adopting this new style, given that these static images don't seem to be glued by the unwritten rules of direction and space in cinema.
As beautiful as some of the static compositions are, one misses both the 'flow' that cinema offers, as well as the promise of action, spectacle, thought and contemplation through drama.
One also wonders whether this ostensibly 'theatrical' movie could have used more drama.
Even as the makers opt to link their core idea with the concept of theatre (through the reference to the Seven Ages), we're not sure to what extent they seek to connect the aspect of performance with say, the genuine kind of 'performing' we do out of irrational fear, conscious and rational motives, or the need to fit in.
Could the makers have further expanded on the pop quality of the ad, or the many genres that the ad seems to reference?
In other words, what would a more immediately appealing movie based on this concept look like?
Could they also have further dramatised the particular bittersweet sorrow that Sundaram's family goes through -- that of meeting someone they don't know and yet do know somewhat; someone who they don't recognise, yet someone who knows them deeply?
This doubt further plagues us when we compare the Tamil set of actors with the Keralite set of actors.
According to the design of the film, you'd expect Sundaram's folks to go through an ordeal more emotionally vivid than James' folks (the latter's concerns seem more petty than Sundaram' folks').
Even so, it is the Malayali set of actors (Ramya Suvi, Ashokan, Balan Parakkal, Suresh Babu, Gireesh Perinchery, Vipin Atley and Rajesh Sharma) who give more expansive, physicalized performances and more precise ones at that (Is it because Malayali actors know better to pitch their performances at a level that is equally theatrical and cinematic? One can't say for sure).
Now moving on to the crowd-pulling factor.
As good as Mammootty is playing Sundaram, we see this facet of his performance through two lenses: That of Sundaram being an offset to whatever we know about James, and that of Mammootty doing quintessentially Tamil tics, including enacting scenes from old Tamil movies like solo plays.
Even so, it is fun to see Mammootty disappearing in crowds (particularly in the James portions where he isn't the focus of attention).
There are scenes that tap into the 'cantankerous Mammootty' persona that we are all familiar with as a collective audience (for example, the tea scene), while there's also the scene where James, in a moment of glee, narrates a story about his father-in-law's father to his group.
He is also terrific in the film's climactic moment, after he wakes up from a second nap.
We expect him to wake up as James, and yet, he exploits Sundaram's unease with his body to show a certain tentativeness, keeping us in doubt (even if for a moment), about whether he is James or Sundaram.
The effect of the final scenes is that of a bedtime story (which I certainly don't mean as a diss), with the same kind of definite closure.
One also gets the feel of a dream filled with confusion and disorientation, that you might forget as you wake up, but will still continue experiencing through a nap later.
Nanpakal Nerathu Mayakkam streams on Netflix.