'Dikhlade thenge in sabko jo udna na jaane,' a happy-go-lucky voice smugly states at some point during the thrilling course of Delhi 6's soundtrack. And man, what a thumbs down to all the seriously imagination-challenged musicians out there.
A R Rahman (who else, really?) makes waiting for his music such a worthwhile chore what with one fantastic soundtrack after another. Close on the heels of a deserving Golden Globes wins follows the anticipated score of Rakeysh Omprakash Mehra's Delhi 6. Considering its impossible-to-define Chandni Chowk roots, Rahman injects the sounds of this 10-tracked album with an eclectic fusion of various genres. Bottom line: it's a 10 on 10.
Here's why:
Move over Aditi, lyricist Prasoon Joshi, his soaring imagination and Rahman at his affable best; collaborate to produce the mirthful, fluttering sensation, Masakali. Playing on the metaphor of a carefree pigeon of the same name whilst drawing parallels with Sonam Kapoor's chirpy Bittu, Masakali is unanimously charming and contagiously blithe. The real winner of this enterprise is, of course, a crisp-sounding Mohit Chauhan. Best known for his slow-motioned renditions like Khoon chala (Rang De Basanti), Tum se hi (Jab We Met) and Is this love? (Kismat Konnection), the Silk Route front man customizes this ravishing track with a touch of ada and frills of masti, once associated with the inimitable Mohammed Rafi.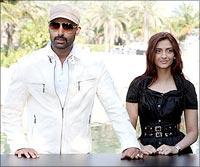 While it's impossible to proceed into the album without putting Masakali on the 'Repeat' mode, the show must go on. And so it does through the Sufism-imbued notes of Arziyan. Its poignancy is echoed in the simplicity of its heartfelt cry, 'Maramat muqaddar ki kardo, Maula (Mend my fate, Almighty).' A song of this genre calls for flawless chemistry between its core voices, a requirement that is seamlessly exhibited in the range of Javed Ali and emotions of Kailash Kher.
Spirituality is a frequent theme of the album. It makes its presence felt in the pious prayers of Aarti--Tumre bhavan mein as well as Amitabh Bachchan's commanding baritone in Noor, where he waxes eloquent about God's omnipresent ways.
A dash of nu metal, a few cubes of alternative rock and spray of rap/hip hop, Delhi 6 is a grungy cocktail of metal and attitude. The latter is thrown in truckloads via Blaaze, Benny, Viviane Pocha, Tanvi and Claire. Rahman understands genres skilfully and juggles them to perfection, unlike the wannabe eagerness of his colleagues to achieve the same. Almost high on the pandemonium, individuality, insolence and romance of India's capital city, Delhi 6 pays a funky tribute.
The recurrent rhythm and care-a-damn tone of Hey kaala Bandar spell boys-just-wanna-have-fun brand of camaraderie. There is a lot of erstwhile Rahman to be found in this medley of cheek and cheer, from Barso re (Guru), Shanno Shanno (Yuuvraaj) to Behka (Ghajini) and Paathshala (RDB).
Up next, the much-awaited Rahman-behind-microphone moment arrives. This time the maestro's surrealism is an upgraded reminder of Sting in the Eighties. Its fairy-tale-like sorcery with a hint of Arabic exotica lends Rehna tu an aura of precise enchantment and magical romance, wherein a smitten lover gushes in honour of his lady's cosmetic-free loveliness. Joshi's penmanship goes from strength to strength, besotted and inspired in turns.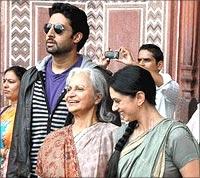 The ingenious writer gets another opportunity to pour his crimson-hued similes some more in one of Delhi 6's best creations, Dil gira dafatan. The delicacy of Ash King's performance, supported by Chinmayee, resonates in the mellifluous imagery and exquisite minimalism of this glorious beauty. Spellbinding stuff from Rahman, this.
Lending a humorous, snazzy twist to Saraswati Chanra's Main toh bhool gayi babul ka ghar-line of sentiments enters the playful and catchy, Genda phool. Composer Rajat Dholakia and Rahman share the credit for this immensely entertaining shaadi ditty performed with delectable naughtiness by Rekha Bharadwaj (the husky voice behind Namak, Omkara) accompanied by Shraddha Pandit and Sujata Majumdar.
Rahman's mastery is at work as he treats the Indian classical form Gujri todi in a mesmerising fashion to helm the stirring bandish, Bhor bhaye. Sparkling in the impeccable traditions of Ustad Bade Ghulam Ali Khan's rousing rendition and a confident Shreya Ghosal, Bhor bhaye is a three-minutes-and-18-seconds long overwhelming experience.
There's enough inspiration to be found in Delhi's most celebrated pin code. And as he's done for so many other landscapes, localities and lanes in the past, Rahman pays Delhi 6 a whopper ode in this swashbuckler of a soundtrack. The musketeers will be envious.*
Rediff Rating: 

*Refer to Slumdog Millionaire.