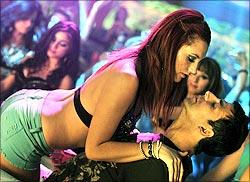 Raja Sen reviews Thank You. Post YOUR reviews here!

I suspect Akshay Kumar makes most of his movies just for the workout. Looking at his interchangeable comic roles, the actor increasingly seems to limit himself through the motions, flicking on that auto-pilot switch behind his head as he grins and grimaces and groans and guffaws, the latter working overtime in the way laugh-tracks used to do in old sitcoms: if you hear enough laughing, chances are you'll crack open a chuckle yourself.

Well, at least in theory. Despite Kumar's joker-in-a-box automaton attempts, Anees Bazmee's latest film Thank You goes nowhere, and takes forever to, um, not get there.


Frequently the film, like leading man Kumar, doesn't even bother with the attempt of being funny. And perhaps it really is high time we the audience stopped paying multiplex prices to watch Akshay Kumar go to his gym.

The story is template Bazmee: three wives decide to teach their straying husbands a lesson. Enter a private detective --specialising in husband-rehabilitation -- who, after raking the three husbands over the coals through the film, decides to eventually let Worst Husband Ever off the hook because said husband has now turned homicidal.
"That passion in your eyes," raves the detective, referring to bloodshot, trigger-happy rage, "is just what I wanted to see. Go remarry your wife."

Yes, it is just that kind of a film. It is also one that mistakes itself for being sensitive simply because it rallies against the male sex for philandering, before calling that a habit, a "chhoti-si aadat."
But hey, the filmmakers say, we're also calling men dogs so that automatically shows we're sympathetic towards women, right? (Feel free to insert an appropriately sized eye-roll here, do.)

Speaking of women, there are three here with predictably little to do. Sonam Kapoor spends most of the film realistically bawling her eyes out -- presumably lamenting being in a film this moronic -- and occasionally being shrill. Not being say, a Karisma Kapoor, she doesn't fit into the idiocy at all.
Rimi Sen, by virtue of being in many a scriptless film, has learnt to PareshRawal-ise her expressions enough to count as halfway funny, or at least funny-looking, and even Bazmee decides to keep Celina Jaitley's involvement to a minimum. (Thank You, Mr Director.)

Irrfan Khan, completely out of sorts as a know-it-all player and seducer of women, is markedly better in the second half when he doesn't have a clue but that's simply because Khan is a good actor particularly brilliant at acting clueless.
Kumar, also a fine actor, chooses in these films not to even try, and it is this that brings us to one of those chilly-days-in-Hell kind of declarations: that Suniel Shetty is the best thing in this film.

I kid you not. My fingers kept recoiling as I shakily typed that out but it is true. Shetty, who hasn't been watchable in over a decade, actually cuts loose with slapstick flair in this one. He owns the only actual jokes in the film (two, I counted) and genuinely seems to be having a good time.

Too bad he's the only one. Call me ungrateful but, in a nutshell, no thank you.

Rediff Rating: