It's not every day that you see a superhero in a lungi running over cars, bashing the bad guy and saving village folk, observes Divya Nair.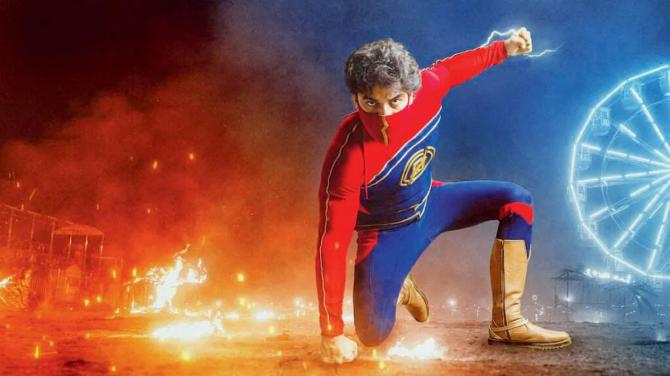 It must be over a year ago when I watched an interview with Basil Joseph and Tovino Thomas excitedly talking about the making of a superhero film. Maybe it was the duo's passionate narration or the mere idea of having an Indian superhero, but Minnal Murali seemed like an interesting film even before it released.
Directed by Basil Joseph, Minnal Murali is set in the late 1980s and early 1990s.
It has two parallel stories featuring Jaison (Tovino) and Shibu (Guru Somasundaram).
Jaison is a small-time tailor who is in love with the daughter of the local sub-inspector and dreams of settling in America.
Shibu is a madman who works in a tea shop and still has feelings for Usha who once eloped with her boyfriend.
While both fail in life and love, one day, they are struck by a powerful bolt of lightning that blesses them with superpowers that can change their lives.
While Jaison is guided by his smart nephew to realise and utilise his super abilities in a fun and positive way, Shibu uses it differently to reclaim and build a life he once dreamed of.
Their antics end up confusing the village folk who are unable to decide if their local superhero is a saviour or a murderer.
Just when Jaison feels empowered to have taken up a cause, he has to deal with the wrongdoings of the imposter.
As fate would have it, they end up coming in each other's way eventually leading to a face-off.
What these two men do with their extraordinary powers and how they confront each other is the rest of the story.
Now Minnal Murali is not the first desi superhero. We've seen the likes of Shaktiman and Krrish.
But like Basil mentions, Minnal Murali is not a fancy superhero like Spiderman, Batman or Flash. He is just an ordinary guy with a few extraordinary powers.
It's not every day that you see a superhero in a lungi running over cars, bashing the bad guy and saving village folk.
There are a lot of things I liked about Basil's detailing about Jaison.
From an average village guy who wore cheap fashion brands and harboured an American dream to a superhero who discovers his link to the unfortunate past and desperately wants to mark his identity in the present and future, the progress is interesting and even endearing in parts, if not inspiring.
The integrity of the film can be summed up in one scene where Murali, after trying a few successful stunts, climbs up a tree and attempts to fly. When he lands face down, his nephew advises him: Let's stick to doing what we are capable of.
Despite their immense mental and muscle power, both Minnal Murali and his nemesis end up making mistakes, getting hurt and learning their own lessons.
While Basil's idea and thought process of how a superhero is born is meant to win your heart, the plot may not necessarily inspire you.
The characters and story (set in a lost era) may not seem relevant to a lot of youngsters who are living in the digital age (except for the scene in which Murali wears a face mask as a part of his costume).
As a viewer, you have the choice of paying big bucks to watch a fancy Spiderman movie in a theatre and come home thrilled or you can simply grab some chips and watch Minnal Muraliin from the comfort of your home.
If you choose the latter, you will still enjoy this earnest film with your family and kids and watch them applaud the comic sequences and the stunts.
Minnal Murali streams on Netflix.
Rediff Rating: