Even though the plot is predictable, Allu Arjun's swag makes this film an edge-of-the seat action-drama, observes Divya Nair.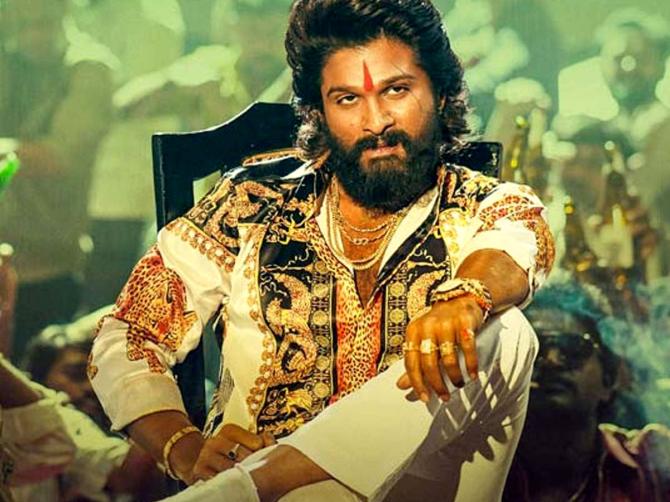 I have always refrained from watching dubbed versions of regional films, especially Southern films dubbed in Hindi, because I feel the essence of the original is often lost in translation. Yet, I chose to watch the Telugu film Pushpa: The Rise in Hindi and realised that maybe it's time I learned a new language.
Written and directed by Sukumar (popular for films like Arya 1 and Arya 2 and Rangasthalam), Pushpa: The Rise is the first of a two part series which narrates the story of how Pushpa -- an ambitious, daily wage worker (played by Allu Arjun) -- gradually goes on to lead a group who smuggle red sanders, a rare wood from the jungles of Seshachalam Hills in Andhra Pradesh.
Pushpa is no hero, he's a smuggler, but he has his own rules, ethics and dreams.
With a little help and morale boost from Keshav, another daily labourer, Pushpa uses his brain and muscle power to work through the loopholes in the system and rise up the ranks of the smuggling business.
Although he's chased by goons and beaten up by cops, Pushpa doesn't bend or bow down for anyone. He is smart enough to create his own path and ensures everyone else follow him or face the consequences.
Even though the plot is predictable, Allu Arjun's swag makes this film such an edge-of-the seat action-drama.
We know Pushpa is wrong, yet the audience will root for him.
Because to make up for all his illegal doings, there is an emotional backstory about how Pushpa's mother was never accepted by society and how the mother-son duo was scorned by everyone, including his father's family, for being illegitimate.
Since he grew up around hate and being denied what was rightfully his, Pushpa's soft corner is reserved only for his mother and his love interest Srivalli, played by a bold Rashmika Mandanna.
Whether he's a hero, smuggler or simply another lead character in a film, Pushpa mirrors a lot that I feel is wrong with South cinema.
The hero is always almost shown pursuing a girl, who is not interested in him. In stark contrast, the villain will also do the same, but the director will justify the former's actions because the girl will eventually choose the hero.
So in one scene, we have Pushpa's friend Keshav bribing Srivalli's friends with Rs 5,000 in return for a kiss where she is clearly not comfortable.
A few scenes later, we have Pushpa rescuing a girl from his boss' brother and giving us a sermon on consent and manhood.
The sermon is fine, but what about bribing a girl with money for a kiss?
What idea of love is this?
Sadly enough, this whole situation is justified when Srivalli confesses her feelings (very conveniently when she is caught in a difficult situation) because now the hero is supreme and we are told their feelings were mutual.
Overall, the film's runtime is lengthy with three songs but it's well worth the time.
While Allu Arjun shines with his style, dance moves and dialogue delivery, Ajay Ghosh as the menacing Konda Reddy, Shatru as DSP Govindappa and Sunil as Mangalam Srinu are equally brilliant.
Then, of course, there is Fahadh Faasil as Bhanwar Singh Shekhawat, the cop who gives an unusual takkar to Pushpa.
In his first Telugu film, even with that bulky-looking star cast, Fahadh in his lean bald form, still leaves a fine impression, so much that you want to see what he will be capable of in the second installment.
Unfortunately, the female characters -- be it the over-tanned Rashmika, the sultry Samantha (in her first item song) or Anusuya (the potential female antagonist) -- have a singular job: To look sexy in everything they do.
A lot of young guys in the theatre where I watched the film were taking screenshots and laughing and saying: 'Paisa vasool ho gaya.'
Pushpa's character and backstory may not emotionally drive you, but Allu Arjun makes Pushpa: The Rise interesting enough for you to sit through the three hours.
The first part is a mass entertainer with a lot of action, blood, gravity-defying stunts and hard-to-believe trade gimmicks.
Pushpa, we are told is no flower. He is a bomb waiting to explode if you rub him the wrong way.
In the first part, he's earned enough foes to make us anticipate what will happen in part two.
Would I watch the second part? Definitely, yes!
Rediff Rating: