I remember a showbiz wedding during which guests had to sit through several painstakingly rehearsed but awkward dances performed by the bride's and groom's relatives.
When Karan rolled his eyes, I smiled and said to him, 'You started it, now you suffer it.'
An enchanting excerpt from Anupama Chopra's A Place In My Heart.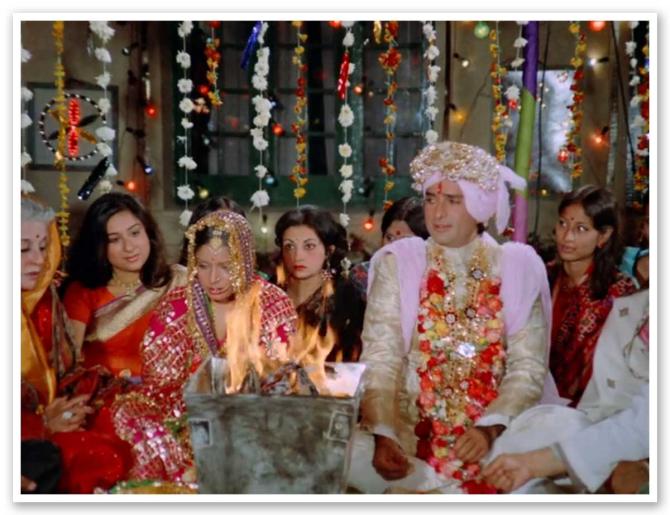 Weddings and movies are a match made in heaven, especially in India.
The song, dance, spectacle, colour and inherent drama built into our marriage functions, where families, not individuals, are uniting until death do them part, is tailormade for cinema. Which is why generations of directors have returned again and again to the wedding trope.
The original specialist was Yash Chopra. He was Hindi cinema's high priest of romance, and the shaadi sequence allowed him to showcase the elements that were closest to his heart: love, ache, beautiful men and women in beautiful clothes, a certain upper-class splendour and energetic (sometimes Punjabi folk) songs.
To see a master at work, watch the tender title sequence in Kabhi Kabhie, in which Pooja is marrying a man she doesn't love; or the friend's wedding in Silsila, where Amit and Chandni meet and flirt in song; or the gorgeous Mere Haathon Mein Nau Nau Choodiyan Hain sequence in Chandni, in which she dances up a storm while Rohit obsessively takes photos of her.
Sooraj Barjatya went a step further with Hum Aapke Hain Koun.. !, a film so deeply embedded in wedding rituals that it earned the descriptor 'wedding video'.
Aditya Chopra carried forward his father's legacy with Dilwale Dulhania Le Jayenge (in which the whole second half revolved around Simran's shaadi) and subsequent productions like Band Baaja Baaraat, the love story of two wedding planners.
Karan Johar took shaadi extravagance a notch higher with his films. The costumes got more blingy and the songs more elaborate: think of Saajanji Ghar Aaye in his first film Kuch Hota Hai, or Maahi Ve in Kal Ho Naa Ho.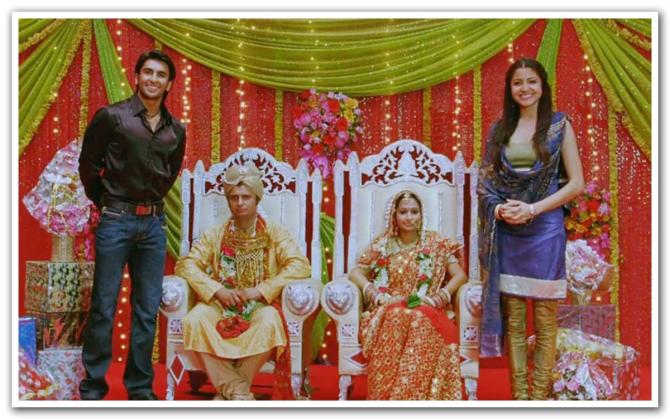 In 2019, creators Zoya Akhtar and Reema Kagti took the Band Baaja Baaraat wedding-planner theme further with Made in Heaven, a multi-season Web-streaming series revolving around weddings and told through the lives of two wedding planners.
The consistent sumptuous showcasing of weddings onscreen seeped into the real world--choreographed family dances became de rigueur.
I remember a showbiz wedding during which guests had to sit through several painstakingly rehearsed but awkward dances performed by the bride's and groom's relatives.
When Karan rolled his eyes, I smiled and said to him, 'You started it, now you suffer it.'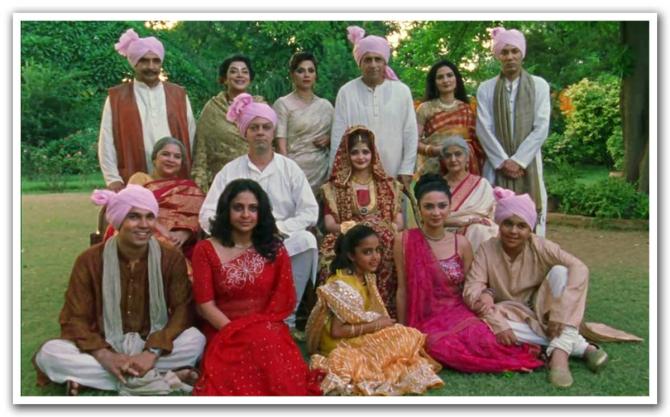 You could argue that the Indian shaadi film constitutes its own genre, but there is one film that stands apart from the rest: Mira Nair's marvellous Monsoon Wedding.
For starters, the film, shot in a month on a low budget (approximately $1.5 million), mostly using hand-held cameras, with an ensemble cast of sixty-seven, has a documentary feel to it.
The film takes place over four days as relatives gather for an arranged wedding in an upper-middle-class Delhi home.
There are complications: the bride is still longing for her married lover; long-simmering resentments come to the fore; as various ceremonies and rituals take place, other love stories start to blossom; and eventually, a dark, disturbing family secret is unveiled.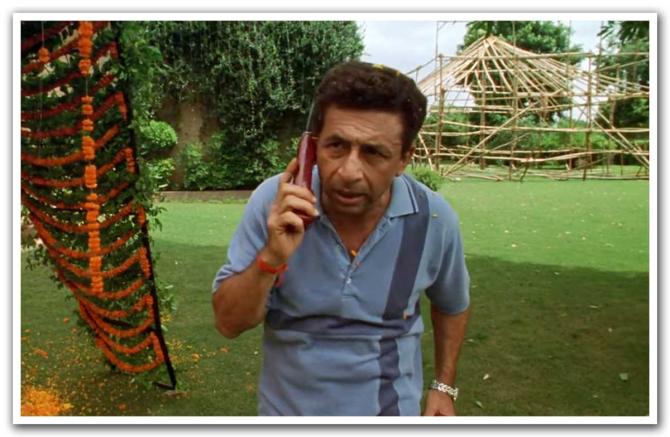 Mira Nair infuses writer Sabrina Dhawan's script with an intoxicating Punjabi masti.
The film celebrates the chaos and confusion that a wedding brings with it: Gifts have to be bought, bills paid, family politics handled and nerves calmed.
At the centre of it all is the hapless father of the bride, Lalit Verma (one of Naseeruddin Shah's finest performances).
The film begins with him berating the wedding planner because the work is so shoddy.
This mix of irritation, frustration and sadness at his daughter's leaving is Lalit's permanent mood.
In one of the film's finest scenes, he gazes upon his sleeping daughter and niece and says, 'Sometimes when I look at them, I feel love which I almost cannot bear.'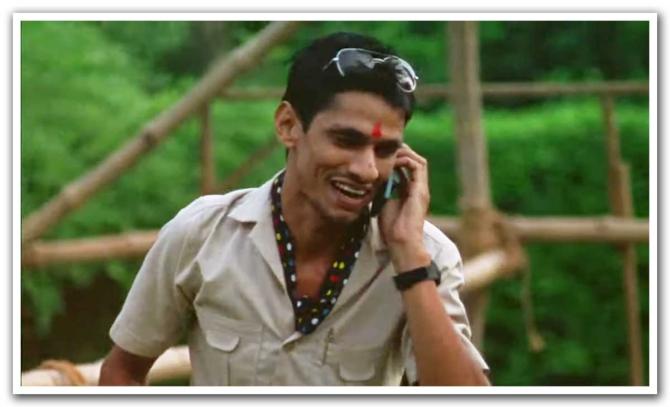 The other unforgettable character is the wedding arranger, P K Dubey, played by Vijay Raaz. Dubey, rail-thin in safari suits and dark glasses, is the king of jugaad.
He is constantly hustling, insisting to Lalit that 'aapki bitiya, hamari bitiya', and that he is doing 'foreign-style mein saara kaam'.
Dubey finishes sentences with the comically contradictory phrase 'exactly and approximately', which captures beautifully his way of life and business -- and the truth of planning a wedding itself.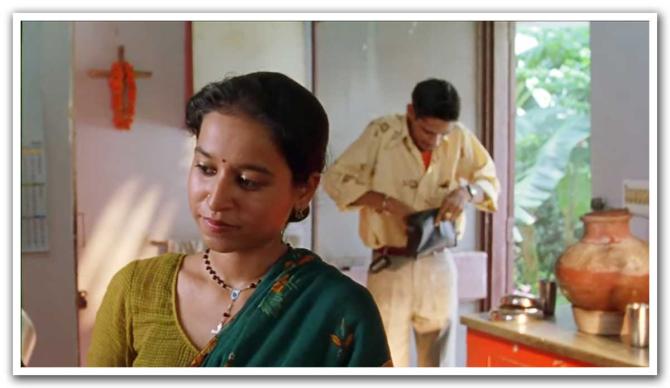 Dubey is a smooth operator, but this wedding proves to be his undoing because he falls in love with Alice, played by a radiant Tillotama Shome.
Alice works in the Verma home and the romance between them plays out with a sweetness that will make you swoon.
Dubey, a gruff, constantly cussing man, becomes a lovelorn Devdas.
In one scene, he simply sits on the terrace of his home and weeps with longing.
It's twilight and the classical song Ras Ke Bhare Tore Nain plays in the background. It's magic.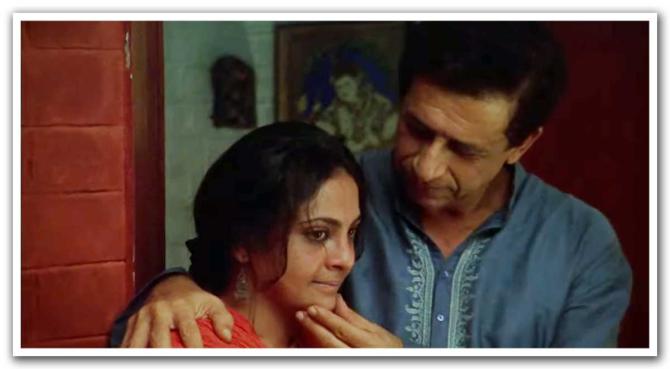 The other standout is Shefali Shah (then Shefali Shetty) as Ria, Lalit's niece, who finally decides to speak up.
Monsoon Wedding is enjoyable because every frame exudes the scent of home.
Each character feels familiar -- from the uncle who tells dirty jokes to the flirty cousin.
Indians everywhere, irrespective of religion and geography, have been to a wedding like this one. And families, no matter where you come from, are something like this: A necessary support system, an unshakable responsibility, and sometimes, a prison.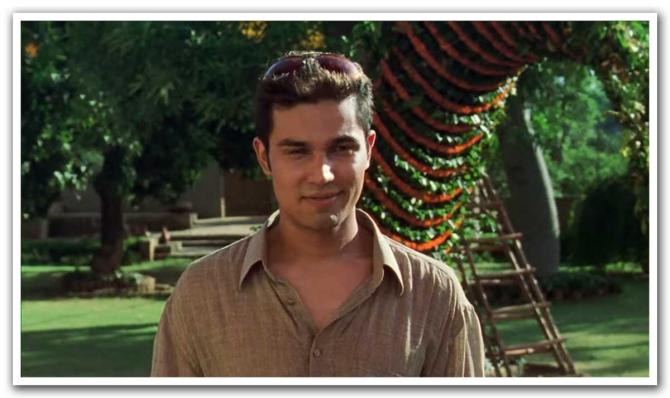 Monsoon Wedding is also a love letter to Delhi.
DOP Declan Quinn captures the beauty of the expansive lawns and roads, the gullies of Old Delhi where Dubey lives, the crowds, and of course, the lashing, invigorating rains.
The soundtrack by Mychael Danna, who went on to win an Oscar for his work on Life of Pi, is exquisite.
The film also features a young Randeep Hooda (it was his first film) and Ram Kapoor.
Arjun Bhasin, who was barely known then, did the costumes; Farah Khan, the choreography; and the assistant directors included film-maker Kiran Rao.
Towards the end of Monsoon Wedding, Lalit says, 'My family means everything to me.' But this film was among the first to show sexual abuse, to puncture the mirage of the happy Indian family, and to ask what price we were willing to pay to keep it together.
Monsoon Wedding distils, without sanitizing, the essence of the Indian family. Which is what makes it one for the ages.
This edited excerpted from A Place In My Heart by Anupama Chopra, with the kind permission of the publishers, Penguin Random House India.
Feature Presentation: Ashish Narsale/Rediff.com