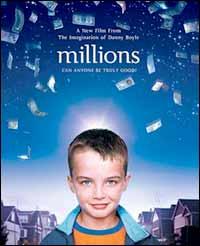 The big-hearted, deliciously funny and thoroughly inventive parable Millions comes from a most unlikely source: director Danny Boyle. His hit movies Trainspotting and 28 Days Later could not have prepared anyone for the warmth and laughter of his new film.
While Trainspotting dealt with drugs, the latter was a smart zombie movie. There is no reason why his newest film, with its infectious humour and the wonderful little star (debutant Alex Etel), cannot be a hit too.
It will be helpful to know a bit about the Catholic saints the kid Damian (Etel) encounters in the film, but there is plenty of fun even for a broadminded animist who has no idea who St Catherine is or what St Anthony is supposed to do.
Some may think Millions, now playing in 28 theatres and adding 100 more on Wednesday in its first big expansion, is for children. It is. But it is darker and more complex than most movies meant for the young. And yet it quietly dwells on life's complexities. Adults along with children could be hooked by some of the moral dilemmas the movie poses.
Boyle is also up to some of his mischief in this seemingly innocent story. Take for instance, the little story St Peter tells Damian about a miracle attributed to Jesus Christ. While the story is funny, it has a subversive element.
Boyle has many similar arresting stories throughout the film. Though the movie falters in the last 10 minutes and ends with a laboured sequence, it raises interesting thoughts about greed, altruism and life's compromises.
Two brothers Damian, seven, and Anthony (Lewis McGibbon), nine, seem to be destined for a boring and bereaved life with their good-natured father Ronnie (James Nesbitt). Their mother has just died and they have moved into a new but dreary housing colony, somewhere in England. The town is not specified but, going by the accents in the movie, it could be in Wales.
While Anthony handles the transition and his bereavement with stoic resilience, Damian wants to know about his mother in heaven. His curiosity about his mother's afterlife and the other mysteries of life leads him to visions of St Peter, St Francis of Assisi, St Clare, and several other saints.
But Damian is not having visions when a suitcase full of cash falls from the sky into the temporary refuge of a cardboard-box hideout he has constructed near the railroad tracks.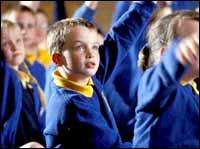 He is tempted to tell his father and the authorities about the money but Anthony tells him if the taxman comes to know about it, a big chunk of the money will disappear.
So Damian, with the occasional help of his brother, starts using the money for charity. But even as he goes around asking people if they are poor, Anthony uses some of the money to have fun with his pals.
But soon we learn that Britain is planning to adopt the Euro and all the pound notes have to be converted within a week or they will be junked. Even more threatening to the boys is the sudden appearance of a man who claims the money.
The entrance of the mysterious stranger, in the middle of the movie, allows director Boyle to create masterfully edited scenes that show how the money came into Damian's possession. In fact, all the scenes happening near the railroad track are so skillfully mounted and edited, they emerge as some of the best in the movie. Especially the scenes in which Damian – holed up in his cardboard home – enjoys a ride on a super-fast train.
The film becomes a kind of thriller in the last quarter as the boys – and their father – struggle to keep the villain away from the money. Boyle ends the movie on a happy note, but not in an entirely satisfactory way.
Despite that disappointment, Millions remains a rare family film that stays in one's mind long after it is over. The movie was made for about $3 million. Its budget could have paid the cost of five minutes of a film like Constantine.
That proves all one needs is a fine script, a sharply focused cinematographer and an inventive director, not to forget natural-born actors, to make a compelling and entertaining gem.