The stories in Paava Kathaigal hold up a mirror and show us things for what they truly are, observes Divya Nair.
What happens when you go against your family, society and chase your dreams?
While we'd like to believe that living in the 21st century, people accomplish their dreams and live to tell the tale, Paava Kathaigal, an anthology of four short films, wants you to believe that all stories do not necessarily have happy endings.
The first story Thangam (Precious), directed by Sudha Kongara, is about Sathaar (played by Kalidas Jayaram), a trans woman, who is ridiculed by his family and is deeply in love with his childhood friend, Saravanan (Shanthnu Bhagyaraj).
When he finds out that Saravanan is in love with his sister Sahira, and not him, he is crushed but decides to sacrifice his own dreams and unite them.
Saathar helps Saravan and Sahira elope and get married.
But what is the price he has to pay?
The end is heart wrenching because Saathar is brilliant as the selfless lover who is jealous, forgiving and earnest about his emotions.
The scene where Saravanan hugs him and Saathar breaks down is perhaps one of the finest scenes in this anthology.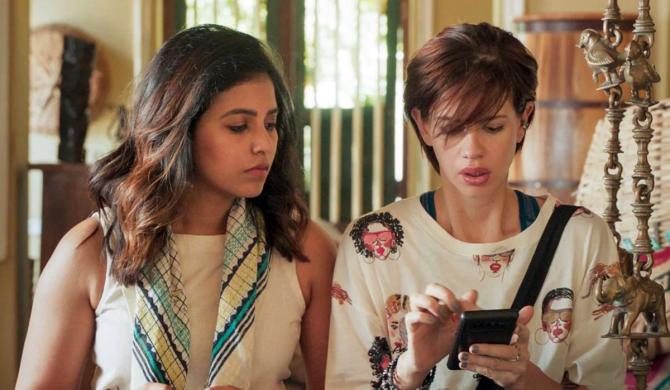 The second film Love Panna Uttranum (LPU), directed by Vighnesh Shivan, is about twin daughters Jyotilakshmi and Aathilakshmi (Anjali) and an aspiring politician father -- a hypocrite, who secretly endorses the caste divide but wants to look progressive so he organises inter-caste weddings in public.
But what happens when his own daughters fall in love?
Does he burn with rage or does he melt?
Does he forgive like a father or does he act like a patriarch who cannot let his people down?
Unfortunately, this segment is a big letdown as it mocks a viewer like me who wants to believe in happy endings but is not entirely convinced with the execution.
Despite the reference to Titanic, a film that would touch your heart at any given point of time (a character says that Titanic would have flopped if Jack and Rose had united), you do not feel any emotions for the characters in LPU.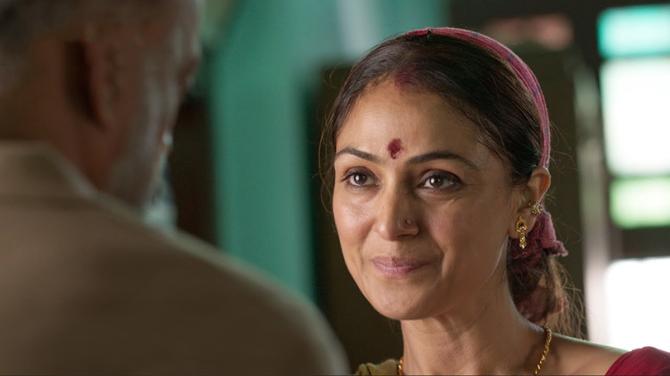 Vaanmagal (Daughter of the Skies), directed by Gautam Vasudev Menon, is about how a happy, middle-class family deals with the rape of their teenaged daughter.
While I admit that Gautam is a fab director (I have lost count of the times I have binge watched Minnale and Vaarnam Aayiram), he cannot act to save his life.
If you are able to put aside this major blip, perhaps you can sit up and appreciate Simran's stellar portrayal as Mathi, the conservative, protective, Indian mother trying to hold herself and her family together while trying to battle her inner demons even as she desperately fails in her attempts to help her daughter Ponnuthayireturn to normalcy.
Is the society really unkind to rape survivors?
How do men, especially fathers, deal with the situation, emotionally?
Does pride, honour and dignity make you twitch from your basic emotions of love?
When you see it for what it is, the climax may seem like an after-thought.
There is a genuine conflict of emotions when Mathi, who told her elder daughter that she must treat her body like a temple, struggles to wash off the scars from her helpless, younger daughter. When her family is attacked, her claws come out, but she is still in denial.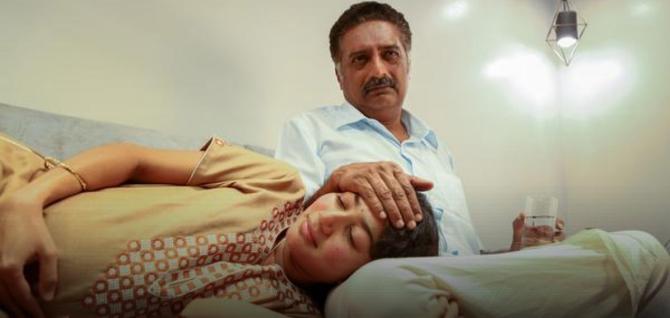 The final film, Oor Iravu (That Night), directed by Vetri Maaran, is perhaps the best of the lot.
A daughter (Sai Pallavi), who elopes from home to marry her lover is brought back by her conservative father so he could perform her baby shower.
In what might seem like a father's genuine way to apologise and undo his wrongs, Vetri Maaran successfully drags the story till you are invested completely, only to surprise you.
The gut-wrenching turn of events is too elaborate to picture in words but beautifully rendered by Sai Pallavi and Prakash Raj.
Is it wrong to fall in love with someone who is not your equal?
Is a woman's dignity and family's honour bigger than her dreams?
Does love always have to pay a price?
Paava Kathaigal elaborates the sinful ways in which our society treats its lovers, dreamers and the ones who attempt to break stereotypes.
Whether they succeed or not, they all pay a heavy price.
Here, love doesn't move mountains. Nor does it break barriers, boundaries or age old traditions and beliefs. It just leaves you numb, disturbed and tense.
But it also lays bare a section of society and its sinister thoughts that we'd conveniently like to ignore, or avoid discussing.
These are stories we read every day in the anchor pages of our dailies -- of under-age rapes, honour killings, ostracised men and women -- but doesn't necessarily affect us because they are happening somewhere else.
In someone else's homes.
Even if the stories in Paava Kathaigal don't inspire you, they succeed in holding up a mirror and showing us things for what they truly are.
Paava Kathaigal streams on Netflix.
Rediff Rating: