Vivacity is a wonderful gift to a personality. And Lindsay Lohan's got oodles of it.

You can't escape her 'Oh my gosh' brand of enthusiasm, be it in Walt Disney's The Parent Trap or the super successful teen flick, Mean Girls.

But, like most youngsters in a mad rush to grow up, this 20-year old too ends up looking awkward and unconvincing as a successful adult professional in her new film, Just My Luck. A far cry from her usual jeans and jersey avatar, Lohan upgrades from high school misfit to high society diva.

Ashley (Lohan) is a consistently lucky girl. She gets to date the rich, blow international credit cards on Gucci and Chanel, win random lottery scratch cards and impress her boss with bizarre party themes. No matter what the odds are, Ashley always has her lucky side up.

On the other side of the coin is Mr Unlucky -- Jake (Chris Pine). Manager to the British band McFly (playing themselves), he strives to strike a deal with the hotshot producer (Faizon Love) of a reputed record company.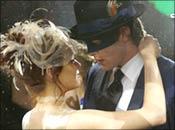 At a masquerade ball, Ashley and Jake bump into each other. A warm-up session on the dance floor ensues in a spontaneous lip lock. Only, this is no ordinary kiss. Ashley, unknowingly, passes on her unbelievably good luck to Jake in exchange for his miserable variety. The unexpected barter takes effect right away -- the newly luckless Ashley is soon jobless, homeless and penniless.

Jake, as expected, reaps the benefits from this generous stroke of destiny. His band is signed on and suddenly home means a swanky, all-furnished pad. 

Ashley finds a new perspective to life by cleaning men's toilets, fixing tubelights, tripping on mud mounds at art displays, and getting her nose socked by a fierce prison inmate. Around this time, Jake and Ashley, unaware of their lucky kiss connection, begin to fall for each other.

You know where this is going, right? It actually sounds pretty promising. Well, pretty, it is; promising, it's not.
After films like Miss Congeniality and How To Lose A Guy in Ten Days, director Donald Petrie is clearly comfortable doing candy comic capers. Now the aforementioned films were fairly engaging, though never quite becoming the My Best Friend's Wedding of their genre. But Just My Luck doesn't even manage that.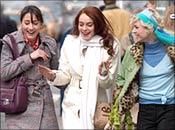 The script, though strewn with endless possibilities, would fare better with a sharper sense of humour. Instead, it resorts to juvenile gags. In the process, Lohan appears like a cross between a clumsy grown up and confused adolescent. On a few occasions, you get to see the good old hyper Lohan you simply adore. If only her trademark spunk and cheek weren't sorely let down by a hair-brained screenplay!
Co-star Chris Pine looks every bit the blue-eyed-too-good-to-be-true boy wonder. Not much histrionics needed to play that, I suppose. 

When a real life band forms part of a plot, you naturally expect some rocking music. More so, after one of the characters paints them to be 'The Beatles meeting Blink-182'. What one gets to hear from McFly is rather routine and run-of-the-mill.

Just My Luck is cute, but not perky enough. Lindsay Lohan fans could surely do with better. Save your money and luck, skip this one. And, if you are still curious, I suggest you wait for the DVD, due for release next week.
Rediff Rating: