'A poorly conceived reboot that's overlong, overdramatic and overdone, Love Aaj Kal simply cannot differentiate between pyaar and parody,' says Sukanya Verma.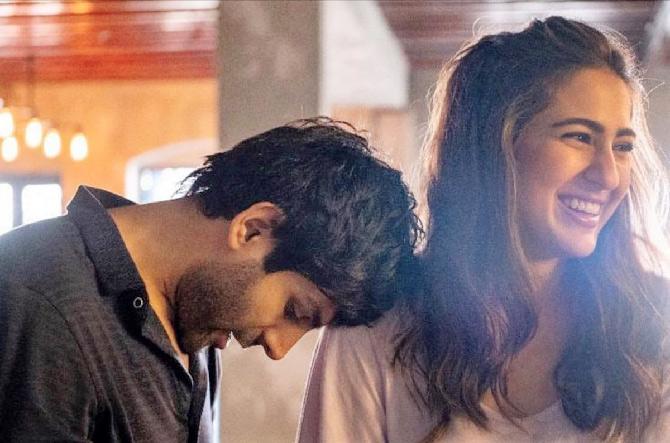 Imtiaz Ali is a creature of habit. He doesn't seek change, there's no comfort in it. Denial excites him as does escape. His characters are love fools bidding time questioning the very mush they believe in or running away to far-flung places in pursuit of answers they knew all along.
Love Aaj Kal opens with a quote a from the film-maker's frequently favoured Sufi poet Rumi: The minute I heard my first love story, I started looking for you. Though it is alluding to the castles Sara Ali Khan builds in air while listening to Randeep Hooda's adolescent fairy tales, it could very well be Ali explaining his need to tell the same story again and again until he finds the perfect movie.
Except the more he tries, the farther he gets. Ali's romanticised view of lovers in anticipation of an ideal scenario has grown so much in conceit, it has ceased to make sense.
He has already delivered his most spontaneous (Socha Na Tha), most consummate (Jab We Met), most volatile (Rockstar) and most complex (Tamasha) take on romantic impulses, indecision or angst.
It is befuddling why the director would revisit Love Aaj Kal only to caricature millennial love pitted against starry-eyed Generation X romance.
The 2020 Love Aaj Kal retains the title and narrative style of its predecessor starring Saif Ali Khan, Deepika Padukone and Rishi Kapoor, but none of its fizz or sass.
Instead, you have a sketchy confection high on regressive stereotypes and ridiculous notions of privileged protagonists.
Whether it is the leading ladies epitomising a typical case of contrasts -- the demure desi girl (a terribly bland Arushi Sharma) from the flashback versus the modern, mufat lass (Sara Ali Khan) in present time or what Imtiaz Ali *thinks* women want.
Let's see, men who'll read her mind and not stop following her around even if it borders on stalking. Or even worse -- she cannot have it all.
The entire premise of the new Love Aaj Kal relies on a woman's reluctance to juggle career and romance. Short of Sara banging bangles against the wall and screaming nahiiiii, Love Aaj Kal serves every possible hysterical reaction to drive this point.
Sara's Zoe is a nasty combination of Veronica (Cocktail) and Ved (Tamasha). A party animal beleaguered by parental pressure (in Simone Singh's quietly menacing passive-aggressive mommy), Zoe resists relationship for rat race.
On the other hand, Veer (Kartik Aaryan) doesnt want to end up having a marriage of convenience like his parents. Though slack about work, he prioritises feeling over fornication. Veer and Zoe's senseless, self-serious, prattle over the same would still be bearable if only they displayed the tiniest bit of chemistry.
Dysfunctional homes and problem parents affecting a youngster's psyche are a recurring theme and defence for why his characters behave the way they do in Imtiaz Ali offerings.
A 22 year old hardened into believing romance would sound the death knell for her career might just be believable if it wasn't played by a girl known for her smarts and wisdom beyond years. It's easier to watch Tiger Shroff take on half of Syria than see Sara behave like a clueless schnook.
At best, it's a vibrantly lit confection where actors converse in Imtiaz Ali's trademark tu-tadakas, fall in love against Pritam's catchy soundtrack and zoom in and out of Delhi's Lodhi Art District, Mehrauli, as well as a sepia-toned Udaipur overlapping parallel timelines.
If on one hand Love Aaj Kal is stemmed in old-fashioned romance, tapping late '80s Bollywood nostalgia for laughs in Kartik Aaryan's stilted Salman Khan impersonations, a tactic Bala demonstrated far more effectively.
On another, it labours to appear cool by pitching tone-deaf arguments about a woman's agency where Sara equates unbuttoning her shirt for a job interview as an expression of her sexuality. You know the sentiment is bogus when seconds later she labels her actions as 'andar ki bitch.'
What is truly laughable is the so-called conflict. People living in fancy abodes, renting out coworking space in posh Delhi neighbourhoods, clubbing night after night wearing trendy wardrobe going cuckoo over financial independence in a manner so dramatic, it resembles a spoof.
Things get super hyper, hysterical and hilarious whenever Veer or Zoe have a meltdown. It is one thing to look distraught, but Sara evoking a deranged Urmila Matondkar in Kaun is another extreme.
On the bright side, the actress is open to letting go before the camera even if it is as unflatteringly as in this movie. Kartik Aaryan's ineptitude is glaring in a role tailor-made for Ranbir Kapoor. Where he needs to look lovelorn, he appears psychotic. When he needs to exude charm, he turns a twit.
Something of a nosey parker and agony aunt, Randeep Hooda's recollections of his messy past love, wherein Kartik portrays his younger avatar, dictate Zoe's erratic affair. Hooda is pleasing but lacks the charisma and heft that rendered Rishi Kapoor's words of experience in the original worth holding on to.
A poorly conceived reboot that's overlong, overdramatic and overdone, Love Aaj Kal simply cannot differentiate between pyaar and parody.
Rediff Rating: