'I am an entertainer and I love entertaining.'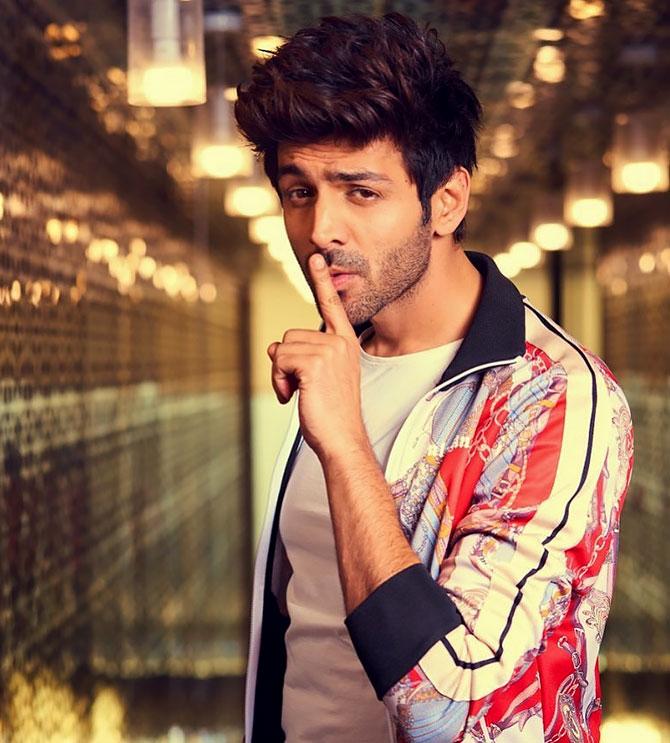 After toiling in Bollywood for years, Kartik Aaryan hit the big league with 2018's Sonu Ke Titu Ki Sweety.
There's been no looking back since.
The young actor consolidated his position and jumped up a few steps thanks to hits like Luka Chuppi and Pati Patni Aur Woh.
Now, he will be seen in Imtiaz Ali's Valentine's Day release, Love Aaj Kal, opposite Sara Ali Khan.
"Being called a romantic hero in an Imtiaz Ali film is a huge thing for me," Kartik confesses to Rediff.com Contributor Mohnish Singh.
After meeting Imtiaz Ali, has your definition of love changed?
After meeting Imtiaz Ali sir, a lot of things have changed in my life.
Working with him is a life-changing experience.
Being called a romantic hero in an Imtiaz Ali film is a huge thing for me.
I have two characters in this movie, Aaj's Veer and Kal's Raghu. Both were hard to portray.
This is the first time when I was working outside my comfort zone.
This is not a comedy, it's an intense romantic film.
This is the litmus test to see if the audience would like me in this avatar or not.
I hope they do.
Imtiaz Ali made it easier for me.
There were a lot of preparations, from body language to the way the characters talk. Everything is different from our world.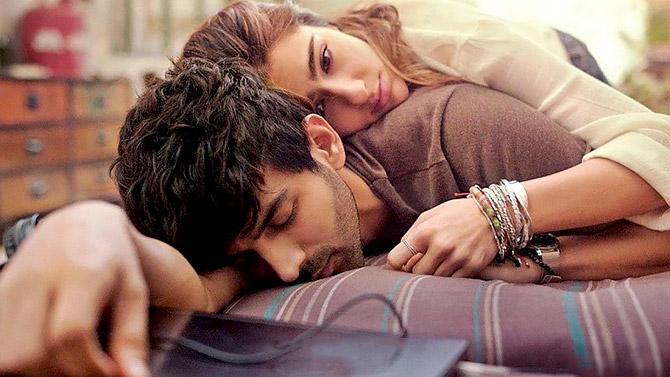 What was the most challenging part of playing Raghu and Veer?
Veer can be seen as someone who is weird because he is a bit robotic. He prefers isolation.
He grew up in an isolated environment, so he is an introvert and does not socialise much with people.
He would seem weird and awkward in a large group of people, like a party or social gathering.
He has no filter. He speaks what he thinks and that alienates him more.
If he likes someone, he follows them around which is, truthfully, stalking.
That weirdness in him was a bit difficult.
But sitting with Imtiaz Ali and studying the character with him was a fun process.
What about Raghu?
There was the same prep with Raghu.
He is a bit filmi.
He is obsessed with 1990s heroes and watches all their films.
If he proposes to a girl, he would go all filmi.
His body language is very different from Veer.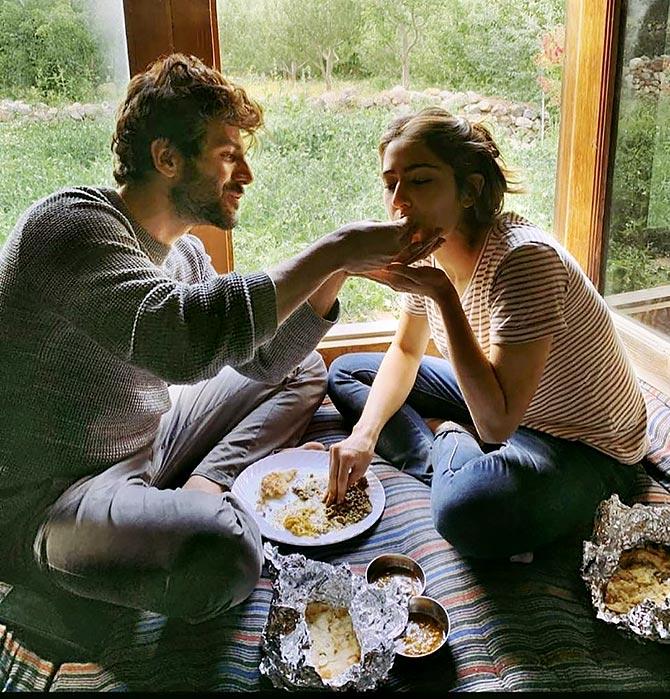 It's been said that comedy is the hardest part of acting and now, you are making a transition from comedy to romance. How was the shift?
I agree that comedy is the most difficult genre to crack because there is a thin line between what is comical and what is crass.
It is such a thin line that if a joke is not cracked properly, the audience will not relate to its humour.
But touch wood, with me, that relatability factor has always been there.
I have a sense of timing and humour, something has really helped me throughout my career with comic films.
Because it is the most difficult genre, it has helped me in my craft as well.
But I really like drama.
I always wanted to do an intense role or a romantic role.
I connect with them.
Even creatively, I feel more satisfaction when doing such roles.
I don't know if romance is more difficult than comedy, but every genre has its own difficulty level.
With romantic films, the most difficult part is the feeling you have to show with very little words.
In love stories, one look can show what you feel inside.
Both genres are a test for me. I have passed in one, and now I am appearing for the other.
I am at a stage where anything new that I try is propelling my career forward.
Watch: Kartik plans his 1990s date with Sara Ali Khan, and she gives her answer in this video. Video: Rediff.com Contributor Divya Solgama
Did you take any references from 1990s films?
Yes, 100 per cent!
If you see the songs in Raghu and Leena's love story -- Leena is played by a debut actor named Arushi Sharma -- you will notice the preparation we did to show it authentically.
To prepare for the role, I saw a lot of films from the 1990s.
We shot the portion set in the 1990s in Udaipur, and the environment that Imtiaz Ali built led to a bit of method acting on my part.
I was behaving like Raghu in real life.
I used to talk like him, imitate his body language.
In those days, most people would carry a comb in their pockets. Raghu did the same, so I had a comb in my pocket the whole time.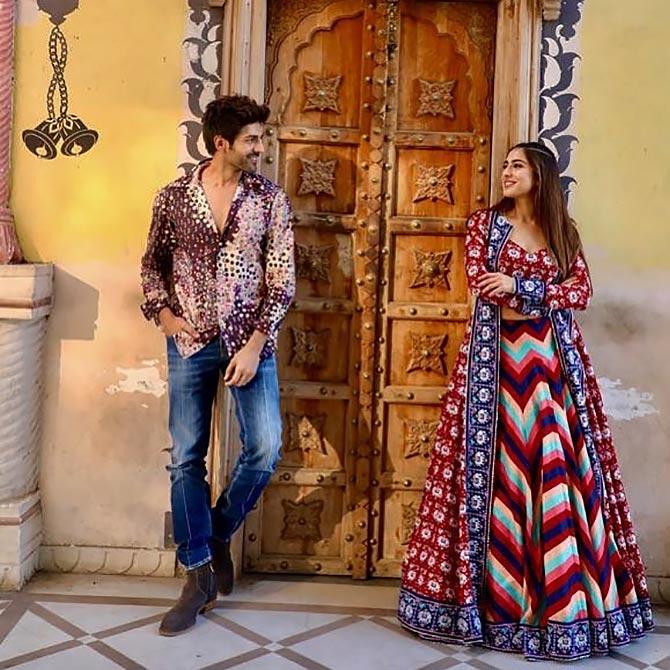 How did Saif Ali Khan and Deepika Padukone, who starred in the previous film in the franchise, react to the trailer?
Deepika liked it and showed her appreciation on social media.
I was really happy with the reactions.
You are doing sequels of some really successful films. Any pressure to be as good as the original cast?
I think there is an added responsibility.
There is also this feeling that the producers are putting their faith in me to take their successful franchises forward, their future is on my shoulders.
I thank them for giving me such a huge opportunity, may it be Love Aaj Kal, Dostana or Bhool Bhulaiyaa.
These films were very commercial and entertaining when they released.
The sequel to Bhool Bhulaiyaa will be the most commercial film of mine; it will be a full entertainer.
The sequel to Dostana will push the envelope.
I hope my role connects with the audience because it is something I have never done.
I never thought I would be a part of so many sequels.
It is not like I decided it. It just happened that all the scripts I liked had 2 behind them.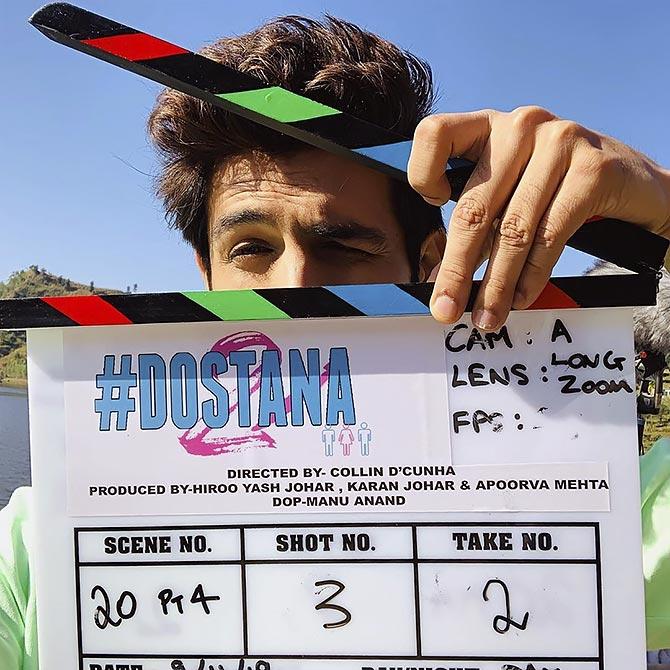 But there is no '2' in Love Aaj Kal. Is it not a sequel?
Love Aaj Kal can never be part two or three because Aaj and Kal are already in the theme.
The 'today' and 'yesterday' keep changing, so adding part two or three is unnecessary.
The latest Love Aaj Kal is not an extension of its predecessor. There is no direct relation.
Basically, they have the same theme in terms of the love stories of people from today and yesterday. There are two love stories and four characters, and how their journey intersects is the theme of the film.
You recently commented that Ayushmann Khurrana's films have 'men with defects' and your films have 'women with defects', and that has not gone down well on social media. What did you mean exactly?
I have this habit of speaking without thinking.
This comment was made during a radio interview, where I said I read these memes that Ayushmann Khurrana and I were a part of, and a meme like this was written.
I found it funny that people notice it this way, but I never connected that with me.
I did not mean to hurt any sentiment.
I am a fun-loving person.
During the interview, they asked me a question about a meme and I answered.
Do you think actors today need to have a balance between creative liberty and being responsible?
I am an entertainer and I love entertaining.
There are times when these two worlds of responsibility -- where you are a role model and people look up to you -- and creativity coincide.
But when I came here, I came with a dream to be an actor.
Slowly, from an actor, you become a role model and with that, everything you say has value.
In future if I get to do a film that reflects society and imparts a social message as well, I would love to do it.
I will do massy, entertaining, films as well because as an actor, that is my job. My profession does not cater to only one thing.
In my interviews, you will hear my views on society and everything. In my films, you will hear the views of my character.
All characters will not give out a social message, all films will not have a social message.