Looop Lapeta is wacky, funny and vibrant, all at the same time, observes Namrata Thakker.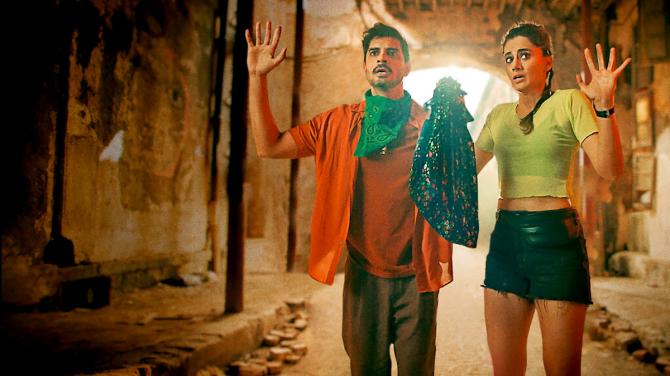 Directed by Aakash Bhatia, the Taapsee Pannu and Tahir Raj Bhasin starrer Looop Lapeta is an official remake of the German thriller, Run Lola Run.
While the German movie is considered a cult classic, the Indian version is quite a delightful watch as well.
The movie deals with the time loop concept wherein a couple relives the same scenario thrice.
Taapsee plays Savi, a former athlete, who is madly in love with her boyfriend Satya (Tahir Raj Bhasin).
The latter isn't as smart as his girlfriend and often lands in trouble.
When he misplaces Rs 50 lakh belonging to his mobster boss Victor (Dibyendu Bhattacharya), Satya turns to Savi for help once again.
On the other hand, Savi discovers she's pregnant and regrets it immediately.
But she hardly has anytime to analyse her problem because she needs to save her boyfriend.
From hereon, it's a Taapsee show all the way. Whether Taapsee recovers the money and how she saves Satya forms the rest of the story.
The film is basically from Savi's perspective. She's the one who realises they are stuck in a time loop. And how she deals with the same situation again and again differently is fun to watch.
If you aren't familiar with the time loop concept, then the story will obviously seem repetitive. But hang in there because it's does get funnier as the film progresses.
The film initially does take time to build up the premise and its characters a bit. And that's the only part where Looop Lapeta gets a tad boring.
Also, the makers could have easily cut down the runtime by 20 minutes or so to make it more crisp and exciting.
As for the performances, Taapsee delivers yet again. This is her second film in the time loop genre, the first being Game Over, which was a riveting thriller.
Looop Lapeta is nothing like Game Over. It's wacky, it's funny and it's vibrant, all at the same time.
While Taapsee gives a good performance, there's something off about her act which is hard to pinpoint. Maybe she needs to do something very drastically different to shine on screen.
She seems to be walking on the same road for a while now and that's possibly the problem. Apart from her, Tahir Raj Bhasin and Shreya Dhanwanthary stand out in the movie.
Tahir as Satya does full justice to his dim-witted role. Shreya has a cameo and yet she packs a punch especially in the emotional scenes.
Another highlight is its beautiful backdrop. Looop Lapeta has been shot in Goa which adds a different vibe altogether.
Its inherent laid-back culture plays out well against the time-loop concept where the heroine is always on the run...quite literally.
If you are looking for a exciting, experimental film with comic elements and fine performances, then watch Looop Lapeta which is currently streaming on Netflix.
Rediff Rating: