'Not many know I am a Rajput from Jodhpur.'
'My ancestors shifted to Kolhapur as my great grandfather and grandfather were both engineers.'
'They were called by Chhatrapati Shahu Maharaj to build the city of Kolhapur.'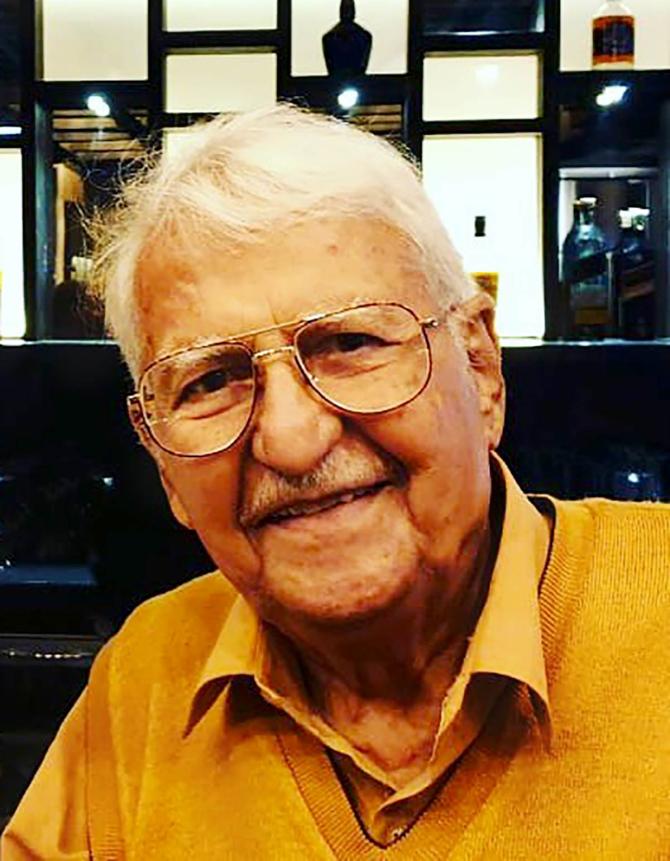 Veteran actor Ramesh Deo passed away in Mumbai on February 2. He was 93.
We remember the legend with this interview, first published on Rediff.com in January 2013.
Ramesh Deo acted in more than 100 Hindi films in his long career, providing able support to stars like Amitabh Bachchan (Anand), Rajesh Khanna (Aap Ki Kasam), Shatrughan Sinha (Mere Apne) and many more.
His long career, in fact, lasted for 68 years. Deo worked with his wife Seema Deo in many films. Their sons are a part of the film industry as well -- Ajinkya is a noted actor in Marathi cinema while Abhinay has directed films like Game and Delhi Belly.
Ramesh Deo goes back in time, and tells Patcy N/Rediff.com about his evergreen movies, working with superstars, and much, much more in this interesting account of his life's journey.
'I suddenly realised that just 80 km from my house, no one knows me'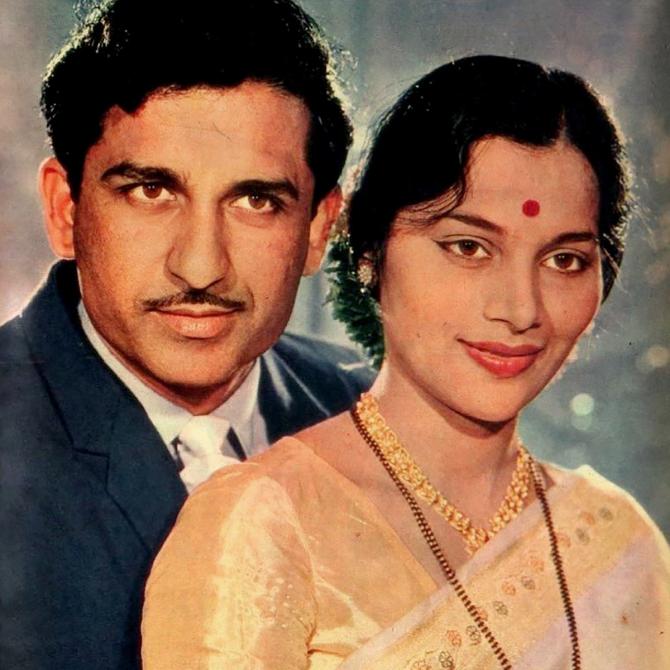 Getting into Hindi films
There is an interesting reason why I started acting in Hindi films. We were once returning from a shoot in Ratnagiri when we got a puncture about 80 km from Kolhapur.
Seema, Raja Paranjpe, Raja Gosavi, Sharad Talwalkar and I got out and went to a small teashop. We looked dirty as we had been driving a long time and the roads were bad and there was red mud on our faces and on our car.
We asked for water and tea. The shop had nice glasses, but they gave us water in aluminium glasses. When we asked for water in good glasses, the waiter said, "that is for big people only."
Sharad Talwalkar told him we are all actors in films. The boy in the teashop said, "You are a hero? You come in this dirty car and you call yourself actors? These are actors," he pointed to a wall with posters of Dilip Kumar, Raj Kapoor and Vyjayantimala."
I suddenly realised that just 80 km from my house, no one knows me, but these people who have come from Peshawar and Madras are known just because they work in Hindi films.
That is the reason I thought of acting in Hindi films and shifted my base to Mumbai.
'I came to Mumbai with Rs 500'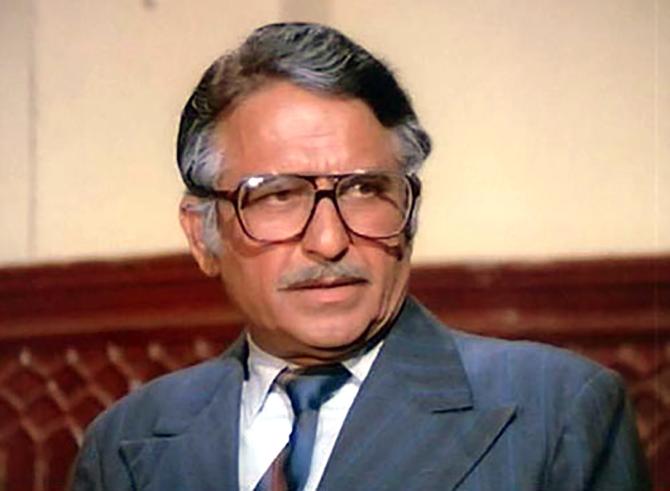 First film in Bollywood
I was from a well-to-do family so there was no problem of food and living, plus I had acted in lots of Marathi films. I came to Mumbai with Rs 500 which was a huge amount at that time.
Rajshree Productions was into distribution but was making its first film Aarti(1962). I got my break in that film as Shashikala's henpecked husband. The film brought me no recognition. Ashok Kumar, who played the villain for the first time, was much appreciated.
I went to see Goelsahib (Devendra Goel, director), who was making Dus Lakh (1966). He was busy and told me to come the next day at 11:30 am. I was there on time, but he did not come till 3 pm. He was surprised I has waited so long and I told him I would have waited till 6 pm when the office closed, and would have come again the next day.
He was very impressed and promised me work. I got a very nice role in Dus Lakh and so did Seema.
After Dus Lakh, there was no looking back. I got lots of work. I also started doing lots of films in Madras (in those days most Hindi films were made in Madras). They liked me because I was very punctual and did not drink.
'Ashok Kumar told me: You are doing a good job, better than me'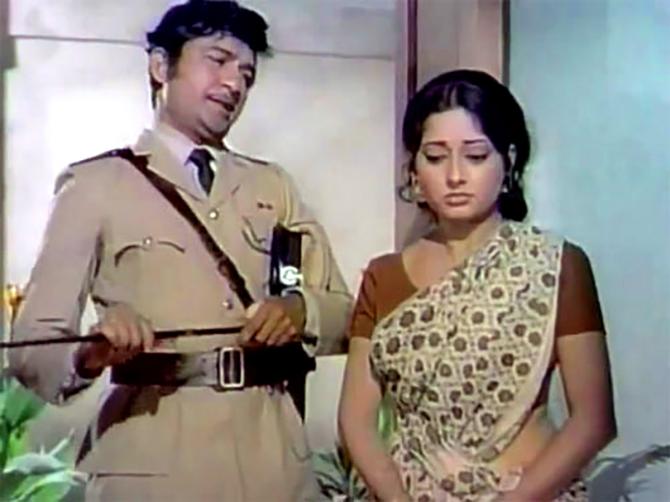 Working with Ashok Kumar
My Hindi was good, but my Urdu was not. While shooting for Baap Beta, in the first shot for the film, there were two or three words that I could not pronounce properly. When I started giving take after take, I started getting self-conscious and started making more and more mistakes.
Dadamoni (Ashok Kumar) came up to me and we rehearsed the scene and I managed to get it right. There was a long dialogue after that and I said it aloud and he clapped and said, "Beautiful." After that I was confident and worked well.
But the dialogue writer was upset with my dialogue delivery and wanted to remove me from the film.
Dadamoni told him, "Ramesh is a good actor and he is doing a good job. Just because he can't pronounce a word don't remove him from the film -- one dialogue will not make or break the film. When he gives the scene, just okay it."
The dialogue writer okayed it.
I was ashamed that for so many days I had been walking around arrogantly and suddenly I came to know what a fool I was.
I immediately went to Dadamoni in his make-up room and touched his feet and said thank you. He just told me, "Forget it, friend, you are doing a good job, better than me. When I came into the industry, I spoke Hindi like a Bengali. At least your Hindi is better."
This was the greatness of the big artistes of those days.
'Rajesh Khanna would always come late to the sets and Hrishida would be furious'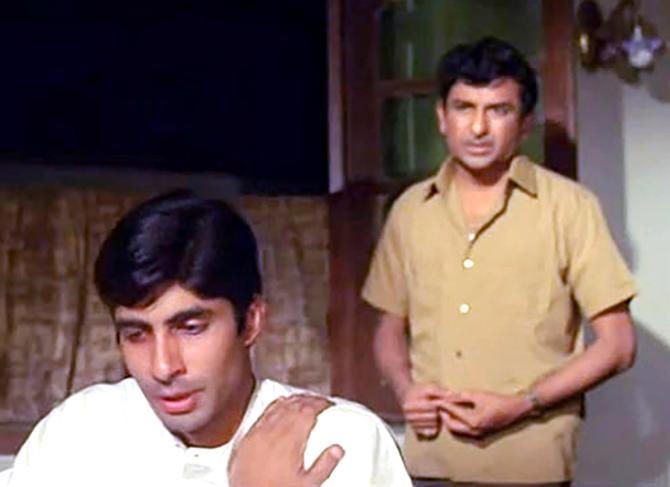 Working with Rajesh Khanna
I was shooting with Rajesh Khanna and Nanda in Om Prakash's Joroo Ka Ghulam and there was a new boy who was going to give his first shot. He rehearsed with me, but when it was time to deliver the lines, he started making mistakes.
I thought Rajesh Khanna would get very upset, but instead, he called the director and told him, when this boy makes mistakes take our close-ups or shift the camera from his face but don't throw the boy out because he is a good actor.
Rajesh Khanna was a good friend. He had done very good work in Anand. He would always come late to the sets and Hrishida (Hrishkesh Mukherje) would be furious. But once Rajesh came on the sets, he would give beautiful shots and Hrishida would be so mesmerised that he would forget about scolding him and start praising him.
I once asked Hrishida about this and he told me, "He comes late, but he finishes his work before time and he is the best actor. His work is beautiful so there is no reason to be upset with him. I get angry only because of his habit of coming late or else there is no fault in him."
During the shooting of Anand, people called Amitabh Bachchan 'camel'. He was not good looking; he was too tall and plus he had long hair covering both his ears.
'I never questioned what the director said and did'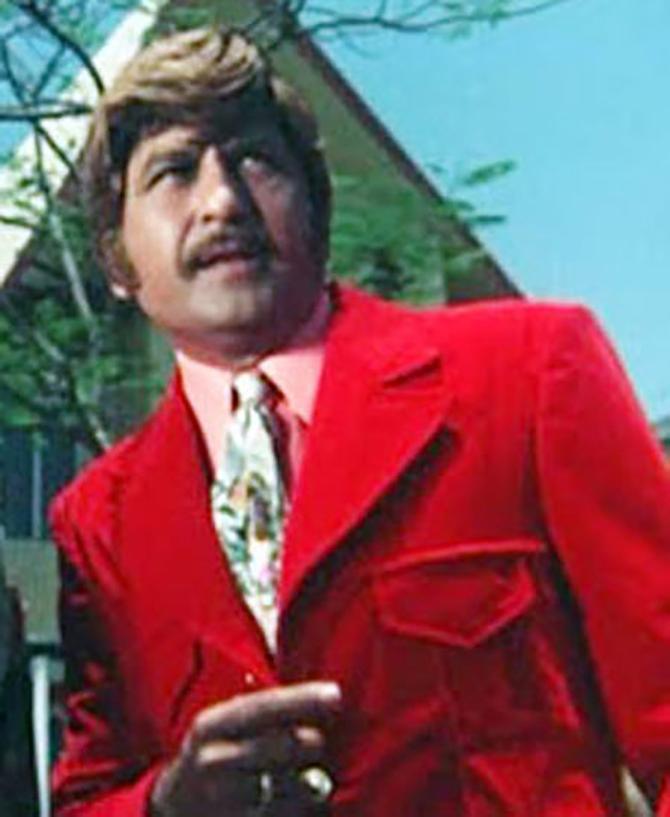 Learning from Raj Kapoor
I have learnt interesting things from Raj Kapoor. In one film I worked with Raj Kapoor and Dadamoni.
In the movie, we three are robbers and after every successful robbery, we open a champagne bottle. We decided we take all the champagne opening scenes together -- there were five successful robberies in the film so we had to open five bottles.
I don't drink so in every scene I would hold the glass to my mouth and after the scene, the cameraman would drink it.
After giving opening shots for four bottles properly, the last shot was not proper as the camera was not in the proper position. I saw this, but I couldn't tell the director as he may get offended.;
So I told Rajji and he said, yes, it is 101 per cent wrong. I told him to tell the director, but he said, "I won't tell the director anything, this is his film, and right now I am just an actor. And why should I use my brain in his film?"
He also told me not to tell the director anything because he will be upset and I would become his enemy. He said a director doesn't think just of one shot, but the whole film so you never know what is working in his mind.
From that day onwards, I never questioned what the director said and did.
'Dilip Kumar was a very intelligent man'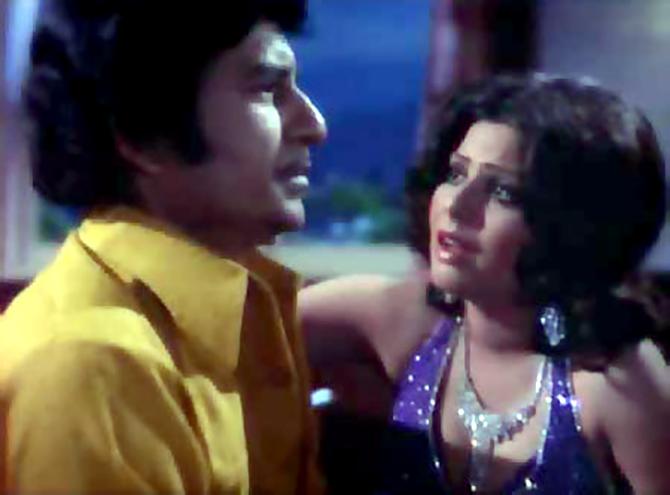 An incident with Dilip Kumar
This incident happened before I joined the film industry. Dilip Kumar and Vyjayantimala were shooting in our village in Kolhapur for Ganga Jumna.
We were watching the shoot when one of the crew members slapped a boy from our team who was watching the shoot, just because he was standing in the way.
The next day, 10 of my friends and I went with tin cans and stood very far from the shooting area, but as soon as the shooting started, we banged on the tin cans and make a loud noise.
The police asked us to stop what we were doing but they couldn't do anything as we were very far from the shooting area. It was disturbing the shooting because they were shooting in sync sound.
Ultimately, Dilipsaab came and said, "Aap ki takleef kya hai, aise kyun kar rahe ho aap log? (what is your problem, why are you doing this?)." We told him how we were just standing and watching the shoot and one of our boys was slapped by a crew member.
He called the person, a third assistant, and slapped him in front of us. And then he said, "Now it is equal. You are good college kids, you come and stand here every day and if someone makes a noise and creates nuisance you should throw them out."
We agreed. We were happy to see the shoot every day. Dilip Kumar was a very intelligent man.
'Sanjeev Kumar would be late on the sets because of late night parties'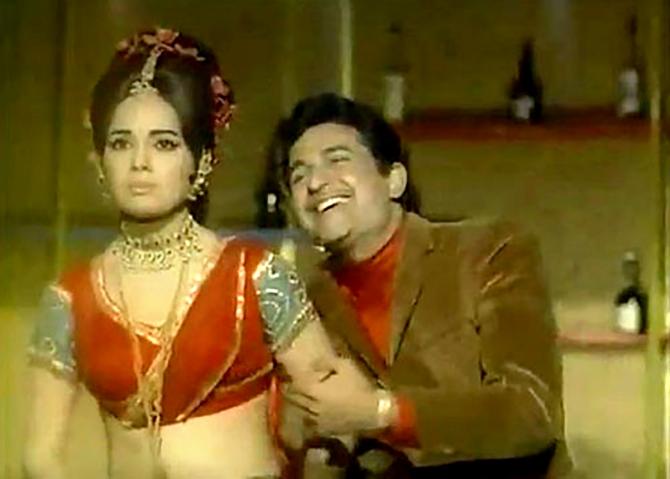 Working with Sanjeev Kumar
He was a wonderful artist, but he would be late on the sets because of late night parties.
In Khilona, in the climax scene, I had to drag Mumtaz away from Sanjeev Kumar. As I did so, Director Chander Vohra yelled 'cut!' and told us there was no emotion in Mumtaz's face. He told me to use all my strength to pull her away and he told her to put all her might into staying where she was. I told the director that she may get hurt, but he said never mind.
The scene started and I pulled her and she immediately fell down. I dragged her away and she got bruised. Then she ran to Sanjeev Kumar and hugged him with such force that he fell down and so did she.
The director started yelling at Sanjeev Kumar, but he said Mumtaz had come at him with so much force that he lost his balance.
Ultimately, two people had to hold him from behind so that he didn't fall down. It was very funny.
'I made lots of money because of my films in Madras'
Getting a break in Madras
(In the late 1960s) I was working for AVM Productions and one evening, I went for a walk. It started raining heavily so I stopped near a bungalow and waited in the shade. The door opened and a man came out. I apologised and told him I was sheltering from the rain and I was an artist working in an AVM films. "I will leave if you don't want me to wait," I said
But he gave me tea and later told his men to get an umbrella and drop me to the hotel. Then he asked me, "You really don't know who I am?" I said, "Sorry sir, I really don't know who you are."
He was Gemini Ganeshan. I touched his feet.
He asked me to meet him next day at 1:30 pm. I told him I can't as I am shooting for AVM. He said okay and I left. Later I realised what an idiot I was to say no to the owner of Gemini Studios, Gemini Ganeshan. But nothing could be done.
The next day at 11:30 am, Gemini Studio's manager came to the AVM studio. AVM's production manager told me that Chettiar (AVM's owner Avichi Meiyappa Chettiar, aka A V Meiyappan) was calling me. I thought may be I had lost my job in AVM.
Chettiar sir wanted to know why I had said no to Gemini sir. I told him I said no because I was shooting for his film. He asked me to go. I did not know whether that meant go back on the sets, or back to the hotel, or back to Mumbai.
When I came out, the production manager put me in a car. I was in tears because I thought if I was thrown out from here, I will not get any films in Mumbai too. However, instead of the hotel, the car took me to Gemini Studios and at 1:30 sharp I was called into Geminisaab's office.
He said, "When Gemini calls somebody at a particular time that man is there at that time, at least in Madras."
He gave me a paper and asked me to sign a film. I signed the papers blindly. He told me he would pay me Rs 101 for the film. I told him even if I get one rupee for your film I will do it. He told me to take Rs 5 from the cashier as advance.
I went to the cashier who gave me Rs 5,000! I was shocked. I had actually signed a Rs 25,000 contract and the film was Teen Bahuraniya. In AVM I was getting Rs 22,000, so Gemini Studios gave me Rs 3,000 more.
I made lots of money because of my films in Madras.
'I was paid Rs 15 for my first film; nobody at home knew I had acted in a film'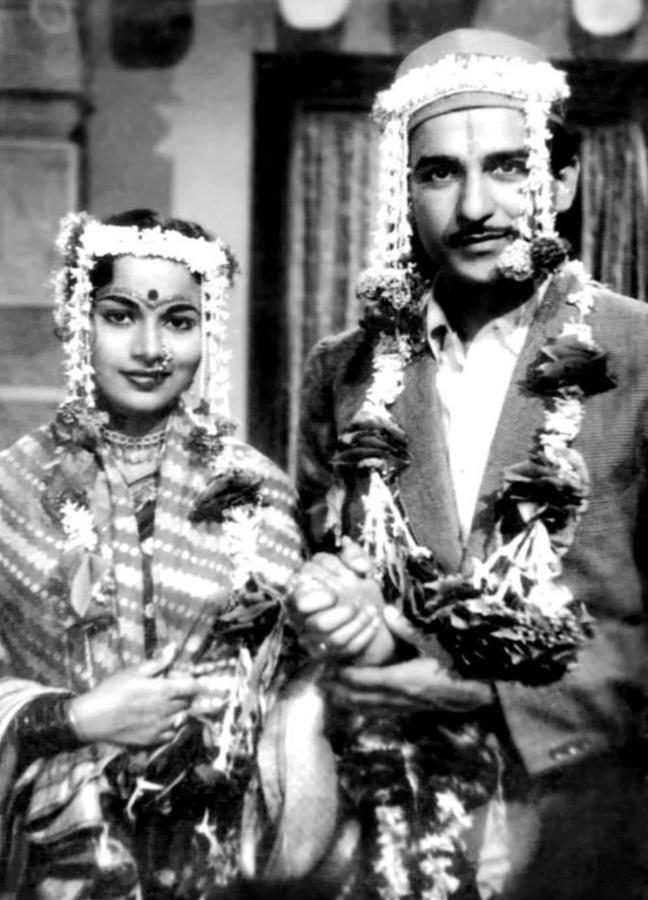 Early life
Not many know I am a Rajput from Jodhpur in Rajasthan. My ancestors shifted to Kolhapur as my great grandfather and grandfather were both engineers. They built the Jodhpur palace. They were called by Chhatrapati Shahu Maharaj to build the city of Kolhapur.
My father was a judge in Kolhapur.
My entry into film is an interesting story. I never thought of becoming an actor, but I liked a girl in college who was the beauty queen of the college. She never looked at me, but I came to know that she wanted to see a film shooting, and since my father was a judge and held such a high post, I had access to any place easily.
I knew there was a film shooting going on in Kolhapur. I somehow made it known to her that I have access to the film shoot, and it worked!
She came and spoke to me and asked me to take her to the film shoot. I agreed. Since I knew that if I went with her alone my father would come to know that I was roaming around with a girl, I asked all my friends to join me, and she asked her friends to come too. This was in 1945.
It was a Marathi film with Rajan and Baby Shakuntala. I don't remember the film's name.
In our film industry luck plays a very important role. The day we went on the sets, they were shooting a college scene and the director didn't have anyone to act as students so they requested me to ask my friends to act in the film -- all the boys would be paid eight rupees and the girls Rs 10. The boys agreed, but the girls were hesitant as acting in films was taboo then, but after a while they agreed.
I was given the role of the college secretary who had to introduce the college queen, played by Baby Shakuntala. I had just one line to say. I gave the shot without being scared as I was not looking at the camera. I was not even aware where the camera was. I was just looking at the girl from my college that I wanted to impress.
The shot went well. I was paid Rs 15; nobody at home knew I had acted in a film. Slowly I started supplying boys from college for acting; producers started contacting me I was paid well. I too did small roles.
When my father came to know that I was acting in films, he did not object. He just told me to continue with my studies and become a lawyer. My grandfather wanted me to join either the police or the military. My mother wanted me to take up farming as we had lots of farm land.
I said yes to all three, but I was not interested in any of it. I was interested in hockey, mischief and pranks.
'I applied for recruitment to the police'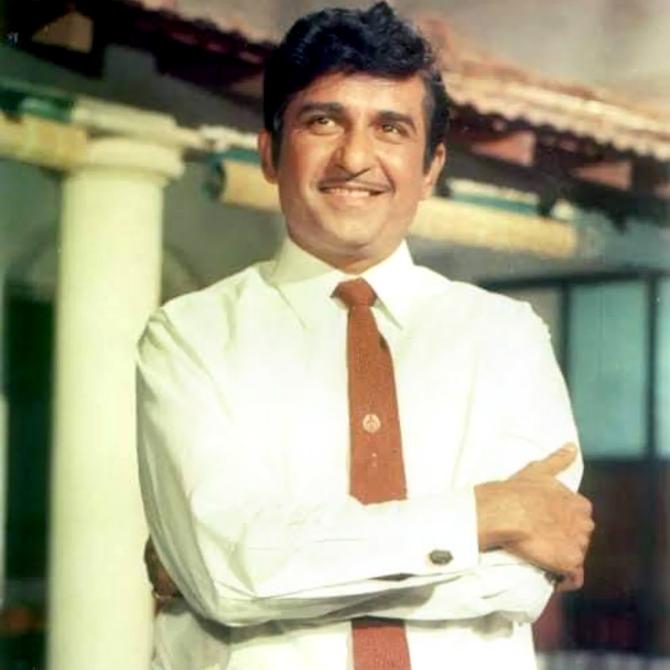 Acting in Marathi films full time
I replied to an advertisement for recruitment to the police force for the post of inspector, and was selected. I had to go to Nashik for training.
My elder brother Umesh was a major in the army and was posted in Pune. So first I went to Pune to get him to lend me some money. My brother took me to the races. He was a good friend of jockeys and got good tips from them.
The Marathi actor-director Raja Paranjpe was there and he asked my brother for a tip to bet on a horse. My brother told him he would give him a tip, but he must take care of me in case I got lost in this crowd.
I started chatting with Raja Paranjpe and told him I have seen his films. He was not interested in me, but only in the race, which he lost. He asked me if this was the first time I was attending a race, and I said yes.
He said, "There is something called beginner's luck. Now you go and bet for me on any horse you like."
I was petrified! I told him my brother was the expert and he would be upset with me if he lost, but he insisted. So I closed my eyes and picked a random horse. It had never won any race, and was a very bad horse.
Still, Paranjpe bet Rs 50 on the horse and the horse won and he got Rs 800. He told me to pick another horse, and that won too and he won Rs 2,500. On the third horse I picked, he won Rs 21,000.
In those days, as a director, Raja Paranjpe would earn Rs 3,000 for an entire film which would take four months.
He was happy he had hit the jackpot. He told me, "Ramesh, you are lucky for me. I am starting my next film in two days and I haven't got anyone to play the villain. Why don't you do the role?"
I said I had to go for police training, but my brother was excited and told me to take the offer. My brother came with me to Kolhapur to coax my father and grandfather, who were both upset and angry.
My mother was uneducated, but she was very smart. She asked my father and grandfather, "Have you ever seen Ramesh's percentage?" I got 38 per cent in my matric (matriculation) exams. I was not very good at studies. She told my father, "He can't be a judge like you, but let him try his luck in movies. Let him do one movie. If he fails, we can always put him in the police force again." Everybody agreed.
I acted in the Marathi film Andhala Magto Ek Dola (1956). It was a super hit and my work was more appreciated than the hero's and heroine's. I was praised in every newspaper. I asked my father what to do now, and he said do films if this is what you are good at.
I signed four-five films as a villain, and after that there was no looking back. Since then I have been non-stop working. I did lots of Marathi films.