It's a tough call, when setting tracks into order on an album. Where to put the best track? Sudhir Mishra's Khoya Khoya Chand takes it head on by starting with the title track, one so brilliant that the rest of the album can't quite match it.
What a track, though. Lyricist Swanand Kirkire -- decidedly one of the most interesting men in music today -- takes the microphone himself, along with Ajay Jhingran, to craft an unexpectedly profound track -- that superb tabla-driven 'idhar bhi noch lu, udhar bhi noch lu' chorus is most distracting.
'Kyon apne-aap se khafa-khafa, zara-zara sa naraaz hai dil?' Why is the heart a little annoyed at itself?
This is a lament, not just about a lost, lost moon (forgive me) but a magnificently worded ditty about how life follows its own path and everything finds direction on its own. Why then, it asks, does the heart try to heed the bumps in the road?
After that one song itself well worth the price of admission, we move into the next track, Yeh Nigahein. Composer Shantanu Moitra -- who simply can't do without shamelessly stealing a classic or two -- here making Sonu Nigam and Antara Choudhary cover Bobby Helms' 1957 anthemic Jingle Bell Rock. Kirkire's lyrics are old-school and poetic while naughty enough to take the happy country song into cabaret territory.
Shreya Ghoshal, while possessing a fine voice, doesn't have the required timbre (or is it just better aged vocal chords?) to carry off Chale Aao Saiyan, a fine yet typical song about kothas and birha and the like. A track that doesn't make you weak in the knees, but solid picturisation could enhance it tremendously.
Hamsika Iyer turns on the seduction for Khushboo Sa, one of those high-heeled evening-gown'd tracks. It's well-orchestrated by Daniel George (who was exemplary in Johnny Gaddaar) so we end up with a smooth, jazzy track. Perfectly likeable, but nothing to go gaga about. Again, unless we have someone stunning on screen doing the crooning.
O Re Paakhi, a Sonu Nigam ballad, like all his best songs, sounds refreshingly unSonu. It's soft, mercifully underplayed, and the lyrics come through clear and heartfelt. Not instantly impressive, this is a track that gets better with each successive listen.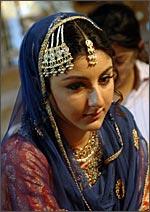 We flow into more classical influence with the guitar-and-alaap start of Sakhi Piya, an admirably vocalised track by Pranav Biswas and Shreya Ghoshal. The guitar slides subtly while the vocals get increasingly ambitious, and this is one of those powerful yet largely background-score songs, invaluable when it comes to setting the mood.
And now, the closer. Thirak Thirak has an intoxicating start, a slow-starting confluence of percussion that climaxes as suddenly as it starts, segueing into a Sonu Nigam and Shreya Ghoshal vocal that, while pleasant enough, is unfortunately formulaic. It's only the thirak-thirak phrase, and the high-energy throwback to that great first track, that pushes this to a nice finish, fitting for the album.
Sudhir Mishra's soundtracks are always inevitably tinged with nostalgia -- God, that goosebump-inducing Hazaaron Khwaishein title track -- and in this throwback to Bollywood's true glory days, the mood is well-established, the harmonies ring true.
And Guru Dutt himself would have smiled at the title track.
Rediff Rating: