After Aadukalam and Asuran, this is another film Dhanush is going to be proud of, says Divya Nair.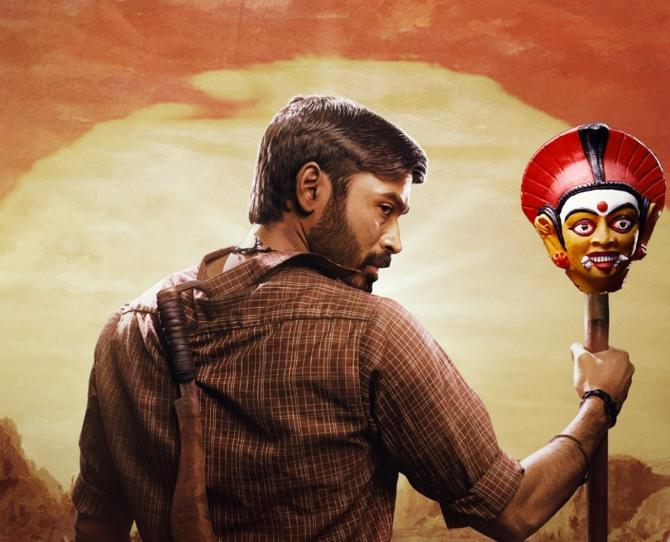 Three years ago, when I wrote about Kaala, a lot of people, including some of my friends and Rajinikanth admirers felt the film was a letdown and had nothing important to offer.
But to me, Kaala was an important film. And the reasons here and here!
Like Kaala, I was eagerly waiting for Karnan.
First, when I saw the trailer, I felt that Karnan -- directed by Mari Selvaraj -- could be yet another story of a boy and girl from a forbidden caste or community falling in love and the consequences they face.
After watching the film, I am happy to know that Karnan doesn't fit into this done-and-dusted premise.
The film takes us to a time into the pre-1990s when a young village girl is lying helpless in the middle of a road.
She's had a seizure and is struggling for life.
Buses and other vehicles whizz past her in broad daylight, but none of them pause to find out what's happening or offer help.
As the opening credits roll, the camera pans to the girl's face slowly replaced with that of a deity, commonly found in any village or temple in Tamil Nadu.
It's a powerful visual metaphor.
I'm led to believe that Selvaraj wanted to tell his audience that the face of the girl doesn't matter. Because this could be the story of anyone who has been oppressed but suffered silently.
The deity could be symbolic of God, a superior power or law, whose face this imposed on this victim, is ineffective, powerless, like a mere tokenism.
In stark contrast, the village worships a headless human form, which is also the subject of gossip for the neighbouring villagers, who identify them as weird folk belonging to a wasteland.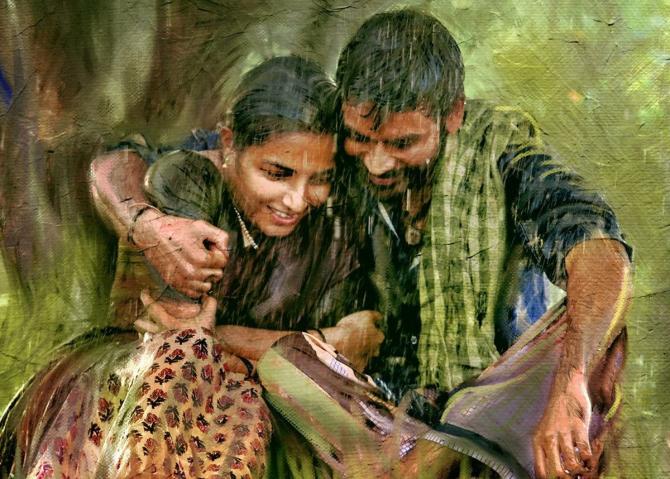 Fast forward to a few years, maybe a decade or more after the young girl was left to die, nothing much has changed.
The residents of Podiyankulam village still don't have a bus stop and have to walk miles to the nearest bus stop in Melur where they are constantly ridiculed and beaten up for no reason.
Those looking for a job wake up earlier than the sun and begin their day waving at private trucks and vehicles crossing their village hoping to hitch a ride.
They'd rather wait by their village with dignity than swallow their pride and get abused by aimless goons from the neighbouring village, who are simply looking for the next opportunity to pick on these hapless villagers.
Countless pleas to the collector and bus operators, we are told, have landed in vain.
As a consequence, girls are forced to forgo their education, men are unable to find work in the city or change their fortunes and future. Add to this, the atrocities by those wielding power just do not stop.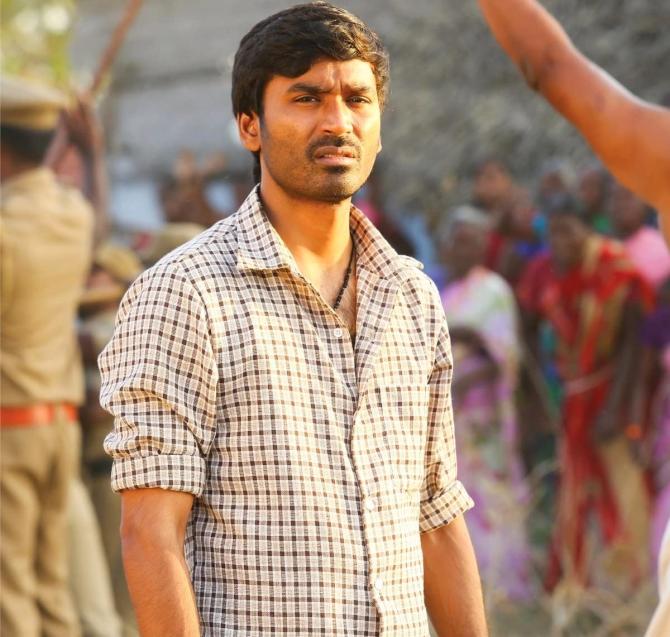 Frustrated by years of oppression, Karnan (played earnestly by Dhanush), decides to fight back.
He vows to avenge his sister's death and make things right for his people. That's how a hero is born out of sheer desperation.
The director doesn't mention a particular caste or community, but one must applaud his subtle use of imagery through animals and daily conversations to showcase oppression.
There is a donkey whose feet is tied and shown limping. When Karnan asks why it can't be freed, his grandfather Yeman (Lal) says if he runs away, the owner won't be able to find it.
It's about control and misuse of power: How you see it every day, but don't question it or set it free and see what happens.
The screenplay is just perfect. Just as Karnan frees the donkey, the animal, free from all bondage, runs up all the way to the hill.
There is no owner to stop him; those shackles were a mere imposition, we learn.
Karnan, who questions everything -- from superstition to aimless gossip and traditions -- never really gets the right answers. But that doesn't stop him from fighting.
When a pregnant lady from his village is unable to find a vehicle to reach the hospital, her son -- a young boy -- pelts a stone that eventually halts a bus.
Before the driver or conductor could attack the boy, the villagers come to help.
Led by Karnan, they vandalise the bus hoping to send a message to the authorities.
All Karnan wanted was to join the military and make his parents proud.
All Pozhila wanted was to go to a college and study.
The villagers only demanded a bus stop and for the authorities to show basic humanity.
But Karnan's cause is lost when S P Kannabiran, the officer assigned to investigate the case, takes matters in his own hands.
One thing leads to another and before you realise it, there is blood on their hands.
The scene where Kannabiran interrogates the villagers is really crucial to this film. When he enters the village, you can sense his disgust for the people.
He asks for a chair to sit but doesn't get any.
Next, he commands the village head to get rid of his turban.
The villagers politely explain why it can't be done; he always wears it as a mark of respect.
You may think it's just a humble piece of cloth, an accessory worn by a farmer, in this case, the head of the village. But this is where the incident gets personal.
The villagers are tricked and brought to the station where they are beaten up mercilessly and left to die.
After escaping police brutality, when the village folk are brought home by Karnan and friends, the village head points out: He (the SP) didn't hit us because we vandalised a bus. He hit me because I wore a turban. He hit me because I, son of Maadasamy, was named Duryodhan.'
'How dare you?' Kannabiran repeatedly asks as he lathi charges the elderly, helpless villagers.
It's this simple audacity of thought that defines our oppressor Kannabiran here. Everything else that follows is just the consequence of this vile thought.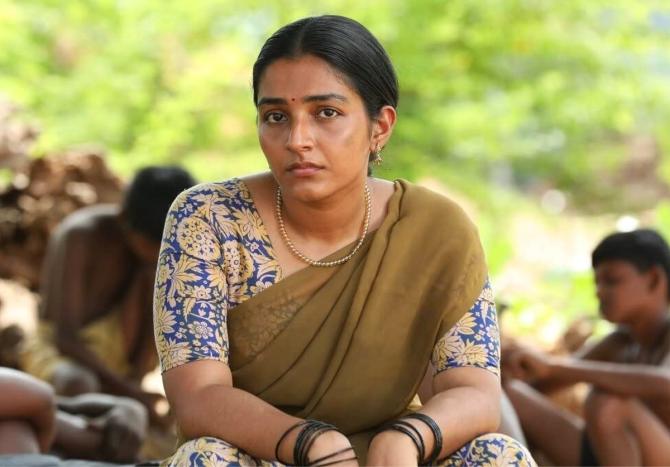 Karnan is an apt name for Dhanush, the protagonist of this film, whose key characters are inspired by the Mahabharata.
His cause may be genuine, but does Karnan employ the right means to get justice?
Worse, is he even offered a choice?
All these years, we have been treated to Karnan, the anti-hero of the Mahabharata. But Mari Selvaraj's Karnan is the true hero of Podiyankulam.
With absolutely no resources, he builds a confident army, puts everything at stake and goes to war.
Does he win the war? And what is the price he pays?
After Aadukalam and Asuran, this is another film Dhanush is going to be proud of.
Alongside Lal as Yeman and Rajisha Vijayan as Draupadi, the trio lead the film with earnest performances.
The background score and music by Santhosh Narayanan, particularly the title track Kanda Vara Sollunga, captures the film's essence and the director's message for society.
During times like these when atrocities on underprivileged communities are tucked away as 50-word news items in our newspaper, Karnan is valid, must-watch, film.
Rediff Rating:

Feature Presentation: Rajesh Alva/Rediff.com