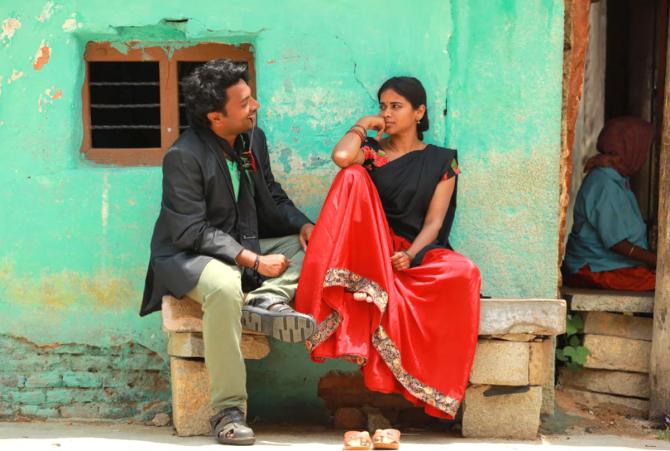 Directors Raj and DK have always been known for making out-of-the-box films like Go Goa Gone, Shor In The City, Stree and The Family Man.
Cinema Bandi, Raj-DK's first foray into Telugu film-making, has turned out to be an experience way beyond anything they expected.
Raj sounds happy at the turn of events.
"Cinema Bandi was an idea that (Director) Praveen Kandregula and (Writer) Vasanth Maringanti came to DK and me with at the Cinema Bazaar," Raj tells Subhash K Jha. "At that time, there was no script. But they had prepared a booklet with their concept."
Raj and DK were impressed, both by the concept and its presentation.
"When we had gone to our producers with the idea of our first film 99, we had made a comic book of our concept, so Praveen and Vasanth's notebook made sense to us. We liked their concept of two villagers finding a sophisticated film camera and deciding on making a film themselves," says Raj.
"We told Praveen and Vansanth to work on the script, keeping in mind that we wanted the end product to be real and innocent."
The first draft of the script needed work.
"We took Praveen and Vasanth through script workshops," Raj adds.
"We made sure that the writing was absolutely topnotch. Then we got them a really sophisticated camera -- far more sophisticated than the camera that the two protagonists in Cinema Bandi find (laughs) -- accompanied them to the village where the film was shot, settled them in and then left them to make the film that they wanted."
The local villagers were co-operation personified.
"They not only made our cast and crew feel welcome, but many of them played roles in the film," says Raj, always the charmer.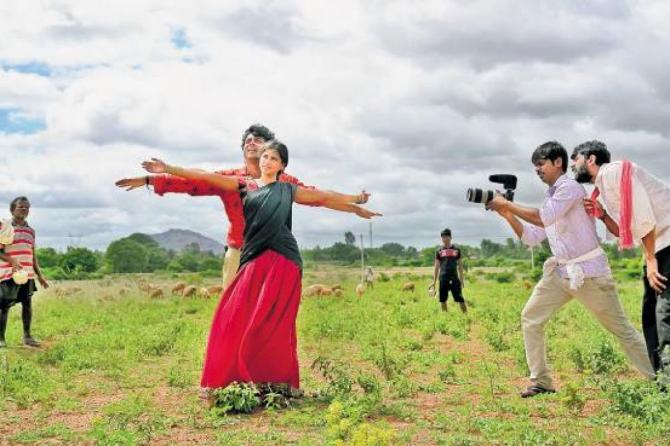 The first cut of Cinema Bandi which came to Raj and DK was way too long.
"It was almost four hours of footage. We had to shorten it, edit it down to about 90 minutes of final playing time and then we gave it to Netflix. The response has been far beyond anything we expected," says Raj.
"We are sure that if released in theatres, Cinema Bandi would have been a box office success. Telugu audiences like seeing an out-of-box films with talented youngsters at the helm, once in a while."
A Telugu film had been on the anvil for Raj and DK for sometime.
"We wanted to do something in Telugu. We thought of doing a film with the established young brigade. But then we decided on this and we are glad."
Praveen Kandregula and Vasanth Maringanti are making another film for Raj and DK.
"Please understand we are not a film studio," Raj insists.
"We don't produce films as a lucrative stand-alone business. The idea is to produce interesting innovative films side-by-side with the films we direct, a sort of extension of what we direct ourselves."
"In that endeavour, Cinema Bandi has worked out for us."