Actor Harish Raj's directorial debut Kalaakar is a sincere portrayal about the highs and lows of an aspiring struggler in the film industry. 
Very few Kannada films made by new directors have shown such a sensitive handling and Harish deserves a pat in the back for his efforts.  
The story goes like this: Harish aspires to become an actor but faces opposition from his family, namely his father who opposes him tooth and nail. To fund his ambition, Harish borrows from a money lender and when he fails to pay it off, he decides to steal important documents from his house. This results in him being thrown out of the house.
Help comes in the form of Harish's lover Pinky, whose rich father offers to repay the loan. With that taken care of, Harish is free to concentrates on his dream.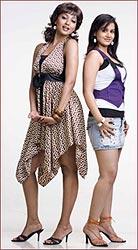 Harish has chosen a middle path while narrating the film which includes both artistic and commercial values. As a script writer, Harish has tried to give some twists in the second half which generates curiosity among the audience. However, the twist in the climax negates all the positive impact made by the other important twists in the film. 
The first half conveys very little in the form of story development. The pace picks up in the second half. As a dialogue writer too Harish has not done anything exceptional.
However, as an actor, Harish once again proves his mettle especially in the parts where he has to act as a woman. The actor is a huge fan of Tamil star Kamal Hassan and we can parts of Avvai Shanmughi and Dasavathaaram in the movie.
But it is Suman Ranganath as Suman who steals the show. She looks extremely glamorous especially in the songs where she outshines the film's younger heroine Radhika Gandhi, who should improve her acting skills. Veterans Dwarakish and Avinash do justice to their roles. 
Cameraman H M Ramachandra and debutant music director Giridhar Divan have done a good job.
All in all, Kalaakar is a neat film.
Rediff Rating: