Hotel Mumbai wants to be a gripping depiction of a grim time, but it could have been a lot more, feels Sukanya Verma.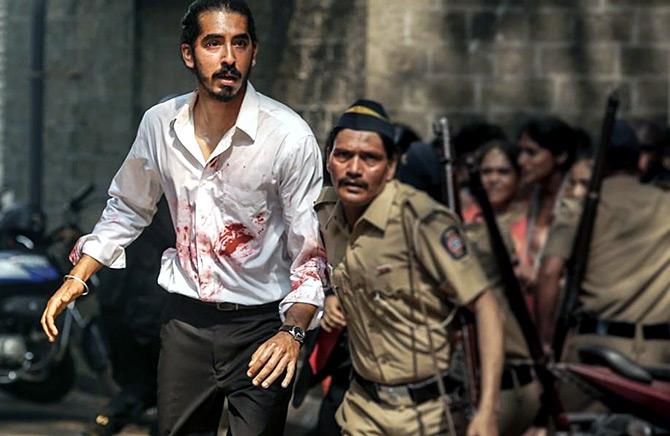 Mumbai has taken a lot of hits.
But the terror attacks of November 26, 2008, shook its vulnerability to the core.
Everyone, who lived through the horror or died in it, rescued lives or lost a dear one, covered it tirelessly across multiple locations over a period of four days or helplessly watched the dark drama unfold before one's television screens was affected indiscriminately, irreversibly.
Cinema can make a riveting show of such painful chapters.
To a great extent, Hotel Mumbai does too.
It's what makes this directorial debut by Australia's Anthony Maras a particularly tough watch.
Distressing details of the events still haunt our memory, the trauma it caused is as fresh as if it happened yesterday.
Mumbai, to its people, is more than home and livelihood. It is personal.
Maras mostly respects that and resists grandstanding or swelling up the nail-biting tone of his narrative.
Having said that, Hotel Mumbai is, ultimately, a thriller based on real events and exploitative by virtue.
Though it follows the genre's propensity for panic and uncertainty, the treatment is remarkably understated.
Mindful of its impending gloom, Hotel Mumbai starts off with images of seaborne boys lugging bulky backpacks while an ominous voice on the cell phone drills in lessons of no mercy.
A cold, casual suddenness envelopes its violence as they open fire into public spaces and private. Jihad is alluded to, but specifics are spared.
It is conflicting to watch the senseless brutality these young men are capable of against the rigorous brainwashing they undergo, but Hotel Mumbai avoids any judgement.
Instead, it comes close to humanising a few in moments where they take a break from barbarism and demonstrate curiosity over pizza or burst into sentiments of their own.
As interesting as the tangent is, I found it rather misplaced in a film whose purpose is to highlight the atrocities at their hands.
There is not much dillydallying or character backstories beyond glimpses of a life even the unlikeliest hero wants to return to as Maras jumps right into the centre of its nightmare.
The focus of the attack stays on the Taj Mahal Palace, Mumbai's iconic hotel, which added extraordinary resilience and recovery to its repertoire of symbol of grandeur and hospitality.
Several Taj employees lost their lives in the carnage.
Several became heroes.
A Sikh waiter (Dev Patel excels at playing such honest-to-God characters) is anxious regarding his expectant wife.
But his jitters do not interfere with his willingness to keep his guests comfortable and, as it so happens, alive.
Anupam Kher, as the hotel chef, keeps his nerves in a persuasive portrayal of a protective figure.
The guests are disappointingly nondescript.
Arnie Hammer and Nazanin Boniadi, as the married couple hoping to enjoy a dinner date while the nanny looks after their baby upstairs, is tailor-made for catastrophe.
Jason Isaacs pitches in as a sleazy Russian moneybag.
Cocky beings never did fare well in disaster movies.
While the ordeal stretches between hope and heartbreak, the daredevilry of a handful Mumbai cops in the face of Maximum city's ill-equipped crisis management and apathetic governance comes to fore.
As do suggestions of reckless journalism and religious fundamentalism, casual racism and skewed morality.
Except Hotel Mumbai isn't aspiring to be a commentary on the tragedy.
It only wants to be a gripping depiction of a grim time.
As credibly the movie achieves that, it could have been a lot more.
The reality of it certainly is.
Rediff Rating:

---
Sukanya Verma is the Principal Movie Reviewer for Rediff.com.
One of the most perceptive observers of Hindi cinema, Sukanya has a dazzling portfolio of features that have engaged Rediff.com readers for 20 years.
She can be contacted at mailto_sukanyaverma@rediffmail.com
---