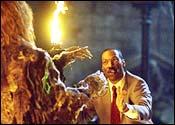 The new Eddie Murphy comedy The Haunted Mansion may draw full houses and shoo Dr Suess' The Cat In The Hat to second position but some Murphy fans may wonder if they will ever see the kind of inspired lunacy he served in films like Beverly Hill Cops.
We also wonder how writer David Berenbaum, who wrote an endearing and imaginative script for the best entertainment of the season Elf, has lost much of his wit and humour here. Yet, because of its gorgeous sets, special effects, a few comic turns and star-presence, the heavily hyped and widely advertised The Haunted Mansion could be a big draw. But it is doubtful if the ghosts will be box-office monsters in the long run.
The Haunted Mansion
is based on Disneyland and Walt Disney World's classic theme park attractions. It follows
Pirates Of The Caribbean: The Curse Of The Black Pearl
, also based on a Disney ride, which is ending its hugely profitable international run with about $660 million. While that film had Johnny Depp looking wonderful in a colourful part, it also had some rousing action and certain amount of salty sweetness.
Here, the story of a family thrown into meeting a dead bride, a grieving groom and a butler brewing serious mischief, needs some real ghosts to inject life into it.

Murphy plays Jim Evers, a work-possessed real estate agent who is punished for his preoccupations. He is caught in a phantom-packed manor with his family and is expected to learn a few lessons in life. He has postponed a family outing so that he and his wife (Marsha Thomason), who is also his real estate partner can do business. They end up, along with their children, in a tottering mansion run by the melancholic Master Gracey (Nathaniel Parker) with the help of his obese butler (Terrence Stamp).

We know right from the beginning there would be some supernatural element in the story and we see it clear when Gracey is reminded of his departed love when he meets Sara (Thomason).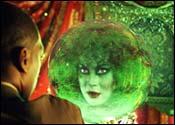 Stranded in the mansion by a freak storm, the Evers meet a raft of eerie characters including the fortune teller (Jennifer Tilly). While the characters like the Master, the butler and fortuneteller are better sketched, the Evers are made of mostly uninspiring stuff.

As the career-centric father, Murphy is colourless, though some viewers may enjoy his grin and by now too familiar laughter. Then you have a wife who seems thoroughly bored and neglected. The children are no more interesting than the ones we have encountered in many routine films including The Cat In The Hat.

We expect suspense, misadventures, action scenes and laughter. But director Rob Minkoff, who did far superior work on The Lion King and Stuart Little, is busy creating a world of special effects. We pray for some real eccentricity and genuine warmth. But often, the mansion feels too busy and yet cold.

CREDITS:
Cast: Eddie Murphy, Terence Stamp, Nathaniel Parker, Marsha Thomason and Jennifer Tilly
Director: Rob Minkoff
Written by: David Berenbaum
Producer: Walt Disney
Running time: 1 hour 40 minutes.
Rating: PG (frightening images, thematic elements and language)