Janhvi Kapoor does well as the girl trying to assert her 'kaabiliyat', observes Sukanya Verma.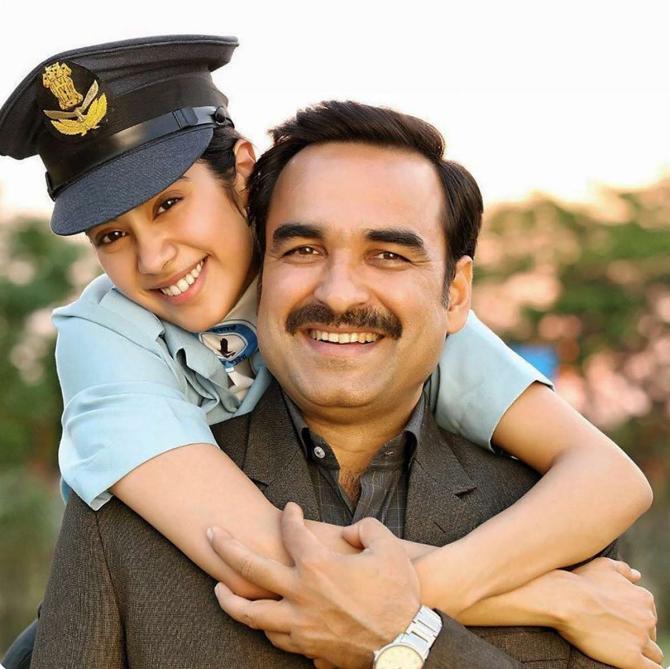 It is as though there's an unwritten rule that a woman must constantly prove her dreams are worthy of chasing to the world. And if she somehow emerges victorious, it warrants recognition more because she is a woman than she was brave.
Gender and guts are mutually exclusive through the prism of glaring hypocrisy.
But in sharing her journey of incredible determination, Gunjan Saxena highlights the importance of being true to oneself above any dramatic description.
Sharan Sharma's Gunjan Saxena: The Kargil Girl may seem like a straightforward true story about a young woman's triumph in a male-dominated space. But in this cleverly layered film, the joy of discovering a trailblazer's inspiring history lies beyond the obvious.
Lucknow girl Gunjan (Janhvi Kapoor) has dreamed of flying planes ever since she was a little girl.
Her brother (Angad Bedi) mocks her.
Her mother (Ayesha Raza Mishra) shakes her head.
But her father (Pankaj Tripathi) believes her. His constant support and words of wisdom guide her path and form the soul of this serene biopic.
Few can embolden a child's desires like a parent's confidence in their ability.
It is his respect for her wishes that make us appreciate Gunjan's struggle even before she actually accomplishes the feat she became famous for -- India's first-ever female pilot to participate in combat.
The same 'gold is gold' realisation, whether won by a boy or a girl, sentiment that marked Aamir Khan's Olympics obsessed bapu in Dangal resonates albeit far less demandingly in Gunjan's father as he explains, 'doesn't matter who flies the plane, boy or girl -- they are both addressed as pilot.'
Though he has raised Gunjan to dream fearlessly, his son hasn't inherited his father's sense of balance.
At every juncture, he objects to his sibling's progress and cautions in a manner that exposes chauvinism disguised as concern.
Despite the biopic's lack of subtlety in strewing Gunjan's path with rampant instances of insufferable masculinity, it is her refusal to feel sorry for herself in the face of resistance that shows Gunjan's steel.
She is only 24. The age of wanting without worrying, harbouring doubts and lacking clarity but never giving up.
Her naivete in believing her skills are all that matter, come under attack around an insecure bunch (Vineet Kumar Singh) who see her entry in a strictly-male territory as an invasion of sorts: 'Madam sir ban rahin hain'.
When her co-workers are asked to make lifestyle changes around her, they engage in casual sexism and alienate her. Respite isn't without its challenges wherein a stern superior's (Manav Vij) idea of excellence is testing his protegee doesn't buckle under pressure to extreme lengths.
Despite the excessive nature of the hostility, a curiously technical approach towards her tasks makes it credible.
Instead of inundating us with jargon, Sharma, along with co-writer Nikhil Sharma, laces her learning in logic, pluck and Amit Trived's spirited soundtrack.
And a repeated love for Bollywood references -- sometimes to underline the timeline of its events, moving from the late '80s (Ram Lakhan) to the early '90s (Raja Babu) and the late '90s (Kuch Kuch Hota Hai), sometimes to amusing effect -- 'Yeh Air Force hai, tumhare baap ka ghar nahi/Aap meri taraf hain ya uski?'
There is a set pattern to the underdog overcoming obstacles premise, which is where this biopic begs to be different.
First-time director Sharma shows us very little of her heroics instead focusing on her wits in tackling everyday highs and lows to play out naturally before our eyes.
I am not sure if Gunjan actually confronted her peers and gave them a piece of her mind or it is just a cinematic manifestation of the discrimination she felt and wanted to voice, but it works effectively when pushed too far.
Action is spontaneous, eminence is an offshoot.
Gunjan Saxena is happy to exist in her present than reflect on her glory. Where most biopics are flattering by virtue and miss out on the little things, in Gunjan, we are privy to her wanting to do better and wondering if she's out of her depth.
If Pankaj Tripathi's poise and thairav complement the intelligence he dispenses, Janhvi Kapoor does well as the girl trying to assert her 'kaabiliyat'.
Her face flushes in excitement on good days, suffers in solitude on bad ones and rises to the occasion in what would become a milestone. And the absence of ear-splitting jingoism makes it only more applaudable.
Somewhere between fact and fiction emerges a sensitive, starry-eyed girl whose life coach of a father provides simple but sensible breakthroughs.
The best scenes are about them.
Be it when he uses Rekha's weight loss programme to inspire her in shedding the extra kilos for admission.
Or gently admonishes her for wanting to settle down as an escape from work woes, 'Humari beti career chodkar paranthe banana chahti hai.'
Or that lovely moment when faux ideas of patriotism are shattered and the word feels beautiful again in a long, long, time.
Loving your country is not about screaming from the rooftops, he says, but doing what you do as well as you can. It shouldn't matter if the one doing it is a woman or a man.
Gunjan Saxena: The Kargil Girl streams on Netflix
Rediff Rating: