Delhi, daddy issues, drivers, domestic help, politics, patriarchy, sexuality, sexism, choices, compromises, community, religion, real estate, motherhood, marriage -- Gulmohar offers a loaded, layered understanding of familial relationships and its indirect impact on the people at the periphery, notes Sukanya Verma.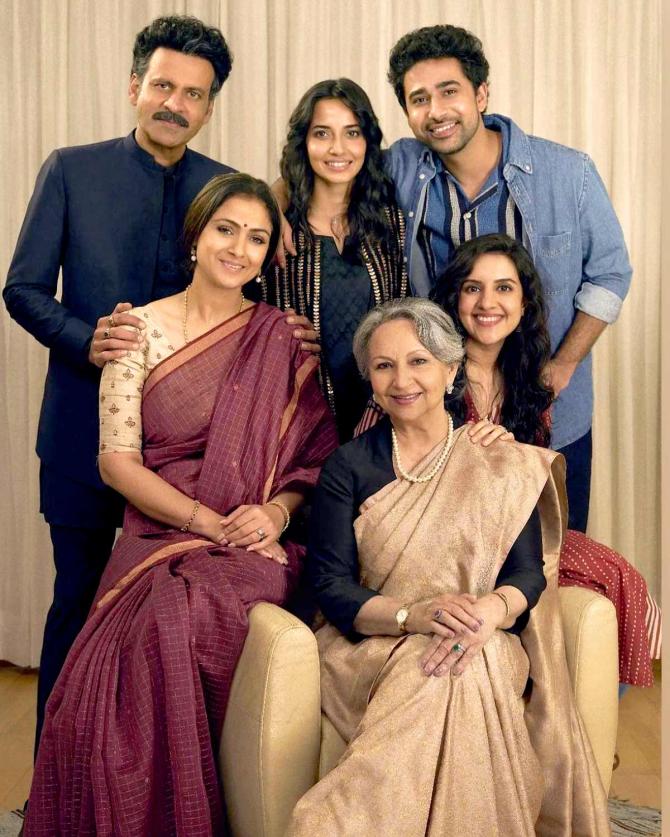 A peaceful Indian household is a utopian concept. Even in the ones where love and respect abounds, there is always room for distance and dissatisfaction. Conflict is as fundamental to human nature as living and director Rahul V Chitella captures it so precisely in his directorial debut Gulmohar, you may well think of it as life itself.
Four days from Holi, a family ready to move out of their sprawling South Delhi bungalow are celebrating their final night with all their near and dear ones at an intimate gathering.
Amidst overlapping chatter of small talk and sighs, the sound of ghazal and sway of alcohol, a nervous energy envelops its deceivingly cheerful bonhomie.
In the background, a upstairs downstairs dynamic plays out a blooming interfaith romance between domestic helps (Santhy, Jatin Goswami), evoking memories of the dysfunctional domestic bustle of Mira Nair's Monsoon Wedding whom Chitella has regularly collaborated with and whose Vasant Vihar bungalow inspired the idea behind Gulmohar Villa along with cowriter Arpita Mukherjee.
The Batra family's smiles belies its secrets until Kusum (Sharmila Tagore), its elegant, softspoken matriarch proposes they postpone the shifting until Holi and move out only after celebrating their favourite festival.
But it's her unexpected announcement to live independently in a Puducherry flat that takes her son, Arun (Manoj Bajpayee) and daughter-in-law Indu (Simran) by surprise. Already unhappy about son Aditya's (Suraj Sharma) plans of staying separately and building his struggling start-up, Arun makes his displeasure widely known -- 'kabhi kabhi toh lagta hai ek hi ghar mein rehte hain phir bhi koi kisi ko nahi janta.'
Change is inevitable, be it humans or homes.
As redevelopment schemes take hold of Delhi's old-school real estate and tear down traditional kothis in posh neighbourhoods to build modern-day multi-storey residences, Arun and Simran get busy setting up their swanky penthouse in Gurugram.
Though spacious enough to accommodate the entire Batra clan, everyone seems intent on going their own way. While Aditya and his significant other Divya (Kaveri Seth) scramble to finalise an affordable rental space, his singer sister Amrita (Utsavi Jha) grapples with her romantic choices and their third sibling, Payal (Nargis Nandal) is married and on the family way.
Factions within the family appear more glaringly when its extended members appear on the scene. Arun hero-worships his late father, which goes completely unnoticed by his paternal uncle Sudhakar (Amol Palekar) a quintessential Delhi dinosaur, the kind of disgruntled toxic oldie WhatsApp groups are split over and ruins any discourse no soon he opens his big bigoted mouth or refuses to drink water from the hands of Batra's Muslim maid.
While his apologetic son (a solid turn by Anurag Arora) is constantly embarrassed by his father's petty displays, Sudhakar's grandson has inherited a relatively milder degree of this mindset in favour of materialistic gains. 'Issi bhrasth budhi ki majority hai,' he quips.
Gulmohar revolves around sons wanting to be like their fathers, sons wishing they never turn into their fathers and sons wanting to prove themselves before their fathers.
Ultimately though, it's the women raising these boys that show tremendous faith in their upbringing. Both Kusum and Indu are a portrait of resilience and balance, which gives the drama its emotions and edge.
When not basking in their spunk, Gulmohar mediates on the essence of a family, the foundation a home is built on and parenting above parentage.
Although the twist leading to this insight is questionably crafted and insists a will's beneficiaries can be its witnesses too. But the child-like insecurity Manoj Bajpayee renders Arun's sentimental, sensitive side and the alienation he feels on learning some bitter truths resonate the fragility of a father-son bond in the same vein as Hirokazu Kore-eda's Like Father Like Son.
Delhi, daddy issues, drivers, domestic help, politics, patriarchy, sexuality, sexism, choices, compromises, community, religion, real estate, motherhood, marriage -- Gulmohar offers a loaded, layered understanding of familial relationships and its indirect impact on the people at the periphery.
They may not enjoy a place of authority yet find themselves no less affected on becoming unwitting confidantes and witness of their employer's ups and downs.
Unlike the charming Alice-PK love story in Monsoon Wedding, the undercooked interactions between Santhy's feisty Reshma and Jatin Goswami's tongue-tied Jeetendra opt for a rather cheesy, filmi language of love but for the razor-sharp mediator Chandan Roy's humorous meddling, 'I love you bolne ke liye koi school college ka jarurat nahi hai, uske liye apna Shah Rukh Khan ka picture hi kaafi hai.'
Gulmohar's delightful quiver is full of such sharp arrows. And the source of its bullseye is a splendidly perfect cast.
Sharmila Tagore is a treat to watch. It's like she never took a break and makes Kusum so personable and profound without the slightest strain. Her talent to be two things in one breath -- firm and polite, conventional and liberal, sympathetic and sorry gives Gulmohar its roots and fruits.
Manoj Bajpayee is equally persuasive as the son wanting to fit into his dad's shoes, sweater and imagery. As his tough-as-nails anchor, Simran effortlessly holds it all together.
Amol Palekar as the bitter, resentful force threatening to shatter it all costs shows what true artistry is all about. Any other actor would turned him into a caricature on the ideology of hate, Palekar internalises it and demonstrates twice the danger.
On the other hand, there's a kindness to Suraj Sharma, which makes him a trustful presence on screen. Gulmohar benefits from his humanity and the way he leans on his wife for support, a gentle Kaveri Seth. Utsavi Jha's track forms an interesting catalyst for Kusum's flashback but on its own feels a tad clueless. Ghazal singer Talat Aziz pops up for a scene or two and regales the Batras and us with his voice and verve.
Mostly though, Gulmohar's tender take on thorny issues benefits from film-maker Chitella's light touch.
Its lived-in dialogues and spontaneous quarrels, hectic collision of personal and professional deadlines, the soundless heartbreaks and precious nostalgia is as genuine as the messy sight of bubble-wrapped boxes or bits and bobs.
Perhaps the complexities put forth are too easily resolved. Perhaps they were never so severe in the first place. It's a widely held belief that home is where the heart is. Gulmohar agrees and bares its own in doing so.
Gulmohar streams on Disney+Hotstar.
Gulmohar Review Rediff Rating: