'There are so many advantages when you have somebody like a Paresh Rawal or a Swaroop Sampat as your parents.'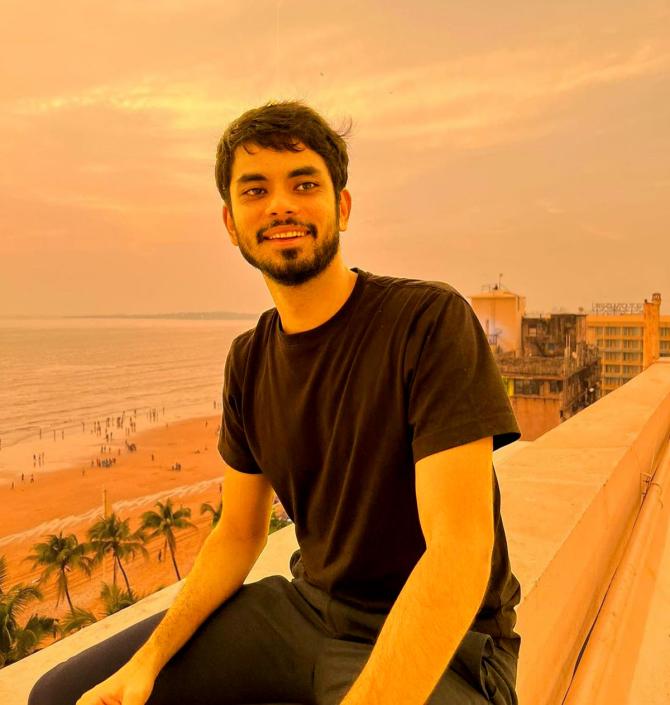 Aditya Rawal switches effortlessly between the roles of an actor and a writer. After writing Panipat, the actor made waves in Hansal Mehta's February thriller Faraaz.
Even though he played a villain, he got a lot of love for his sincere performance opposite newcomer Zahaan Kapoor.
Aditya realises that people probably see him differently, thanks to his illustrious parents, Paresh Rawal and Swaroop Sampat, but like he tells Rediff.com Contributor Sameena Razzaq, "We have this understanding, that if you make your own choices, the success is sweeter and failure is easier to tolerate because it's your own success or failure."
What made you shift from script-writing to acting?
Deep down, do you see yourself more as an actor or a writer?
That's a tough question. Deep down, I think I am a story teller.
Acting is taking precedence now, but things might come to a place when I am only writing stories for myself or something like that in the future.
As of now, I don't see any reason to choose.
For Faraaz, you had to recite verses from the Holy Quran. How did you pull it off without knowing Arabic?
You are Paresh Rawal's son. Do you feel the pressure when you act?
What are the perks and drawbacks of being Paresh Rawal's son?
There are so many advantages when you have somebody like a Paresh Rawal or a Swaroop Sampat as your parents.
They have such vast experience and knowledge.
They care for you, they are concerned about you and they love you, so their advice is not just knowledgeable but it comes from the best place possible.
You have a living example of how to conduct yourself in the professional space.
I did not get work because I was somebody's son, but yes, I was able to reach those people and knock on the doors I wanted to knock on.
For example, I was able to reach Ashutosh (Gowariker) sir because of his relationship with my father.
I could send him a play that I wrote.
Now, he could have read the play or not, he could have liked it or not, but he did read it and like it. That's why he brought me on board for Panipat, which I co-wrote with him.
So there is an increased accessibility, which is very important.
It's not exactly getting the job, but it's bring you one step closer to getting it.
But after a few projects, your work has to speak for itself.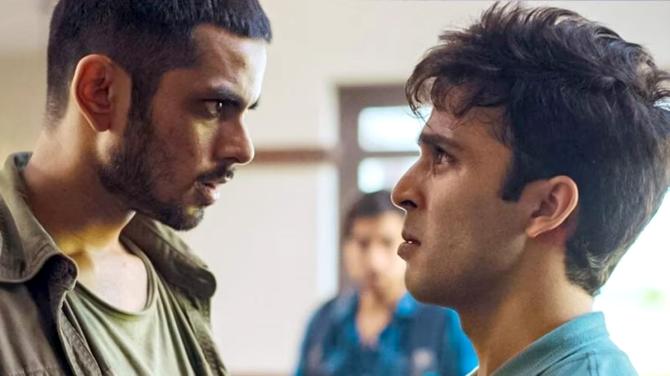 Only a few actors like Amitabh Bachchan have been able to crack the code of a long career.
Absolutely. Zahaan and I would often say that our aim is to ensure we are here for a long run.
With good fortune and the right kind of parts, one might shine bright for a year or two before dissipating.
But the real joy and the real journey would be one that lasts a long time.
You mentioned Amitabh Bachchan sir who is a living legend, but look at the other actors as well like Irrfan sir, and my father. Their journey lasted 30-40 years.
Faraaz saw you lock horns with Zahaan Kapoor. It rarely happens that both hero and the villain are being talked about in the same vein. How did you manage to achieve that?
It is the writing, honestly. Hansal sir was very intent on providing the actors and characters the platform and space they deserve in the story.
It is not just my character or Zahaan's character. Look at Juhi Babbar ma'am; she got such a fine part and she has done it so well.
Look at the boys who were with me when we storm the café. There were five of us, and each of us had a distinct character to play.
The scenes that Zahaan and I had together were fun.
As an actor, you can only react if the person in front of you is giving you something.
Because of our theatre backgrounds and Hansal sir's leadership, we were able to react and take on board what the other person is giving.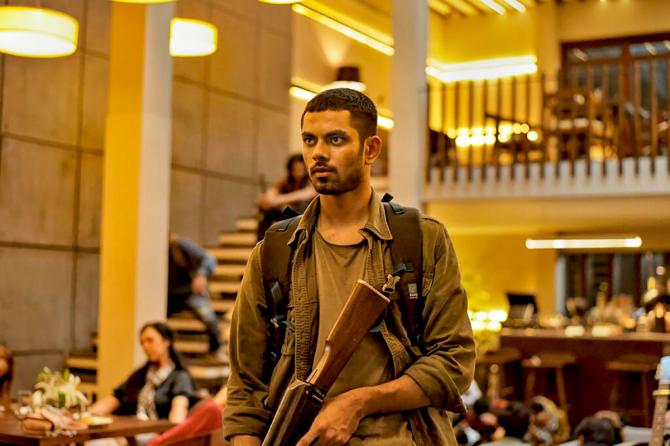 Have you imbibed the trait of method acting from your father?
I won't call it method acting because it's not exactly method in the sense we have known it to be. I feel my process is an amalgamation of a lot of things.
I have learnt not just from my father, but from my time at New York University. I have also learnt while performing on stage and while playing sports professionally.
Some parts require more preparation, some parts require a different kind of preparation.
In case of Faraaz, there was a lot of dialect work we did. We learnt the Arabic verses and there was a lot of research about radicalisation.
There was a lot of emotional preparation.
What does Paresh Rawal think of the choices you are making in your career?
We have this understanding that if you make your own choices, the success is sweeter and failure is easier to tolerate because it's your own success or failure.
He is proud of the choices I have made, where I have pushed myself.
I have taken parts that are rather scary in terms of how I was going to say the verses or how I was going to play a tribal character or an Allahabad boy.
My father is also a very brave actor.
The kind of roles he has done, whether you look at Hera Pheri, Tamanna, Oye Lucky! Lucky Oye! and Sardar, they are such diverse parts. He has defined them so naturally that it in some ways reflects in my choices.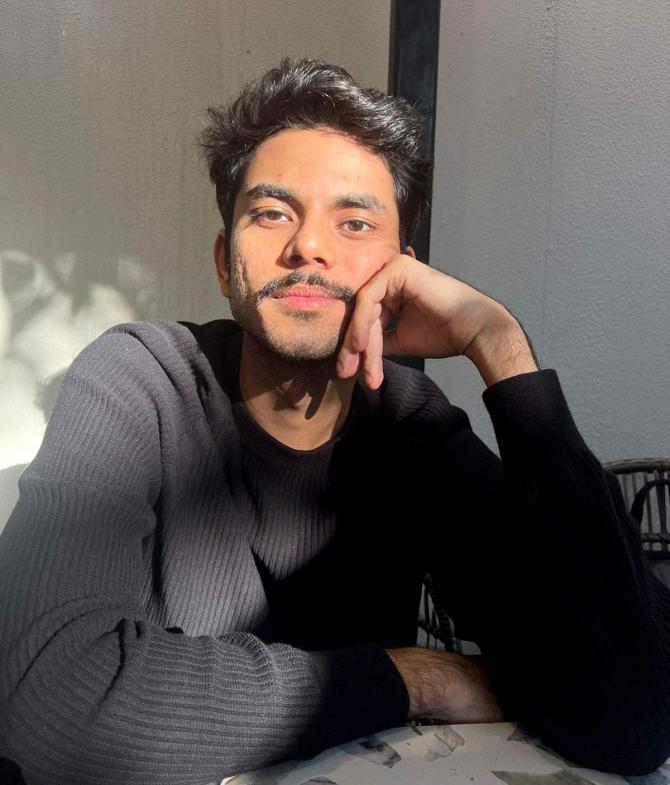 Pareshji has a natural flair for comedy. Will we see you try your hand at comedy sometime?
Oh yes, I hope so. I have done comedy on stage and I enjoy it.
I write comedy in films and plays as well in addition to the darker, grittier and serious stuff.
I love all manners of comedy, not just heightened comedy or slapstick comedy.
From your father's repertoire, which film has impressed you the most?
What do you think of your mum Swaroop Sampat's work?
I have seen Naram Garam and her more recent films as well.
I love her work.
I think she was amazing in Uri: The Surgical Strike.
I don't know if my father will agree or not, she was better than him in Uri although they are different actors playing different roles.