Fukrey Returns is a clumsily conceived sequel, notes Sukanya Verma.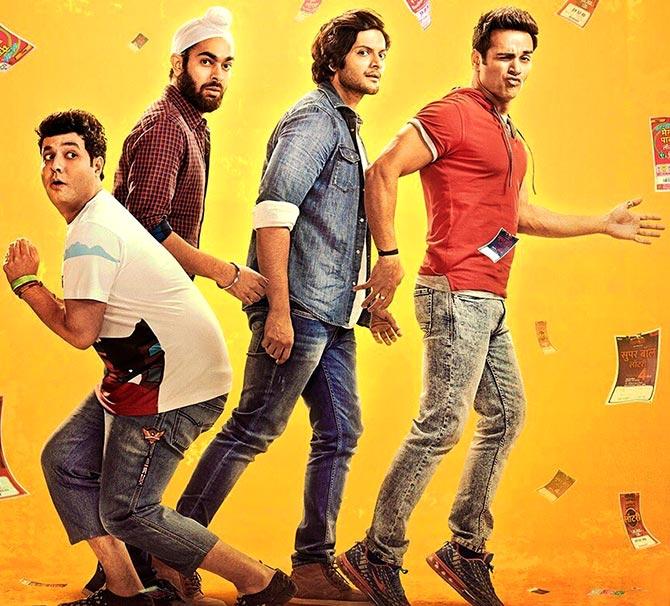 When director Mrighdeep Singh Lamba's Fukrey released in 2013, it was mildly amusing on the strength of its loony bamboozling and goofy chemistry of believable bums belonging to a bourgeois Delhi neighbourhood.
Roping in its cast for a reunion with no plot or charm is stretching the joke too far.
Unfortunately, that's how Fukrey Returns feels -- a clumsily conceived sequel, a foolhardy endeavour to milk a fluke, an outright bore.
The Fukrey boys -- Hunny-the looker (Pulkit Samrat), Zafar-the thinker (Ali Fazal), Choocha-the dreamer (Varun Sharma) and Lali-the sidekick (Manjot Singh) -- find a reason to spread chaos once again after Choocha's newfound gift for clairvoyance, Deja Choo, triggers talk of treasure.
No longer behind bars and operating from a creepy lair equipped with a giant projection screen playing all kinds of seedy tapes, their disgruntled, gaudily-dressed nemesis, Bholi Punjaban (Richa Chadha) and her two burly stooges strong-arm the lads to swindle for her benefit.
In the middle of it all, there's a butt-biting cobra, a smuggled tiger cub, his revengeful mum, a shady politician, a bogus lottery scheme gone kaput, its select voice of protest in a north-eastern momo seller and transgender, a glimpse into organ trade, a nod to the strain of live-in, a sword wielding Sardar and an obsession with bad breath.
The oddball tone of these excesses wouldn't feel as tedious around a witty context or coherent script. Except the gags, contrived around comically hostile interactions and burdened by a steady supply of predictable rejoinders, fall completely flat.
Where most members of Fukrey Returns are as superfluous as its new, blah soundtrack, the whimsical troika of Sharma, Chadha and Pankaj Tripathi do their best to lift its plodding pace with their distinct brand of humour.
But even the cub couldn't suppress his yawn. I am only human.
Rediff Rating: