A teenage girl drags herself into a London chemist begging for medicine. Few hours later, we see her dead in a hospital having given birth to a baby girl. A midwife Anna (Naomi Watts) comes across her diary in Russian and an address of a Russian restaurant in London.
Anna, herself of Russian origin, decides to play the detective and sets out to trace the father of the baby. She meets at a restaurant its avuncular owner Semyon (Armin Mueller-Stahl) who offers to help her to translate the diary into English. Anna is charmed immensely by Semyon and she is also aware of the possibility of reconnecting with her own Russian roots.
Within a few minutes of watching David Cronenberg's masterly thriller, Eastern Promises, which is both excruciatingly violent and engagingly tender, we know that the restaurant owner is anything but a benign person. Like many of the figures we have in Mafia movies, he is a devoted family man and pillar of his community. We also realize soon that the restaurant is a front for a number of nefarious activities including forced prostitution.
The film, which was recently voted by the audience as the best of the over 250 features shown at the Toronto International Film Festival, in many ways looks like the continuation of Cronenberg's last year's arthouse hit, A History of Violence.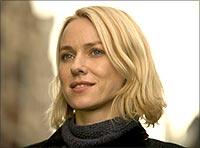 But it has a life of its own, and if last week's limited opening is any indication, the movie which grossed over $600,000 in just about 50 theaters, could be quite a money-maker. It is adding about 1500 theaters this week and is expected to be among the top 5 films this weekend, grossing about $8 million.
But be warned. The film is 96 minutes long. If you close your eyes as some of its bloodiest scenes unfold, it could be one of the shortest films you have seen. One of the most brilliant and bloodiest sequences in the film take place in a steam bath house where one of the younger Russian men fights off about half a dozen would be killers. It is relentlessly brutal but it at the same time wonderfully choreographed, 
Anna is soon confronted by Kirill (Vincent Cassel), the brutish and deranged son of Semyon and his sidekick, the hard-boiled henchman Nikolai (Viggo Mortesen) who at times sounds like a philosopher.
Nikolai stalks Anna and there is a pulse-quickening confrontation between him and Anna's uncle who hates the Russian underground. Soon the uncle, who is never tired of announcing how well connected he was to the KGB, as disappears.
It would be quite a while before Anna discovers a web of secrets..
Cronenberg, a Canadian director who for many years made relatively obscure films hardly anyone saw, tasted his first real success last year with A History of Violence. Like in the previous film, here too he takes up a seemingly ordinary suspense driven story and turns into a mesmerising study of the human condition. He does it by giving the film a fast pace, and extracting one memorable performance after another, and choreographing the violent scenes lovingly.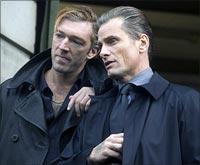 Mortensen, who made a name for himself in The Lord of the Rings series, gives yet another strong performance as the conflicted killer. Watch him in the scene where he is ordered by Kirill to have sex with one of the slave prostitutes.
As the deranged Krill, the French actor Cassel is quite menacing but the scariest person to emerge in this sordid drama is Semyon and the veteran Mueller-Stahl.
The most tender performance in the film comes from Watts, who grows from being a naïve woman with a strong maternal instinct, to a horrified witness to bottomless human cruelty. 
In the final reckoning it is not that important who the father of the baby is. What is more fascinating is the jolting revelation about Nikolai. And  the role he has secretly played in Anna's dangerous journey.
Cronenberg's earlier films such as Dead Ringers and Crash won him awards at festivals in Cannes, Berlin and Venice. But they were seen by a few thousands.
But with Eastern Promises, he would be able to woo millions as well as consolidate his position as one of the most stylish filmmakers who adroitly mixes violence, psychology and human endurance.
Expect a handful of Oscar nominations for this new masterpiece. 
Rediff Rating: