Where Ayushmann Khurrana gets the tone and texture of his hypermasculine chump in skinny gym shorts down pat, Vaani Kapoor is a picture of backbone and restraint in a role that could not have been easy, observes Sukanya Verma.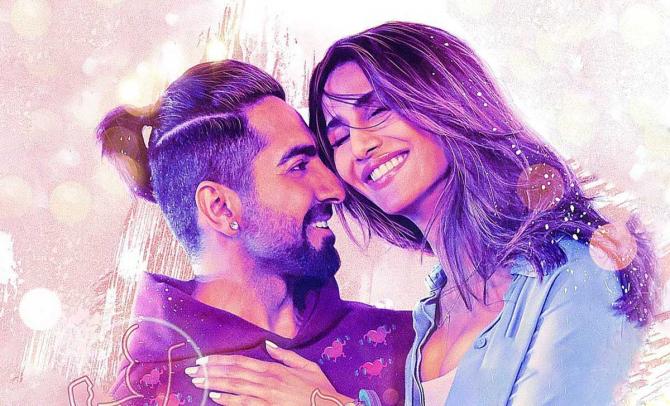 Almost a decade in and across a gamut of roles, Ayushmann Khurrana's sperm donation, erectile dysfunction, premature baldness, middle-aged pregnant mum, overweight wife, feminine phone voice and gay romance have actively voiced all things deemed too awkward for discourse in Hindi movies.
The actor's evolved career choices are his brand; an attribute he duly delivers in Director Abhishek Kapoor's Chandigarh Kare Aashiqui where he falls in love with a trans woman.
But a sense of formula has seeped in his patented reformist rom-coms where an uninformed opinion or bigoted attitude sparks a conflict and causes the couple to hit a roadblock until better sense prevails and everyone's enlightened and emancipated.
Chandigarh Kare Aashiqui's radical romance takes some significant baby steps but is, ultimately, too simplistic in driving its change-is-just-a-heartfelt-speech-away naiveté.
For all its sympathy towards the transgender community, it's really about a guy's acceptance of his girlfriend's sexual identity and never about her struggle in one. While I don't fully share Chandigarh Kare Aashiqui's optimism and doubt someone as obnoxious could develop sense overnight, it's good to see Khurrana doesn't downplay the toxicity.
Set in his hometown, Khurrana looks every bit the local munda Manu Munjal, a beefy, undercut man bun sporting bodybuilder as embarrassed by his repeated failure at a local weightlifting competition -- Gabru of All-Time -- as he is by his over-the-top Punjabi family's antics.
There's a believable flavour and informality to their collective banter until the script suddenly turns them into hyperventilating bulls.
While Manu's Tweedle Dee-Tweedle Dum pals, partners and twins in twinning t-shirts (Gaurav and Goutam Sharma) pester him over gym and girl gyaan, Mannu's ready-to-remarry daddy (Girish Dhamija) and bullying big sisters (Tanya Abrol, Sawan Rupowali) nag him to settle down.
Enter bombshell Zumba instructor Maanvi (Vaani Kapoor) and Mannu looks set to make their dream come true sooner than expected.
Single and ready to mingle, Maanvi is more than happy to reciprocate.
Given their fitness freak ways and stunning physicality, Chandigarh Kare Aashiqui's carnal gaze has a field day capturing their toned bodies and smouldering sexual expressions against Sachin-Jigar's peppy score.
Body is more than a source of lust here, it's a choice to be the person you feel by rebuilding and challenging the conforming notions of what's perceived as normal and natural.
As in the case of all well-meaning confections, a previously concealed technicality plays party pooper ensuing in a heated showdown between Manu and Maanvi.
Kapoor and co-writers Supratik Sen and Tushar Paranjpe aren't interested in sanitising the premise or toning down the crude response Maanvi's truth elicits in his leading man and cronies.
Things get downright ugly when angry words take the shape of slurs and obscenities. Even if the idea is to highlight Manu's cowardice, Chandigarh Kare Aashiqui plays it for laughs. A matter of utter sensitivity is fodder for jibes like Seeta Aur Shyam.
Chandigarh Kare Aashiqui wants to keep the mood fun yet meaningful.
There's a conscious attempt to educate when Manu goes through videos or interacts with a Shakespeare-quoting transgender on a traffic signal, explaining the science and psychology behind it in glancing detail.
But the movie appears to contradict itself every time a nasty outlook goes overboard for the sake of humour or hysterics.
Where Khurrana gets the tone and texture of his hypermasculine chump in skinny gym shorts down pat, Vaani Kapoor is a picture of backbone and restraint in a role that could not have been easy even though Chandigarh Kare Aashiqui steers clear of her metamorphosis and portrays Maanvi's alienation in a glamorous and privileged light.
Kapoor's sass and spine shows in the way she handles the hostilities. The girl can take it on the chin.
Rediff Rating: