'My mother is a lady with a lot of emotional stability and strength. And wisdom.'
'When I was younger, she would tell me that if I ever refused water to anyone, I would have to drink gutter water.'
'When I grew up, she would say, "Be liberal when you know what you are talking about, and be conservative when you don't".'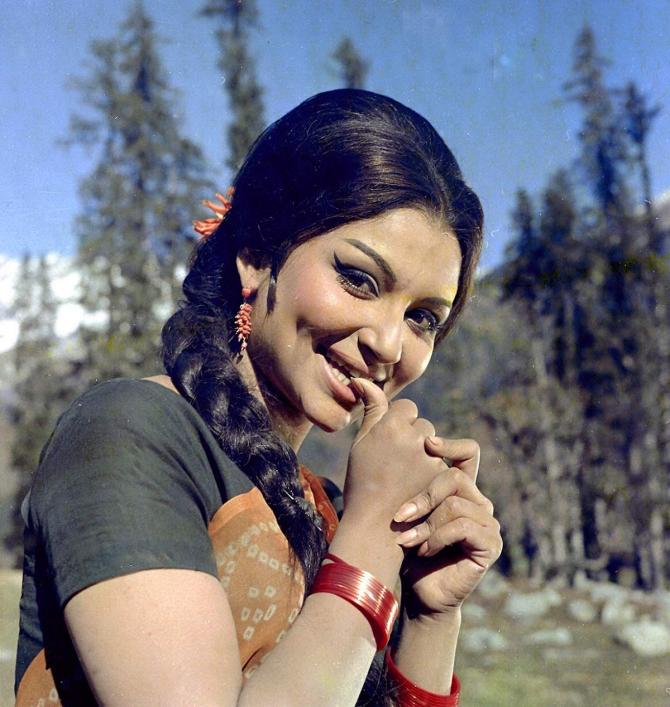 For most Bengalis, Sharmila Tagore is still Apu's Aparna and Satyajit Ray's Devi.
For Bollywood buffs, she is the doe-eyed Kashmir Ki Kali who could turn on the glamour during An Evening In Paris or choke you up as the woman in distress in Aradhana and Amar Prem.
Some would also remember her as the cussing, bidi-puffing prostitute in Gulzar's Mausam, a performance that bagged her the National Award, or the dimpled beauty who runs away with the chauffeur in Chupke Chupke.
But her son Saif Ali Khan has a very different image of his "incredible" mother, away from the movie screen and the city lights.
As he tells Rediff.com Contributor Roshmila Bhattacharya on Sharmila Tagore's 77th birthday on December 8, he remembers his mother as a homemaker and a fantastic host, a preserver and a restorer, a doting grandmother and a mother who once chose him over an evening out in London.
I would like to start by wishing my mother on her 77th birthday, thanking her for marrying my father (Mansur Ali Khan Pataudi) and opening up the dimensions of her world to her children.
While my father showed us an entirely different world, from the jungles of Bhopal to cricket and Lord's, my mother introduced us to art, music and the movies.
Today, I feel so grateful to have been blessed with this kind of exposure.
She was this really cool person, an emancipated woman in the 1960s.
I don't know if I would call her a feminist, but there was a side to her which while not being exactly rebellious, marched to her tune.
She was from the world of glamour, yet she happily embraced country life, and there are pictures of her on jeep drives, sharing a cigarette and a Coca Cola with my father.
Lullabies and London dreams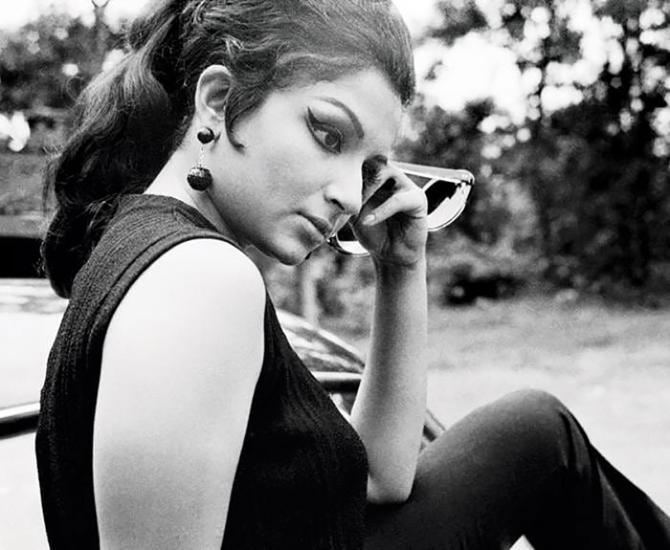 My earliest memories of my mother are of her feeding me and singing lullabies to me.
One of these could have been from Aradhana. Back then, it seemed very normal for her to put me to sleep with a song from one of her movies.
I remember once, when we were in London, my parents had to go out for a party. I didn't want them to leave. My mother stayed back to put me to sleep.
I'm sure she slipped out later, but as far as I was concerned, she had chosen me over the evening, and that was important.
There's another rather painful memory of her dropping the loo seat on my little member. It caused a lot of panic.
She must have thought this was the end of the Pataudi line.
She was very apologetic and gave me a present.
She read to me, introduced me to jazz and Ella Fitzgerald, helped me with my homework.
If I made a mess in my copybook, she would turn an ink stain into a flower by drawing around it.
The preserver and the restorer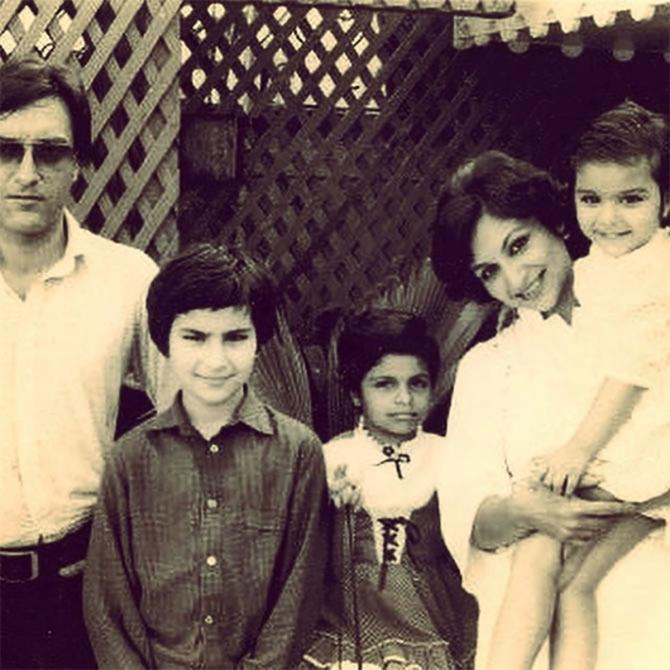 My mother never throws away anything.
She patches things up, fixes them, and they live on in another incarnation.
Marrying into a royal family, she's played a huge part in preserving, restoring and turning Pataudi into arguably the prettiest little palace in India.
There's not a single picture of hers in the palace -- just one of her receiving the National Award in the corridor, tucked away under the bookcase -- but her aura is everywhere.
From the gardens to the blinds, she's there in every little detail.
So there is no need for pictures to stamp her presence.
It's rare for an actor to run a home as well as my mother has.
She has all the graces of an excellent host.
She's like a finishing school, she trains her staff impeccably.
And she would get really upset because the business family who lived opposite us would then double their salary and poach them away.
Hepburn, Delon and Ray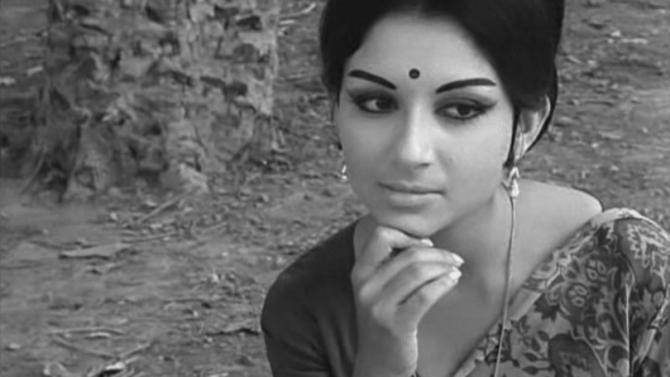 If I'm passionate about cinema today, it's thanks to her guidance.
If it wasn't for her recommendation, I don't know if I would have watched all the films of Audrey Hepburn.
I'm happy I did because every one of them -- from War And Peace, Roman Holiday and My Fair Lady to The Nun's Story, Breakfast At Tiffany's, Sabrina and Charade -- are absolutely brilliant.
She also introduced me to Alain Delon, the French actor and film-maker, known for his bad boy films like Purple Noon, Le Samourai and Le Cercle Rouge to name a few. He was possibly one of the best looking men in cinema.
We watched these films on Lata aunty's VCR (Lata Mangeshkar). She lived below us, on the seventh floor of our Carmichael Road (south Mumbai) apartment house.
Aveek Sarkar, of the Ananda Bazar Patrika Group, also had a house in Breach Candy (south Mumbai) and we watched some films there too.
Later, when we moved to Delhi, we got a VCR of our own and I caught up on all the films she recommended.
We spoke about Satyajit Ray much later.
Like my father who didn't talk about cricket unless asked, my mother too is very understated and didn't force her films on us.
She would have been quite happy if we had never watched any of her films. But if we did, it would bring a smile to her face.
I saw Aranyer Din Ratri, Ray's 1970 adventure drama about a group of friends who go into the forest.
Later, we spoke about her equation with Soumitra Chatterjee who was also her first co-star in Ray's Apur Sansar and opposite her in Devi.
Of late, my mother hasn't been keeping too well. She had to undergo surgery recently.
While recuperating, she was messaging Dharamji (Dharmendra), telling him how good-looking he was in Chupke Chupke. And he was texting back that it was only because he was looking at her.
Art and the artist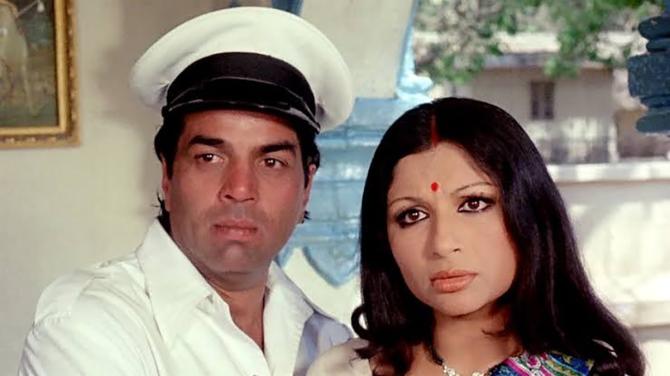 After I became an actor, I got a few approving messages from her.
She was pleased when I did films like Parineeta and Omkara.
And while she was happy when I did more commercial roles, she wasn't particularly impressed with them. That's good because it's kind of a reality check.
She would lecture me sometimes on how while I was an artist, I wasn't talking of craft.
I guess, back then, I was probably more keen on making money.
But she always encouraged me to think like an artist, be more involved with the artistic process than the distractions.
She told me once, 'Think of the camera as a beautiful woman who is watching you... You want to impress her, but with subtlety. Genuinely.'
Her comments and nudges have set me straight.
My mother is a lady with a lot of emotional stability and strength. And wisdom.
When I was younger, she would tell me that if I ever refused water to anyone, I would have to drink gutter water.
When I grew up, she would say, 'Be liberal when you know what you are talking about, and be conservative when you don't.'
Doting grandmother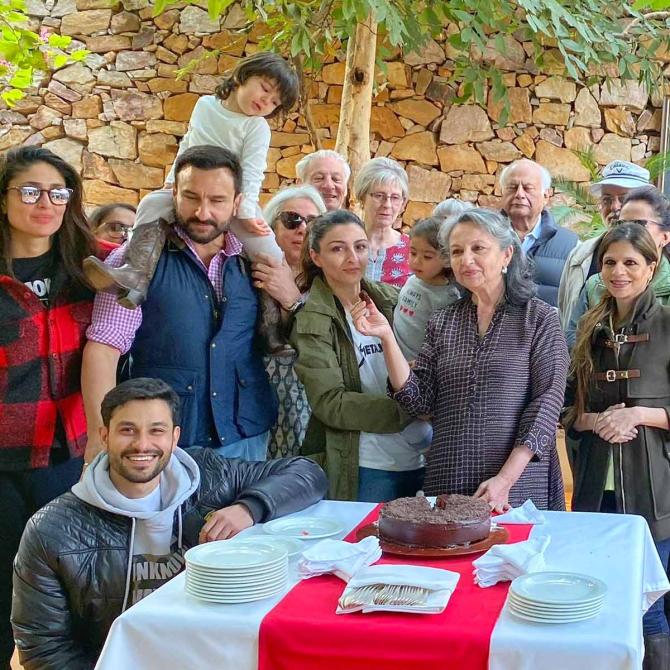 Over the years, she has grown very close to my children. But distance and this lockdown has been really painful.
We haven't seen as much of her as we would like.
She has seen my youngest son Jeh and spent time with him.
When we are in Pataudi, she organises trampoline jumps for Taimur, gives him thoughtful presents which are a balance of fun and education.
She has been very supportive to Sara and Ibrahim too.
Soha and I have been staying in touch with her through pictures and videos of her grandchildren. They really brighten up her day.
New Year's present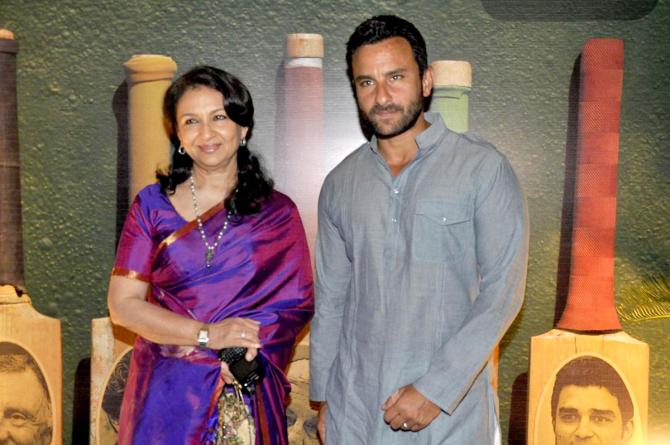 As a mother, she's always been there. Perhaps that's why she is someone we've taken for granted, like a pillar that has always been standing there.
But now, I've come to realise that time goes by quickly, so it's important that we spend as much time as we can together.
Sometimes we can't, like now, but we must make an effort to.
I will miss her birthday because I'm shooting in Lucknow. But I will try and compensate by bringing in the New Year with her.
It's the only way I can say thank you to an incredible woman who while being a leading movie star of this country, the epitome of femininity, was happy to make a family with my father.
Then, through a healthy disconnect from her work, showed us a life away from the bright lights.
She is always there in my heart in a way that I don't realise.
I hope it's a good birthday.