Candy is worth binge-watching because it offers a good mix of drama, mystery and intrigue, observes Namrata Thakker.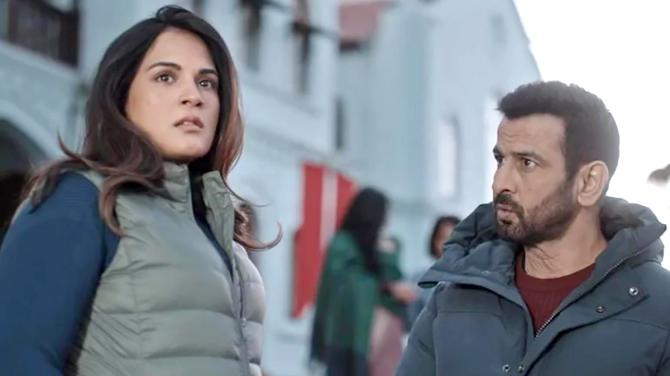 When a student of the Rudra Valley School is found dead in a forest, his mentor and teacher Jayant Parekh (Ronit Roy) goes on a quest to find the gruesome killer.
On the other hand, Ratna Sankhwar (Richa Chadha), the DSP of Rudrakund town, is in charge of the case, but isn't too keen on solving the murder mystery.
Amidst the horrific murder and a disappearance of another student, there are whispers that Masaand is behind the chaos. But no one knows whether he is human or a demon.
Jayant Parekh uncovers that his student died after taking the infamous candy which is layered with drugs and easily available to students at the Rudra Valley School. Since his daughter had killed herself after taking the candy years earlier, Jayant is bent on exposing the drug racket, which is run by Vayu Ranaut (Nakul Roshan Sahdev), son of the corrupt politician Money Ranaut (Manu Rishi Chadha).
Jayant suspects that Vayu himself is Masaand.
Is Jayant's suspicion correct? Well, you have to watch Candy to find out and yes, it's worth it.
The story and the twists that come with it won't disappoint you.
Directed by Ashish R Shukla, the show is engaging because of its wicked storyline, complicated characters and good performances.
Ronit Roy and Richa Chadha play their parts well.
As Vayu, Nakul Roshan Sahdev delivers a fine performance and stands out.
Manu Rishi Chadha also has a meaty character and does full justice to it.
The show begins with a bang and keeps you hooked for the most part.
Having said that, it does get boring when the story goes into flashback and the subplots that don't add much to the larger picture.
The last two episodes are tiring to watch as you know the killer by then, but the story goes on as the makers want to hint about another possible season.
Candy is worth binge-watching because it offers a good mix of drama, mystery and intrigue.
Candy streams on VOOT.
Rediff Rating: