Black Widows is a role-play of its Nordic counterpart with lame moments, unhappening twists and terrible performances, complains Moumita Bhattacharjee.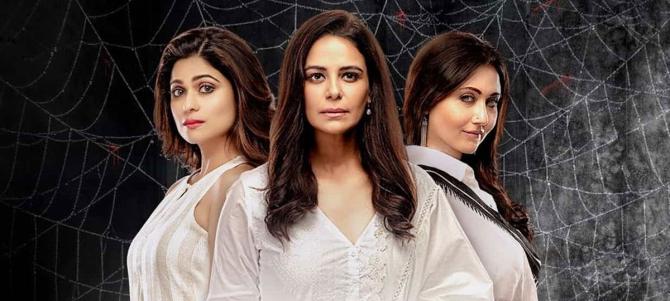 It's always fun to watch thrillers as you get involved in the factual findings.
Black Widows could have been more than just that as it begins on an 'explosive' note, both visually and figuratively speaking, and yet ends up being a tedious charade with foolish subplots and derailed intentions.
Veera Mehrotra (Mona Singh), Kavita (Shamita Shetty) and Jayati (Swastika Mukherjee) are best friends. They have terrible husbands.
While Kavita's husband Nilesh (Vipul Roy) manipulates her to sleep with his clients, Jayati's husband Lalit (Mohan Kapoor) is abusive.
As for Veer, Jatin (Sharad Kelkar) had once threatened to kill their daughter Sia.
The three plan and execute their husbands' murder with a blast in a boat.
They thought that would be it and they would be free. But investigations about the blast by special team, headed by Pankaj (Parambrata Chatterjee), a shady pharma company with fraud vaccine trails with liaisons with Jatin, the latter's partner, Lalit's son, threaten to expose them.
An Indian version of the Nordic television series by the same name, Black Widows starts spectacularly.
Veera narrates the episode calling it the day she is supposed to die.
The frame then rewinds to a few days back and immediately establishes the what, why, when, and how of the explosion that kills the husbands.
The walk of freedom of three women finally breaking the shackles of mental and physical torment gives you a rush.
They slowly and steadily move on.
But post that, everything starts going haywire.
Even after realising that the third body was never found, the three women decide to brush it off carelessly.
It never bothers them when they celebrate.
If that's not enough, the investigation carried out by a special branch is laughable at best.
Pankaj is shown as a character who is 40 and whose mother wants him to get married. So he feels drawn to these women, which is shown as his weakness.
To make it seem funnier, the series gets lamer. When Jayati stops Pankaj from frisking through a cabinet claiming it has 'lady things', Pankaj just gives up despite having a female cop Rinku as his aide. The latter's interest in Pankaj makes the series a bad case of unrequited love and its side-effects towards the climax.
The sub-plots keep getting murkier.
The three women keep yelling and screaming that they killed their husbands with people next door and yet nobody hears their confessions.
All of a sudden, there's a plot twist with vaccines, trials and viruses.
It could be a coincidence for sure but if you watch the series, it's treated like an afterthought given the circumstances we are presently in.
What is even more unforgivable here are the performances.
The show has some of the best talents from the Bengali and the Hindi television world. Yet, the acts are hammy, unbearable and disappointing.
Raima Sen gives her career-worst performance, Sabyasachi Chakraborty is wasted, Parambrata looks clueless, Sharad Kelkar seems uninterested...
The only two characters or acts that manage to stand out in this disheveled mess are Shamita Shetty and Swastika Mukherjee.
Shamita, as a careless ticking time-bomb, does a really good job while Swastika, the voice of reason, aces every scene.
Mona Singh is just about okay.
Black Widows, which streams on ZEE5, is a role-play of its Nordic counterpart with lame moments, unhappening twists and terrible performances.
Rediff Rating: