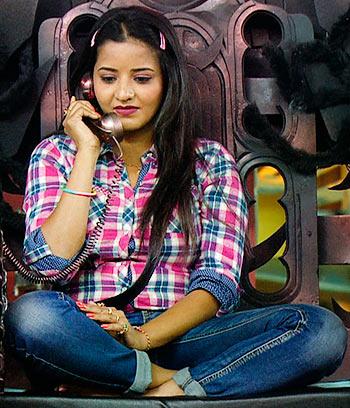 Nitibha wins the Immunity Medallion and Bigg Boss puts relationships at test in the new nomination task, discovers Divya Nair.
Everyone had their eyes on the Immunity Medallion, but Nitibha eventually won it.
Good thinking girl!
It will be the only thing that can save you in the house that has already alienated you.
As for Swami Om who is enjoying his stay in the secret room, we get to see yet another different side of him, reacting to the goings-on in the house.
The way he bitches about Mona and Manu, the same people he was close to, highlights that this man has double standards.
If Mona is so old according to you, why do you still ogle her and miss dancing with her?
The way you were singing inside the bathroom, maybe you should team up with Himeshbhai and come up with something new for Bollywood.
In Bigg Boss, there is one unsaid rule.
If you say you love someone, you gotta prove it.
And that's exactly what Bigg Boss plans to test in the phone task.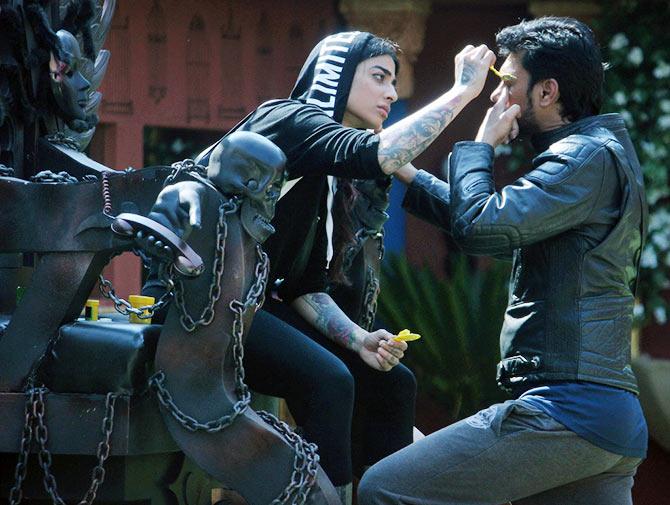 Bani, the first to be nominated, expected Gaurav Chopra to bleach his eyebrows.
I mean, why should he do that for you?
If you consider yourself such a strong willed player, why not sit through the nomination?
First you throw tantrums like an overgrown teenager and then you give gyaan on friendships, relationships and strength.
You and Manveer make an excellent pair, I tell you.
All fart, no s**t!
Karan Mehra got oh-so-lovey-dovey for wifey Nisha when he was asked to shred wife Nisha's photo to save Rohan. It is admirable how you reconstructed her photo.
This sweetness for your wife is perhaps the only thing about you I found real.
And Mona, you seriously need to mind the way you behave in public.
In the immunity task last week, you seriously asked Swami Om to apply balm on your back?
That old man with a twisted mind?
You could have asked Lokesh, right? That's what normal girls do, don't they?
The way Lokesh volunteered and sent a reluctant Swami Om away was commendable; an example of what you should have ideally done, Mona.
Your cards are now out in the open. You can't play temptress and an abla nari at the same time and expect people to believe that you are an easy target.
The way you dress, dance and show your body parts to the camera is all part of a bigger strategy, we know.
I will spare you the details of your intimate hug yesterday, but your affection for Manu is far from what you define as friendship.
Nitibha was intelligent to use one of her two immunity opportunities in the nomination task. Her Google background helped, I guess.
Tonight's episode will hopefully see Manveer get rid of that evergrowing facial fuzz and Naveen pounce on to his shant samundar se darr mode!
And I hope someone puts sanity back into badass Bani.
The big question is: Will Lokesh Kumari nominate herself to save Karan Mehra? We'll have to wait and watch.