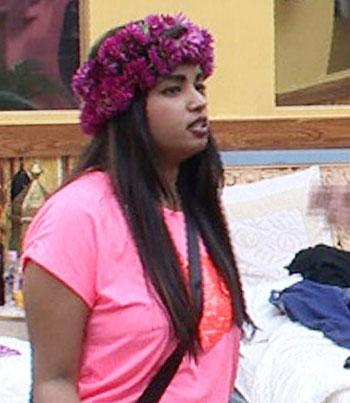 She is upset with Navin, Manveer and Manu.
Tista Sengupta reviews Thursday's Bigg Boss episode.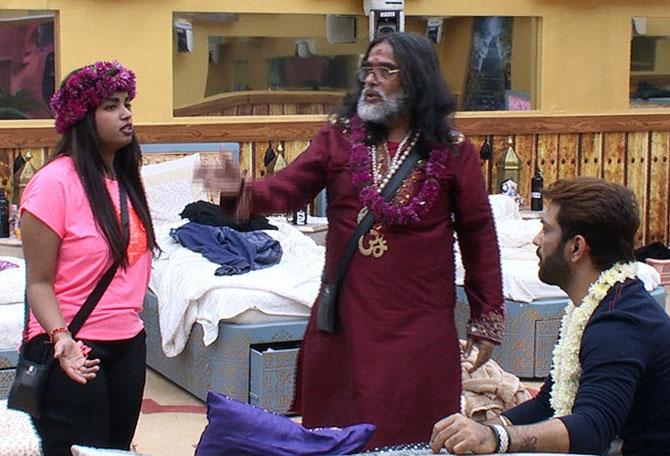 I don't understand why Mona loves to be all over Manu.
I so abhor her round-the-clock 'hugs and kiss' act.
on Thursday night's episode, while she teased Manu just to irritate Swami Om, it didn't look like he enjoyed it much.
Don't know about Swami Om, but had it been me in the Bigg Boss house, I would have ignored her, just so that she knew she isn't competition for me.
Meanwhile, Navin, Manveer and Manu discuss how Rahul and Bani have never performed in any task.
Well they may have been couch potatoes, but when someone like Manveer -- who has always disrespectfully spoken to women in the house -- talks about how others haven't performed at all, I seriously feel like asking him what has he done since the show started?
You have done NOTHING, Manveer!
You have only used the power of your voice to prove a point whenever there's an argument.
And you totally know how to make a mountain of a mole.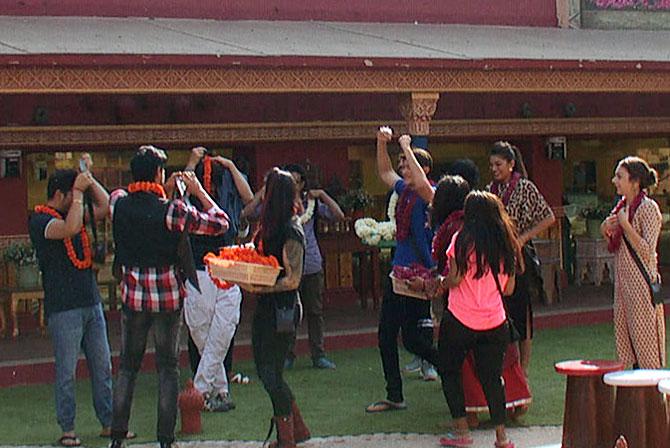 Amidst all this, Bigg Boss announces that the nominations for the first captain have commenced, and the first three contestants to reach the confession room will become the contenders for the position.
Bani, Swami Om and Manu makes it to the confession room.
The contenders Start convincing the other contestants to vote for them by delivering a speech.
While Bani promises ample food and equal distribution of work, Manu assures peace in the house and his participation in household chores.
Whoever votes for him, Swami Om says he will take her/him to the final stage of Bigg Boss 10.
Babaji, I like the way you make me laugh!
Everyone wears garlands of the contender they are supporting. Navin is seen, unsuccessfully, trying to form an alliance with Swami Om.
Bani tried to sort things out with Lopa so that she wins her vote. Lopa didn't let Bani's words manipulate her. She refused to accept Bani's apology. Guess Bani deserved this!
And man, Lokesh is on fire. We finally got to see the cute little girl turn into a lioness.
She didn't hesitate in telling Navin that she wouldn't vote for Manu.
She taunted the trio, singing a song that described how they have always been rude with her.
As the day ends, Bigg Boss asks the contenders to count their supporters.
Bani wins the task. Bigg Boss congratulates Bani for becoming the first captain of the house, and Swami Om hoots with 'Humara neta kaisa ho? Bani jaisa ho!.
A suggestion for Swami Om. Watch out! You may become the first person to get punished by the captain :)