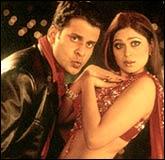 Dharmesh Darshan is obsessed with the sixties.
Be it Raja Hindustani, Mela, Dhadkan or Haan Maine Bhi Pyaar Kiya, there is a visible element of the 1960s in the filmmaker's choice of plots, selection of music and even the manner in which he presents his heroines with their churidar/sari clad breed of demureness.   
His latest romance, Bewafaa, a multi-starrer featuring Anil Kapoor, Akshay Kumar, Kareena Kapoor, Sushmita Sen, Manoj Bajpai and Shamity Shetty, follows the same pattern.
Rumoured to be a remake of the 1963 hit Gumraah, starring Ashok Kumar, Mala Sinha and Sunil Dutt, Bewafaa is a ten-track album composed by Nadeem-Shravan.
The soundtrack opens with the breezy and catchy, Ek dilruba hai, reminiscent of the Shanker-Jaikishen school of music. Nadeem-Shravan employ the same tune to churn two more versions. Sonu Nigam digs out betrayal in Ek bewafaa hai, a slightly 'remixed' and pop-ish rendering of the song. Shaan, on the other hand, gets all gooey and sentimental for the indifferent Pyaar ki raahein.
As the promos depict, Kareena, Sushmita and Akshay celebrate the season of love in the voices of Alka Yagnik, Sapna Mukherjee and Kumar Sanu with Pyaar ka anjaam. The arrangement is impressive, but the song itself is no great shakes.
Lata Mangeshkar's name is tantamount with magic and melody. But even the best falter. Though the legendary singer wasn't exactly the sound of perfection in the songs of Yash Chopra's Veer-Zaara, the jarring factor was pretty much missing. Her contribution here, however, in Kaise piya se begins and ends on a discordant note. The song includes an instrumental version as well. Karaoke anybody?
Remember Mohammad Rafi's sonorous rendition of Tu is tarah se meri zindagi mein shamil hai from Aap To Aise Na The. Ishq chupta nahin is a modified and hopeless version of the same.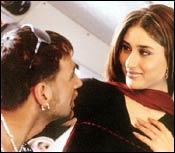 Kehta hai kabutar is a daft ditty and does zero justice to the talents of its crooners -- Asha Bhosle and Shaan.
The drumbeat theme of Bewafaa is purely 'opening credits' material. One wonders though, why drum when the piano is the prominent instrument of the piece?
Oh wait; there is a surprise in store for fans of Ghulam Ali. The ghazal maestro regales with the upbeat Teri yaad. It may not be another Chupke chupke, but it's certainly worth its while.
Bewafaa
is a mixed bag of catchy and unexceptional tunes. But if you enjoyed the music of films like Raaz and Tere Naam, this is also likely to catch your fancy.