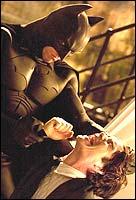 The publicity machine wants us to believe that
Batman Begins
is yet another summer behemoth that will offer a feast of thrills and special effects.
But the newest Batman film, though an expensive project that cost over $100 million, is a dark and brooding work short on thrills and spectacles.
Those who have been watching the career of director Christopher Nolan will not be surprised by the treatment the film gets. Nolan, 35, surprised many movie fans with his enigmatic Memento, starring Guy Pearce and Carrie-Ann Moss, five years ago. The movie cost less than $5 million and grossed over $50 million worldwide.
Then Nolan made Insomnia, a psychological thriller starring Al Pacino and Robin Williams. Made for about $60 million, Insomnia became a modest hit worldwide.
In Batman Begins, based on a story by David S Goyer (the Blade series), Nolan offers more psychology than in all the previous Batman films together and extracts a fine performance from Christian Bale as the young man who becomes a crusader against evil. But the film suffers considerably because of some of its more arresting characters including the good scientific genius Lucius Fox (Morgan Freeman) are underdeveloped.
The early history of Batman has been hinted at in previous Batman films including the thoroughly disappointing
Batman And Robin
(1997).
Nolan and Goyer spend nearly 45
minutes showing us how Bruce Wayne developed an affinity for bats and how he began to hate powerful evildoers.
The story, as expected, is quite fanciful. The film, which is not without a few thrills and special effects, is never boring. It is in fact quite engrossing in its first half. But those who are expecting a thrill-a-minute might be disappointed. And Batman Begins may not do spectacular business like Star Wars III despite a strong opening. 
Bale makes the role more interesting by bringing to it raw intensity and internalised agony. Early in the film, we see him in a prison being brutalised by the guards in an unnamed country (identified as Bhutan in the press notes) and rescued mysteriously by Henri Ducard (Liam Neeson).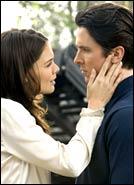 Ducard trains the young man to be resourceful and combat-ready but when Wayne realises that Ducard has evil intentions, he rebels against his rescuer and mentor.
When Wayne decides to take his destiny in his own hands, he has to confront a host of villains including a corporate honcho (Rutger Hauer). But the biggest foe is a devious doctor (Cillian Murphy) who has an evil scheme to terrorise an entire city.
The good people include Wayne's faithful butler (an under utilised Michael Caine) and a handful of police officers.
The possibility of a romance for Wayne is severely challenged when he cannot bring himself to reveal his dual personalities to Rachel (a fairly okayish Katie Holmes).
Never mind the lack of gloss that is usually associated with comic book movies and limited number of thrills, Batman Begins is a fairly surprising summer film that deserves to be around for some time.
Nolan has proved that making a big budgeted Hollywood movie does not necessarily mean selling one's soul to the devil. But he would have been better served with a sharper script with fuller characters and engaging dialogue.