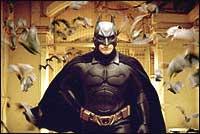 Because some of us are hungry enough to want a one-word review: Ew.
I hate breaking this awful news to all you folks who loved Memento, but Christopher Nolan has sold out. Yes, it happens to the best of them. Usually, however, they wait until they have a canon of relatively commendable work before churning out their turkeys.
Nolan, an infantile three good films old, turns up his toddler fist at the aesthetic world of fine filmmaking, gives it the finger, and walks away with the fattest paycheck Warner can hand out. Not to mention a far greater audience than anything all his films combined have had.
And he's given them something to yawn at. Despite the $100 million worldwide hype blitz, Batman Begins is a drag. Working on a script nearly indiscernible from screenwriter David Goyer's fanboy-pleasing yet oft-amateurish draft that leaked onto the Internet, Chris Nolan, on his first mega-budget production, flubs it all up.
Christian Bale is Bruce Wayne, a cinematic fact very hard to get used to. He's trying too hard to be affable and wealthy, both mantles his shoulders haven't been conditioned to. He's also in virtually every single frame of the film, and his lack of screen presence makes it a bad directorial move. Anyway, we sit through the floppy hair, the contrived attempts at wry humour, even that insufferable smirk.
Because, well, okay, he's Bruce Wayne. And he grows on you. After a while, he isn't bad at all. And, standing six feet two in his socks, he's exactly Batman height.
Which isn't tall enough. For all the Dark Knight bravado, the villains usually tower over our hero in the cowl. Liam Neeson, appropriately half a head taller, plays the devilish Ra's Al Ghul, and is horribly miscast in the part. For the most evil man in the caped crusader's bloody-panelled history, Neeson is never quite sinister enough. He acts well, sure, but completely out of context. He impresses us with his wisdom and technique, but we never ever fear, or even come close to disliking him. This is no Ra's Al Ghul (The Demon's Head, in Arabic); this is simply (Star Wars: Episode I's) Qui Gon-Jinn.
The other super-villain is fabulous. Cillian Murphy, playing The Scarecrow, is devastatingly cruel and perfectly cool, the best thing in this motion picture by a long shot. As we watch the young actor gaze into the camera or glare at The Girl, we want to see more of him. Heck, he should have played Batman! Instead, he's wasted in this supporting baddie role, his screen-time minimal.
Michael Caine is flawless. Squeezing effortlessly into the character of Alfred Pennyworth, (though, with due respect to his portliness, Caine's Alfred is worth at least a shilling) the legendary British actor delivers his lines with trademark finesse. He has some of the film's only funny words, and carries them out with restrained class.
Tom Wilkinson plays crime boss Carmine Falcone, and it's undeniably refreshing to see him go from a trademark British accent to this spaghetti Mafia don. Rutger Hauer is as reprehensible as ever in the role of the Wayne Enterprises traitor, Richard Earle. And these are all characters we don't see enough of.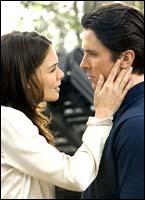 Because of The Girl. Why Batman has to have a romantic interest at all is an angle that flummoxes me, and pretty much anybody who ever read a single of the shadowy comic books. While not entering the obvious debate about the world's most closeted homosexual superhero, let's just leave it at the fact that he doesn't have a girlfriend. No Mary (Jane, Spidey's gal) or Lois (Lane, Superman's wife) for Bruce Wayne, he'd rather have Dick (Grayson, his sidekick Robin).
In this film, district attorney Rachel Dawes (Katie Holmes -- oh, look, that's Tom Cruise's new girl!) swallows up screen-time, has nothing to contribute to the proceedings, and, in the truly blaspheming Bat-film tradition, is made aware of Batman's secret identity! This is ludicrous and unnecessary, and I just don't get it. People aren't coming into theatres to see Batman's girlfriend, they'd rather have another fight scene and a closer look at the car.
The new Batmobile is constructed from the ground up, unlike its predecessor, the breathtaking machine built on the corpses of Lamborghini chassis. Which results in an overgrown dune buggy that is never really impressive. Not a surprise coming from its creator, Lucius Fox, played by Morgan Freeman in yet another know-it-all ('I'm not stupid, Mr Wayne') role.
By now, the over-utilised actor is used to helping out clueless boys named Bruce, but Batman Almighty could do without these obvious James Bond additions.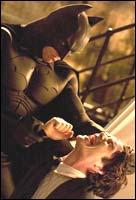 Coming back to Batman himself. We're just about reconciled to Bale's version of Bruce Wayne, the playboy who loathes life even when he's skinny-dipping with two models, and then Nolan hits us with Bale as Batman. Aargh. It's all right for a comic-book character to be hammed and over-the-top, but making Batman sound like a tame Darth Vader is pretty darned unforgivable. Like Bachchan in his latter years, Batman wheezes and grunts in constipated, breathy monosyllables, overdoing it to a ludicrous extreme. "I'm Batman" Yeah, right. Have a Vicks.
At two hours and 20 minutes, Batman Begins is a drag. With most of the action conveniently taking place in the darkness, Nolan shields us from the stuff we really want to see -- the evolution of Batman. Instead, we're treated to routine car-chases through a dismally realistic landscape. Nolan's Gotham City is nothing but Chicago, with a few CGI frills added in, a stark contrast to Tim Burton's supremely sprawling and utterly original Gotham.
Hans Zimmer's background score is fine, but his defiant lack of a unifying Batman theme film leads to a lack of cohesion. The score works in fits and patches, cellotaped together in extremely clichéd fashion by Nolan. The dialogue turns to tragic, the violins are upped; a boxful of memories clicks open, things sound soft and dulcet. The transitions are abrupt and amateurish, and predictably melodramatic enough for Dharmesh Darshan to feel at home. The pacing of the film is bad, and the editing abysmal. Is this really the same man who made Insomnia? The lack of slickness is shocking.
The screenplay, as said, sticks to an acceptable enough concept, but needs more polish. As Bruce dons the bat-ears and becomes who he is, the dialogues merely skip around the much-spoofed 'with great power, comes great responsibility' territory. The character development, for all it's 'dark, brooding' themes, is pretty ho-hum.
The action is nowhere near exciting, and the film isn't half as spectacular as the most pessimistic of us would expect. The villains are intriguing at best, but never seem really bad. The grotesque intensity of Arkham Asylum is reduced to banal nothingness. Batman himself is a caricature not explored to his fullest. And Nolan… Sigh. Christopher Nolan just isn't having any fun with the caped crusader, and it shows. Unlike recent comic book movies, this one shows no sense of humour.