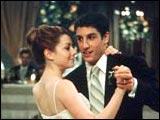 The guest list for American Wedding could be formidable over the weekend, given the reputation the previous films in the series -- American Pie and American Pie 2 -- have garnered. Worldwide, the two films have grossed more than $500 million in theatres alone and similar revenue in video and DVD sales.

But the guests this time may not have much to laud in American Wedding, which lacks the raunchy humour and sweetness of its predecessors.
The exit of directors Paul and Chris Weitz from the second film in the series did not hurt seriously as James B Rogers did a decent job. But Jesse Dylan (son of singer Bob Dylan) is not in the same league as the Weitzs or Rogers.

Despite a few funny scenes and a spirited but slightly over-the-top performance from Sean William Scott, who steals the show from the film's nominal hero Jim (Jason Brigs), American Wedding has limited charm. It is a bit less raunchy than the first two films but has more misplaced energy than its predecessors, though all three films were written by Adam Herz.
New: Comedy is very challenging: Priyadarshan
Also see: Adoor flays Jha over Ajay's award       
  This is for Johnny Walker        
     Madan Mohan's music to live again
If you are determined to enjoy a comedy over the weekend, see the classier Bend It Like Beckham on the big screen once again, now that it is kicking off in about 1,200 theatres across North America.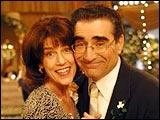 American Wedding revolves around the wedding of Jim (Brigs), the good guy who always seems to mess things up, and his college sweetheart Michelle (Alyson Hannigan), who wants a perfect, picture postcard marriage. Early in the film, the scene where Michelle misunderstands Jim's proposal and is driven to a raunchy scene in a restaurant promises a giddy comedy but the promise, we soon learn, is short-lived.

Troublemaker Stifler (Scott) is pushed into being a good guy this time (at least for part of the film) when Michelle's knockout sister Cadence (newcomer January Jones) becomes the maid of honour. Stifler works hard to be courteous to Michelle's gullible parents. But when they turn their backs, he is ready for his vulgar antics: pelvic-thrusting now and tongue-darting the next moment.

While Jim seems to have grown up, Stifler, who still wants to remain a bachelor, goes crazy seeing Cadence. As does Finch (Eddie Kaye Thomas). Stifler tries to remain on his best behaviour, but there is no guarantee things will go smoothly -- especially when the bachelor party that includes a fetish mistress turns to be raunchy and chaotic.
Among the interesting characters carried in from the previous film is Jim's dense dad (Eugene Levy), who continually dispenses well-meaning but at times clueless advice.

Confusion, embarrassment and tension follow the wedding preparations but everything is bigger and larger than life. And that is part of the script's problems. Some of the genuinely funny situations like the bachelor party are so overstretched that they lose charm.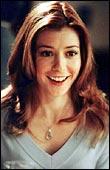 The scene in which Stifler accidentally lets a dog eat Michelle's wedding band and has to wait for it to be digested, only to discover the excrement is being mistaken for truffle, is an instance of a gross joke being stretched too far. Or the scene where Jim is caught by his soon-to-be in-laws in a compromising position with Stifler, two dogs and cake frosting. Brisk editing and shorter duration could have made the scene work. And take, for instance, the howlingly funny sequence in which Stifler dances more suggestively than the gay men in a bar. After a few minutes, it too starts sagging.

Director Dylan did a very good job with the low-budget 2001 comedy How High, but he has clearly taken a step back with American Wedding.

CREDITS
Cast: Jason Briggs, Sean William Scott, Alyson Hannigan, Eugene Levy, Eddie Kaye Thomas, January Jones
Director: Jesse Dylan
Script: Adam Herz
Running time: 100 minutes
Rating: R for sexual content, language and crude humour